Bank account looking a little sad after the annual Christmas spend-a-thon, but you're (literally) scraping the bottom of the barrel/ bottle/ tube of your favourite beauty products?
Never fear, my friend, I've found a few 'cheap and cheerful' goodies, and if you're all about bang for your buck when it comes to beauty, I've got a feeling you'll be as pleasantly surprised as I was!
* Excuse the ridiculous photos. Not my finest… obviously. Carry on.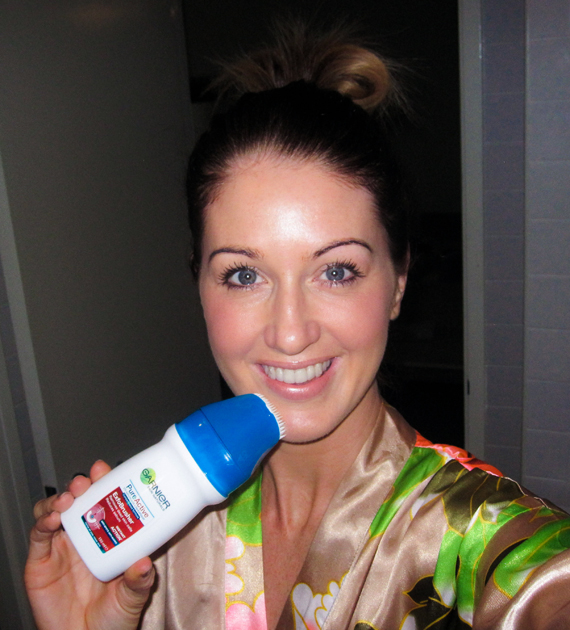 1. Garnier PureActive ExfoBrusher $11.99
I love a good novelty product, particularly if the funny roll-y knob or – in this case – crazy spiky head, is actually useful.
The idea behind the ExfoBrusher is that the soft flexi-bristle head gently yet deeply cleanses to reduce excess oil and nix blackheads. The formula contains 2% Salicylic Acid which helps remove dead skin and unclog pores, and, trust me on this – your face will seriously never feel cleaner than after to you use it.
I generally use this cleanser in the shower by wetting my face first, then wetting the brush, squeezing the bottle a little until some of the product comes out and then scrubbing my face by moving the head around in a circular motion.
I'm a huge fan of face massages and this is as close as you're going to get without keeping your facialist on a weekly retainer.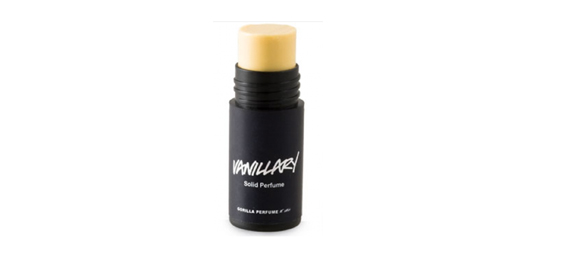 2. Lush 'Vanillary' Solid Perfume $10.95
They call this one a "grown up gourmand" perfume and I have to agree. It's super vanilla-ish, no doubt, but it's not a flirty, sickly sweet, celebrity-scent kind of vanilla (if that makes any sense at all). Basically, it's amazing and totally swoon-worthy and men will probably drop at your feet if you wear it. For real.
If you're thinking of buying one for yourself, I've got both the spray version and the solid perfume, and I prefer the latter because it's not as overpowering strong. Great little gift too, and the perfect size to pop in your sparkliest party clutch!

3. Garnier Miracle Skin Perfector BB Cream $13.95
I picked up Garnier's BB Cream over the Xmas break after hearing a bunch of beauty bloggers rave about it (what can I say, I'm a sucker for a bit of mad marketing hype) and I'm kind of in love with it!
The idea behind this bad boy (perhaps that's what's BB stands for?) (kidding guys, its Blemish Balm) is that it combines the best of skincare and the benefits of makeup, and for under $15, I can tell you that its definitely punching way above its weight. The cream is quite thick and nice and dewy – which is how I like it – and I adore that it evens out my skin tone, whilst giving my face a nice blast of radiance. Winner.
Garnier's BB Cream is essentially a tinted moisturiser (on steroids) so I've been wearing it alone on weekends and mixed with a drop of foundation during the week for a little more coverage. For reference, I bought the Medium shade but it also comes in Light. It contains an SPF 15+ and while 30+ would be better obviously, some protection is better than none at all (note: I always apply a separate 30+ even if the product does have sun protection – one can never be too careful!)
In summary: if I had to describe the way this Miracle Skin Perfector will leave your skin looking in one word, I'd say 'luminous.' And who doesn't want that for the price of a takeaway stir-fry?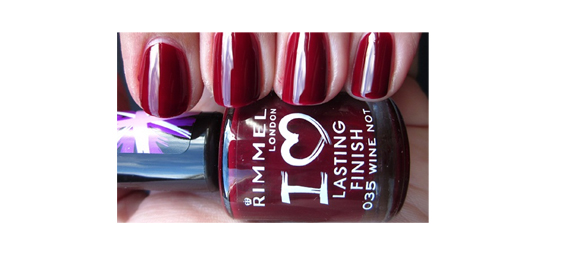 4. Rimmel London 'I Love Lasting Finish' Nailpolish in Wine Not $5.95
I keep my nail polish in the fridge and there's one shelf in the door that's positively bursting at the seams with colourful polishes, ranging from pale, pale pinks to the blackest black. And yet, in that lovely collection, I didn't have a decent wine/ mulberry coloured polish for some reason, so I grabbed this one in a rush from Priceline before my work Xmas party at the end of last year.
I'll admit to throwing it in my basket thinking it would be good for a few hours and then my nails would be chip-central, but the price was ridiculously good so I didn't really mind.
How wrong I was! Not only is the colour perfect, but this nail polish actually lasts longer than some of my $20 polishes – and dare I say, the consistency is totally on par. I've been wearing it to death since I bought it and quite a few people have complimented me on the colour, which is always welcome.
Wanna get vampy with it too? 'Wine Not' I say.
* Note: these aren't my nails, pic from here.
+ Have you picked up any beauty bargains lately?