I've posted previously on the skin care products and fragrances I adore, as well as my makeup essentials, so today I thought I'd share a few of my favourite  hair products:
1. Redken All Soft Treatment
This little gem is a mainstay in my hair care arsenal. Believe me when I say, over the years I have tried more hair treatments than you can poke a curling wand at and out of them all, I have to say this is the one that works best for me. I wash my hair every second day and I use this in place of a conditioner (I only leave it in for about 2 minutes) because I'm hooked on how soft it leaves my hair. When I say soft, I mean light (not weighed down, which is a must for me as I have a lot of hair) and really hydrated. If I remember, once every few weeks I pop a big dollop in, wrap a towel around my head and let it work it's magic for at least half an hour. Perfect for dry, tired locks! (Not sure why hair would be tired, but that's what the 'pro's' say on the ads, so I'm rolling with it).
Redken have a substantial range that tackle a plethora of hair woes, and you can take this as my wholehearted recommendation – give them a go! I recently thought I'd mix things up and went back to one of my old faves, Kerastase's Resistance Age Recharge, but honestly, I prefer the Redken. And it's half the price (the All Soft treatment comes in at $35) which means more cold hard cash for other important things like our wedding fund lip gloss.
2. Goldwell Kerasilk Shampoo

I'm not fussed on shampoo and will normally use brands like Dove, Sunsilk, Loreal or occasionally the Redken All Soft shampoo. I recently picked up the Goldwell Kerasilk and it appears to be doing what it's supposed to.. which, I'm guessing is cleaning my hair? Ha! What else can I tell you? To me, shampoo leaves your hair feeling so-so unless you team it with a conditioner or treatment (would you say so too?) so it's hard to judge it on it's own, although this one does leave my hair feeling silky. The only people I've come across who love using shampoo without conditioner are aliens men. Apparently it makes their hair too "fluffy." Righto. Where was I again? Moving right along…
3. Moroccan Oil (soon to be replaced with Pure Argan Oil)

I started using Moroccan Oil when my ends were really blonde (balayage) and although they're not as light anymore, I still have highlights through the majority of my hair and the oil keeps it feeling silky smoooooth. I've recently read a bit about Moroccan Oil being full of silicone, and I know the other products I'm using are probably much the same, but if I can minimise the toxins from somewhere, this seems like a good place to start. Apparently health food stores sell Pure Argan Oil (which is much cheaper too – bonus!) so once my bottle of Moroccan Oil runs out I planning on switching to the pure stuff.
For use: I rub a five cent piece-sized amount in my hands and kind of pat it through the mid-lengths (and down to the ends) of my hair while it's wet. Then I run my fingers through all my hair to spread it evenly. Great for smoothing frizziness and I find I get a much nicer blow dry when I use it. Looking forward to trying out the pure stuff!
4. Kerastase Oleo-Relax Serum
Much the same as Moroccan Oil, Kerastase's Oleo-Relax Serum is a oil that smoothes frizzies and leaves my hair nice and shiny. I've had my bottle for ages as a little bit goes a long way, and I because I'm using Moroccan Oil in wet hair, I just use a teensy bit of this to smooth any fly-aways after a blow-dry. Lovely product if you want to splurge, but for a serum that won't break the bank and will do essentially the same thing, I recommend Schwarzkopf's Zero Frizz serum (can't find a picture anywhere, but it's about $9.95 from the supermarket).
5. Batiste Dry Shampoo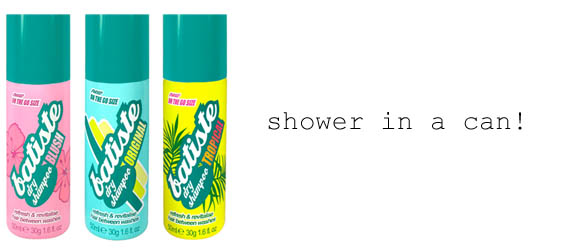 If you haven't heard of dry shampoo, I'm about to change your life. Brace yourself. Yes ladies, some genius has come up with a product that will fix that greasy, desperately-in-need-of-a-wash hair you find yourself freaking out over when you realise that in 3 minutes time you should be racing out the door to get to work/ meet your date/ party the night away with the girls. Batiste is my favourite. I don't spray it straight on my part – I either spray on my fingers and rub through or kind of lift up pieces of hair and spritz underneath, then mess it all through.
Dry shampoo is also perfect for nixing that "sweat halo" you get after a strenuous gym work out (who can be bothered waiting for the hairdryer at peak hour in the mornings at the gym?) I use the original version but I see they have a brunette version now too so I'll switch to that next time. Have you ever used dry shampoo, and if so, what do you think of it?
+ I love, love, love product recommendations so tell us in the comments what you're using! What are your must-have, can't-live-without hair products?