Hands up if you love glowy skin and feeling damn good? Excellent. Me too (times infinity) and I'm going share with you what I've been doing lately on the beauty and health front that's helping me ramp up the glow factor.
1. Sodashi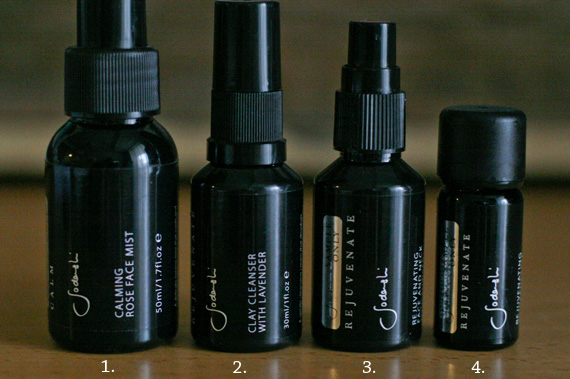 I mentioned recently that I'm on the quest for some new beauty products, so after a goodie box of Sodashi samples made it's way to me a few weeks ago, I was absolutely thrilled, to say the least.
I'd heard great things about Sodashi (which sounds like something an excited Harajuku girl would squeal – "Sodashi! Sodashi!" – but actually means "wholeness, pureness and radiance" in Sanskrit) and knew that their products were chemical-free and made from natural ingredients, so I ripped the box open and started applying the products straight away. As you do. If they're good enough for some of the world's most exlcusive spas in the Paris and New York, they're most certainly good enough for me!
This is what I've been testing out:
1. Calming Rose Face Mist
This spray smells like a dream and although I generally only use face mists on long-haul flights, I've been giving myself a little spritz twice a day and delighting in the experience. The idea behind face mists are that they're supposed to refresh and uplift so I'll be bringing this one on my flight to Melbourne today to do just that. Smells IN-CRED-I-BLE.
Full details on ingredients and price.
2. Clay Lime Cleanser
This one gets major points from me for one very simple reason – you can rub it all over your face, including your eyes, without running around the bathroom like a screeching Banshee, arms flailing as you reach for a towel to "take the stingy away." Does anyone else do this when you forget the product you're using isn't suitable for rubbing over your eyes? Hate that. Anyway, I'm pleased to report that this clay cleanser is totally sting-free and sinks into your skin beautifully. The texture is amazing and you're left with a clean (but not tight) face. I've also noticed it seems to brighten my skin as well, which is a big fat bonus!
Full details on ingredients and price.
3. Rejuvenating Face & Neck Moisturiser
I'm loving this so much I just ordered another bottle because I can't bear the thought of my sample running out and being left without this product. It's THAT good. It's funny because I love quite oily/ thick moisturisers (of which this is neither) but I'm finding my makeup is staying better now and it has most definitely helped with smoothing and brightening the skin on my face. I don't want to brag too much but I feel like my expression lines under my eyes are plumper and less noticeable too. THIS is why I've ordered more. Oh, and it smells divine!
Full details on ingredients and price.
4. Rejuvenating Concentrate
I wasn't sure if this would impinge on my super-speedy beauty routine so I was a bit dubious about this concentrate at first, purely because I'm a whip it off and whack it on kinda girl when it comes to cleansing and moisturising. HOWEVER, I didn't need to worry as this only adds about 40 seconds to your overall routine and is completely worth it. Trust me.
What you do: Fill your basin with warm water and add 10 drops of Rejuvenating Concentrate. Soak a face cloth in the solution, squeeze out excess water and then apply to your face. I like to hold it on quite firmly, the way they do when you have a facials. Repeat your affirmations in your head as you do so – it adds to the experience.
What it does: Um, magical things! The Rejuvenating Concentrate actually gently exfoliates as well as rejuvenating, so it's great for skin renewal and helps with scarring and pigmentation. Super stuff.
Full details on ingredients and price.
2. Ultraceuticals
I've recently started using Ultraceuticals Even Skintone Serum  in place of my Clinique Even Tone Clinical (which I also love and highly recommend) and it's working a treat!
I've been applying it after I cleanse, under my night cream for the past two weeks and I've definitely noticed it lightening up some of the more noticeable pigmentation on my face. The curse of living in Queensland is that we're so much more susceptible to sun damage and with my wedding coming up, I plan on doing everything I can to even out my skin. This serum is staying in my kit for sure.
I'm still using my all-time favourite serum, Trilogy Rosehip Oil in the mornings and I use this one at night.
 3. Big 'Everything' Salads
This salad we made the other night is THE BOMB and I've been trying to incorporate these big "throw in everything" type salads more and more in our diets.
This one had:
+ Roast pumpkin – roasted in coconut oil and turmeric
+ Spinach
+ Snow peas
+ Tomato
+ Fetta
+ Avocado
+ Alfalfa
+ Walnuts
+ Chia seeds
+ Red onion
Dressing
+ The salad with firstly dressed with a bit of avocado oil, then topped with a mix of natural yoghurt, mint, lemon and cayenne pepper. YUM!

4. Exercise Motivation
Women's Health magazine had a great deal recently where you could subscribe for 12 months for $69 and also receive their Big Book of Exercises as a freebie. I'm a big believer in reading to educate and get motivated, and I love the way Women's Health pull together relevant health information without being "preachy" (or worse still, calorie/ fad diet obsessed).
So glad I've got this highly informative book of exercises now and I'm going to make up some new (hardcore) routines for my training buddy and I to tackle next week. I also bought some new exercise gear (lululemon and Lorna Jane make the best stuff in my opinion, girly and functional all at once) because apparently new gear makes you run faster. Ha!

+ What about you? What are you using/ eating/ doing at the moment that's making you feel and look fabulous?