I've always had a penchant for beauty products. The curious little experimenter in me is forever on the hunt for that elusive lip gloss that's glossy without being too glossy and thick without being sticky; the hair treatment that works wonders on ratty hair; or the foundation that delivers the perfect ratio of coverage and dewiness. Without being oily – of course.
I blame my mother.
I remember getting ridiculously excited as a youngster when mum would clean out her make up bag and her old products would find their way into my eager little hands. So many pretty things to play with! Daring pink lipsticks to rub all over my seven year old lips! Clumpy electric blue mascara, peach and aqua eyeshadows with cool little brushes that I pretended to know how to use. It was the 80's and with mum's hand-me-downs in tow, I was fierce. Or so I thought. I was also seven so I never actually went anywhere with a fully made up face (I waited until I was at least eight for that, obviously) which is for the best, because I'm pretty sure I would have looked like a clown smokin' hot. At that tender age, I hadn't quite mastered the art of makeup application, although I do remember "decorating" (quite skillfully, if you ask me) my brother's face once in a thick cream foundation that was about six shades too light for his olive skin… but, ah, that's a story for another time. Sorry Andy.
Anyway, that early love for beauty products never dissipated and whether it's great skin care products, sweet smelling perfumes, lotions, hair treatments, makeup – you name it – I'm interested. Let's just say thank god Sephora hasn't made it's way to Australia (yet). Oh, and I may or may not also have a little (gargantuan) problem with lip gloss (current handbag count: 15). Like I said, the path to the pearly gates of lip gloss perfection is a long and windy one.
Being the curious beast that I am, I love peeking into other people's makeup bags. Below I'll share the products that are on high rotation in my bathroom at the moment and I look forward to hearing about your faves in the comments. Tell us all about your Holy Grail, never fail, superstar beauty buys!
*** By the way, I've broken this series into two parts – Part 1: Skin & Fragrance and then on Monday, I'll post Part 2: Makeup – as I didn't want to bombard you with too many products and shiny things in one post!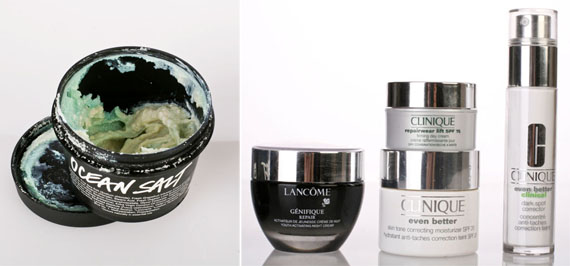 Self-tanners
St Tropez Tanning Mousse: I love leather handbags and shoes, but leather skin? Not so much. I'm all for a faux glow and the St Tropez Tanning Mousse comes in equal first place in the "best self-tanning product I've ever used" stakes. Leaves your skin a beautiful, rich caramel colour (tangerine factor: zero), is tinted on application so you can be assured proper coverage, and the biggest bonus of all is that it doesn't smell. I wear latex gloves when I apply the mousse to avoid stained hands and although it dries quickly (I generally put my clothes on within 10 minutes of application) I find it takes about five hours for the colour to deepen to my desired colour.
Ella Bache Great Tan Without Sun: Five stars all the way for my fail-safe tanning product. I was introduced to Ella Bache's Great Tan about 8 years ago (wowsers, that seems like a long time!) and haven't looked back since. The thick formula goes on dark and is green-based so, again, no sneaky orangeness at all. I absolutely love the result – a delicious, chocolatey sun-kissed glow. Perfection. I get asked about this one a bit when I have it on and always recommend it enthusiastically. Go forth and Great Tan! Don't forget your gloves as it will stain your hands (I have been known to scrub my hands with washing powder to get it off). Whoops.
Sunscreen
Nivea Moisturising Sunscreen Lotion 30+: Love this sunscreen from Nivea. Light (with a good amount of dewiness), doesn't leave you with a face resembling Casper the Friendly Ghost, lasts forever and definitely won't break the bank. I wear this under my makeup every day (yep, even in winter). For days when I'm not wearing foundation, I also love, love, love Invisible Zinc Tinted Daywear for its three-in-one UV screening formula – great coverage via the tint, which comes in medium and light, 30+ sun protection and splendid moisturising properties.
Fragrance
I'm constantly spritzing perfumes and body mists and have quite a good collection happening, but here are a few of the fragrances I'm wearing at the moment:
Daisy Marc Jacobs: If a playful mix of strawberry, voilet, gardenia and jasmine is your thing, then you'll love Daisy. I got this as a gift and I must admit, I wouldn't normally have chosen it for myself as I generally gravitate towards vanilla-y, sweet smelling perfumes (or crisp citrus-y ones) but I really do love it. A great "every day" fragrance that comes in a super cute bottle. The new Daisy Eau So Fresh is lovely as well, a bit fruitier and the bottle is also divine.  Great gift idea!
Flowerbomb Viktor + Rolf: Ahh, Flowerbomb! My number one, favourite fragrance – my "signature scent" I suppose you could say. I love everything about Flowerbomb, from the beautiful bottle to the gorgeous and feminine notes of  rose, vanilla, orchid and freesia. I think I'm onto my fifth bottle number of Flowerbomb now, which says as lot as I'm definitely one to mix it up beauty-wise. Actually, I stuffed up and accidentally bought the smaller version from Sephora recently but thankfully still have some of my 100ml bottle left to get me through the next little while. I'm a firm believer in using your good perfumes – don't let them sit on the shelf to get dusty, every day is a special occasion! – so I tend to go through these babies at a faster-than-normal pace. To sum up, Flowerbomb is distinctive, full-bodied, sexy, intoxicating… and if you want a prospective partner to go googly-eyed over you on a first date, I strongly recommend you wear this!
Ravishing Love Victoria's Secret: Along with my insane underwear haul, I picked up a few bottles of Ravishing Love and some other body mists like the DELIGHTFUL Exotic Bloom Refreshing Mist at Victoria's Secret in New York in April. Ravishing Love is saccharine sweet, with juicy notes of pomegranate and blackberry and makes you feel all girly and VS Angel-esque (haha). Basically, it's happiness in a bottle. Great price and a perfect size for carrying in your handbag. Adore.
Face
Lush Ocean Salt Scrub: If you want baby smooth skin, definitely give this gem of a scrub a go. Lush products always smell great and this one is no exception. I use it once a week to deep clean my skin and it leaves my face really refreshed and ultra-smooth. The salt crystals are quite large and if you really get in there and scrub hard like I do, you'll end up with a lovely rosy red face for a while, so I find it's best to scrub before bed. I guarantee the next morning you'll be all well, helloooo glow!
Trilogy Rosehip Oil: Saviour for dry skin and fine lines. Beautiful, light formula (for an oil). Organic. Packed full of anti-ageing antioxidents. Ridiculously hydrating.  Should I go on? Fabulous beauty wonder Zoe Foster at PRIMPED (click it, bookmark it, make it your beauty bible – you'll thank me later) first introduced me to Rosehip Oil and while I've tried a few different brands, the Trilogy offering reigns supreme in my eyes. Can't get enough of the stuff and I really notice a difference in my skin if I don't use it. Especially around my eyes in those pesky under-eye lines where makeup loves to gather for a little party sometimes.
Clinique Even Better Clinical: Hands up who wants to look older? Yep, me either. Did you know pigmentation, dark spots and uneven skin tone can make you look older than having wrinkles does? Read on here if you need to wrap your head around that a bit more. I've got spots on my face that lighten and darken with the seasons so I started using this serum regularly and have definitely noticed a difference. Really brightens my skin and seems to make it more "even," as the name promises. I use it nightly under my night cream.
Clinique Repairwear Lift SPF 15: I got this in a Clinique gift-with-purchase pack and interchange it with the Even Tone Moisturiser below. Nice consistency, and seems to smooth out fine lines.
Clinique Even Better Skin Tone Moisturiser: Purchased this one at Sephora with the Even Tone Clinical and as expected, they complement each other quite nicely. I mix up the brands of day/ night facial moisturisers I use on a regular basis and sometimes I'll forgo this moisturiser and just use my suncreen and a dab of rosehip. Basically, it depends on what my skin needs at any given time. My skin type is normal but I can get a bit oily around the chin around that time of the month and can also experience bouts of dryness (related to the weather, air-con at work, one too many cocktails or a lack of good fats in my diet). So I just go with what my skin asks for. This is a nice mosituriser but I'll probably try something new next time. Because I'm fickle like that.
Lancome Genifique Repair Youth Activating Night Cream: This, I LOVE. Thick, luxurious and non-greasy like all good night creams should be, I wake up with my skin all rejuvenated and supple when I use it. Winner! It's a little on the exxy side (I bought it in the U.S at a much more purse-friendly price) but you only need a little bit and it spreads really well. I will definitely buy this one again as I do believe in investing in good skin care products (but I am happy to skimp a bit on some make up products). If you're looking for a night cream that delivers, give this one a go.
+ So, there's my round up – what skin care is working for you at the moment?
+ Any good product recommendations, things we have just gotta try?
+ Spill the beans below… and check back for Part 2: Makeup on Monday!
Images: top image Veronique Tres Jolie via Pinterest. All other images taken by me in my Dad's home studio.