Welcome to the second part of my Beauty Essentials series. For those that missed it, you'll find Part 1: Skin & Fragrance here.
This time it's all about the makeup I'm loving right now, so without any further ado…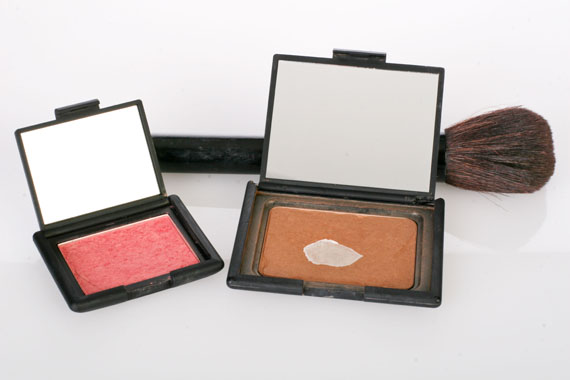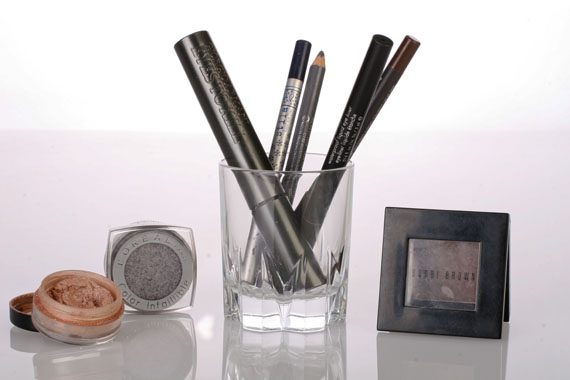 Face + Cheeks
Before I get into my current favourites, I have to be honest, I have quite a few half finished tinted moisturisers and foundations sitting in my bathroom cupboard that aren't mentioned below. I tend to mix two foundations/ tinted moisturisers together with an illuminator to get a consistency that works for me and to create the level of coverage I like, which is light to medium for during the week and heavier if I'm going out on the weekend. The ones I'm using as "mixers" at the moment are mostly by L'Oreal and Maybelline.
M.A.C Mineralise Skin Finish Natural: I'd never used powder until about a year and a half ago when I got my makeup done at M.A.C and the makeup artist waxed lyrical about how great it was for keeping your makeup in place for special occasions or for photos. Fair to say she had me at "No More Shiny Forehead." I decided to give the Mineralise powder a go and although I only really use it on my T-zone to counteract any shininess I get as a result of using rosehip oil and dewy/ slightly oily foundations, it's definitely a good one to have in the collection. She's a keeper!
M.A.C. Studio Fix Fluid SPF 15: I've been using this foundation for a few years now – it's a staple that I usually wear out on weekends, mixed with a tinted moisturiser. I used to mix it with the delightful Maybelline Liquid Mineral Foundation, that was an absolute steal at $20 and worked a treat, but has sadly been discontinued. Why Maybelline, WHY? So what skin type will Studio Fix work for? It offers outstanding coverage and is a really nice formula – a little thick for me for during the week but nice for a night out as it stays put for hours – so I would recommend it to anyone looking for medium to heavy coverage that provides a bit of glow. I hear from a friend Studio Sculpt is great (possibly better) so will have to try that next time. Have any of you tried it?
Maybelline Fit Me Foundation: Picked this up in NYC, and not sure if it's out in Australia yet, but I'm really liking it. Because it's quite sheer and has a dewy finish, I'd recommend it to those with skin that's a little on the drier side. I find it works well with a bit of M.A.C Mineralise brushed on my forehead/ nose/ chin. Wore it a lot in NYC where the weather was really cold and the wind was drying my skin out a whole heap and it seemed to lock in the moisture quite well. Nice.
Benefit High Beam: Oh Benefit, how I love thee! This healthy-glow-in-a-bottle has come to my rescue more times than I can remember and I truly believe I'll keep buying it forever. I dab a bit on the apple of each cheek and pat/ blend it upwards and it provides an instant lift for my skin. I apply it after foundation, under my blush.
Laura Mercier Illuminating Tinted Moisturiser SPF 20: Oooh, oooh, can't wait to talk about this one! I heard about LM Illuminating via Yaz from PRIMPED (who has the yummiest skin in the universe so when she shares her skin secrets, my ears are well and truly perked!) I blend a pea-sized amount in with my foundation and adore the luminous glow it provides. Bring on the radiance! It's also great for minimising dark under-eye circles and contains an SPF 20. Good one.
NARS Blush in Orgasm: This has to be one of the most hyped cheek products on the globe, but let me tell you, the hype is totally justified. The gorgeous peach colour works for so many different skin types and the pigmentation is great, filled with lovely little gold flecks to give you a beautiful healthy glow without being over-the-top glittery. For me, it's as close to the perfect blush as you can get!
NARS Bronzer in Laguna: Buoyed by my love for Orgasm (err, that sounds weird!) I trotted off to purchase the NARS Laguna Bronzer and I'm definitely a fan. I usually only use bronzer when I'm going out (when I normally have fake tan on my face and don't really need bronzer anyway – go figure) but out of the bronzers I've tried over the years, this is the best. Doesn't leave you looking "muddy" or orangey, has very fine gold flecks that catch the light and lasts forever.
Eyes
Giorgio Armani Eyes to Kill mascara: I looooove a good mascara that adds volume and a bit of curl and have seriously made it my mission to find The One that does it all. One of the best mascaras I've ever used is Maybelline's Sky High Curves (such a great price and far better than a lot of the others I've tried – still not sure why everyone raves about Maybelline's Great Lash, which to me, has a horrible watery consistency and does nothing in the way or curling or thickening). Anyway, I got a sample of Mr Armani's Eyes to Kill in a goodie bag and after using it to the clumpy, bitter end, decided it was time to invest in a larger one and I've been so happy with it. I've actually got lash extensions on at the moment – girly, frivolous and highly addictive FYI – but still use Eyes to Kill on my lower lashes. When I was using it on my upper lashes, I found it to be fabulous for thickening. I have reasonably long-ish lashes but always want more thickness and volume and it really seems to fill the gaps. Big thumbs up from me!
Eyeshadow and Eyeliner: It's hard to get creative about eyeshadows and eyeliners, and really, they are something that most of us have quite a few of in a multitude of colours. I don't wear eyeshadow all the time but my staples are loose pigments in grey, fawn/ taupe or sand. I also LOVE Bobbi Brown and highly recommend her amazing eyeshadows – so smooth and perfect for blending. The one shown above is called Stone. The pencils (and magnificent Stila liquid liner pen) are in grey, brown, black and navy – essentials in any beauty bag in my opinion.
Not shown
My entire lip gloss/ lipstick collection! Needs it's own post, believe me. Notable mentions in the lip gloss category however are: 1. Vanilla Birthday Cake Lip Shine by Philosophy (adore vanilla scented anything and this gloss is delicious) (and no, I haven't actually eaten it, but I may have considered it once or twice!) 2. Lancome Juicy Tubes in Berry Bold 3. M.A.C Dazzleglass in Steppin' Out and 4. L'oreal Made for Me Naturals in Orchid. I'm going to go out on a limb and say that's the best damn nude lipstick I've ever used. Yep.
+ Phew, that was huge!  How's that shopping list looking now, ha!
+ Your turn – what makeup do you use and love? Can't wait to hear your recommendations!
Images: taken by me