Welcome to another Sponsor Spotlight!
Today I'm introducing you to two bloggers that there's a good chance you'll already know – Kim from Dream. Delight. Inspire and Noémie from As Ink Remains.
Just like the girls I introduced you to last week, I adore both of these inspiring souls and regularly check in to their sites to soak up their latest delightful offerings. If you're not already familiar with these beauties, check out the below to make yourself acquainted – stat!
Introducing: Dream. Delight. Inspire.
Dream. Delight. Inspire. is a blog that was created to do just that – help you DREAM of places you want to go, things you want to achieve, who you'd like to become. DELIGHT you by writing imaginative, quirky, informative, sometimes (okay, often) rambling posts that will hopefully bring a smile to your face. INSPIRE you in every way, to make you see that anything is possible.
My name is Kimberley Smith and I'm the blonde-headed Sagittarius behind this blog, writing to motivate people to really look at their lives and make choices that are going to lead them down the path of adventure and happiness.
In 3 words, I am… Enthusiastic, chaotic, passionate.
Favourite place/s… Paris, Montreux in Switzerland, the little grassy clearing across the road from my house and my bed (c'mon, you know it's one of your faves too!).
Obsessed with… Multi-tasking (terrible habit), inspiring people to take risks and challenge themselves, raw chocolate, helping people discover their voices (I'm a singing teacher amongst other things) and great coffee.
Listening to… I'm loving Bernhoft, Coldplay, Sia and Beyonce for newies and Queen, The Who and Creedance Clearwater Revival for oldies.
Reading… Actually I'm being a nerd and reading about Complete Vocal Technique for my singing business. I'm about to launch a new site (Inspired to Sing) so I'm upping my research and soaking up the wisdom of many different teachers.
Parting words of wisdom… If you're not excited about your life, you need to change something. It's scarier to live your life clouded in unhappiness rather than take a leap of faith towards what lights you up. Stay in the present and take one day at a time – you've got this!
Connect with Kim
WEBSITE // TWITTER // FACEBOOK
Introducing: As Ink Remains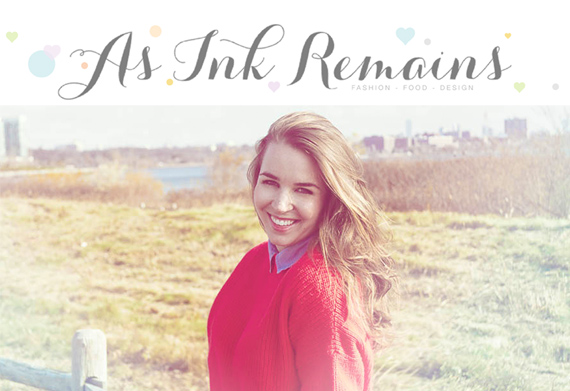 My name is Noémie and my blog As Ink Remains was started in February 2010. I started blogging because I needed a creative outlet, and blogged about the things that made me happy; which was usually all things pretty in fashion and design, and then somehow turned it into a blog about my life in Toronto.  And food.
As for me, I'm 28 years old and I live in Toronto. I am a graphic designer/photographer/cat aficionado. I grew up in Ottawa and moved to Toronto for school, where I've since made my home with my husband and cat. I primarily design graphics for apparel, logos and simple websites, and take photos.  I have a penchant for good coffee, stinky cheese, the Internet, and collect cameras, and may or may not be a plant hoarder.
In 3 words, I am… Happy, ambitious, and hopeful.
Favourite place/s… Brooklyn, Nagarkut in Nepal, and anywhere where they serve great coffee.
Obsessed with… Mid-Century furniture, blogs, travel, great company.
Listening to… Lots of stuff, but most recently: Blonds'  "Time", Twin Shadow's "The One", and Cat Power's "Cherokee."
Reading… The current issue of Apartemento – I'm such a sucker for the pictures in that magazine.
Parting words of wisdom… Start by doing what's necessary; then do what's possible; and suddenly, you're doing the impossible. – by Francis of Assisi, St.  This has applied in many things I've accomplished. I'm currently working on my running and it's a daily battle – but when I look back on when I started, I'm proud of myself.
Connect with Noémie