It's time to meet some of the other members on the In Spaces Between sponsorship team!
In their own words below, you'll hear from Carolynn from The Small Garden (you NEED to check out their gorgeous new terrariums), Nadine from Yoga With Nadine whose Bali Bliss Retreat sounds like my kind of heaven and Melissa, an acupuncturist who will not only help you feel amazing but can help you look damn fine too.
Take a read below and head over to their online digs to say hi!
Introducing: The Small Garden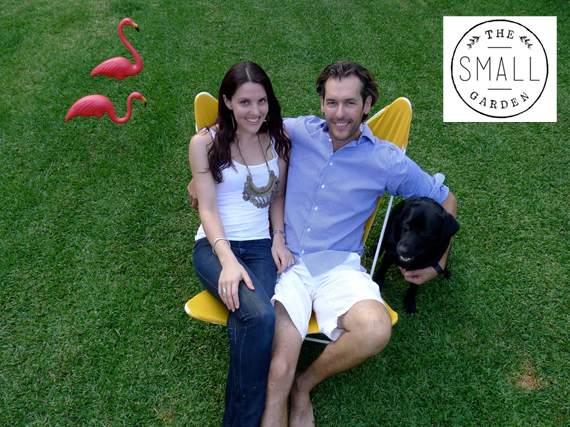 'No space is too small for a garden.' With this philosophy in mind, my husband Tom and I opened The Small Garden, a landscape design and installation service for small urban outdoor spaces – think apartments, courtyards, roof terraces and balconies.
Making the most of the space available, we create functional outdoor areas lush with greenery and innovative furnishings. Just recently we also opened an online shop stocking a curated range of unique outdoor products and accessories, all the sorts of things we'd love to have on our own balcony at home.
In 3 words, I am… Creative, positive and always planning my next wanderlust adventure.
Favourite place/s… The beach, especially the Noosa National Park Beaches (I got married here earlier this year).
Obsessed with… Anything INDIA such a vibrant and diverse country – I'm planning our belated honeymoon here – cook books, textiles, my organic veggie garden and my puppy Lola.
Listening to… A bit of an eclectic mix but on high rotation right now Angus Stone 'Broken Brights', The Black Keys 'El Comino', Lana Del Ray 'Born to Die and anything by Faithless and Fleetwood Mac.
Reading… My bedside table always seems stacked high with books, but currently on the reading list – 'The Space Between Us' by Thrity Umrigar, 'Tasting India' by Christine Manfield, 'The Stylists Guide to NYC' by Sibella Court and 'Scar Tissue' by Anthony Kiedis.
Parting words of wisdom… 'Make this moment count' seems to really resonate with me. If you have a dream, take a deep breath and just give it a go. 12 months ago our business was simply a dream. Believe in yourself and your skills and don't be scared to make mistakes or ask for help along the way.
WEBSITE // TWITTER // FACEBOOK
Introducing: Yoga with Nadine
I grew up quite certain that being able to feel my body would be dangerous (I had good evidence for that, but that's another, longer, story). And then there was the overanalysing. Man, when you get stuck in your own head, it's amazing the sh*t you can come up with.
Through yoga, I've been able to channel this unfortunate tendency into something useful: Svadhyaya, or self-reflection-without-judgement. I now passionately share this transformative experience, empowering others to find their inner strength and sovereignty. Sometimes people call me a yoga shaman. I like that – it means I've done my job properly.
In 3 words, I am… Loving my life
Favourite place/s… Melbourne's Elwood Beach for long walks, Miss Jackson for coffee and corn cakes, and Ubudin Bali for its massages, heavenly juices, and happy people.
Obsessed with… Cats. And coffee. And yoga. Also, chairs. Eames ones. I'm a bit obsessive, can you tell?
Listening to… Fiona Apple's new album.
Reading… Guides I found on Google about how to build a website, Vogue and Vogue living, Design Sponge, and this blog, of course.
Parting words of wisdom… Everything, anything, is possible when you take full responsibility for how you live. You have the power to do anything, you just need to believe in it.
WEBSITE // TWITTER // FACEBOOK 
Introducing: Meridians in Motion
I'm an acupuncturist who specialises in cosmetic acupuncture, women's health and paediatrics. But that's not all I'm interested in. Acupuncture is a fantastic natural way to combat many other health problems found in everyday life – actually, there 's not much acupuncture can't help with. My goal is to help people achieve health, happiness and balance in their lives and I feel the best way to do that is naturally.
In 3 words, I am… Caring, determined, enthusiastic.
Favourite place/s… Home, Thailand, Greek Islands, Spain.
Obsessed with… My family and friends, a good laugh, finding new recipes, health.
Listening to… Honestly? The Wiggles and nursery rhyme CD's. My son has reached a beautiful age where he loves dancing to music and copying the actions to nursery rhymes so we spend a lot of time singing and dancing along with the music.
Reading… I'm actually reading two books at the moment: The Fifty Shades of Grey Trilogy (along with the rest of the world it seems) and Shonishin: Paediatric Acupuncture. I'm always looking for ways to broaden my knowledge and acupuncture is so diverse in the conditions it treats. At the moment I'm looking for new ways to treat babies and children as I've found, with my son especially, that the way I have traditionally been taught can't always be applied. I'm branching out into a Japanese style of acupuncture that doesn't involve the use of needles when treating children.
Parting words of wisdom… While travelling around Europe one of our tour guides said something that has stuck with me ever since. "It's not wrong, it's just different". I believe by keeping this in mind it can help you understand and accept so many new and wonderful experiences in life. For example, accept another culture's way of thinking or doing things, see another person's point of view, try something you've never done before. In keeping with that idea, if you haven't had acupuncture before, why not try it? It's not wrong, it's just a different treatment that you haven't tried yet.