Morrrrrrrrning lovelies! How are we all today? Radiant and full of beans I hope!
It's Tuesday again, and we all know what that means… so off you go! Enjoy x

5. Renaissance Woman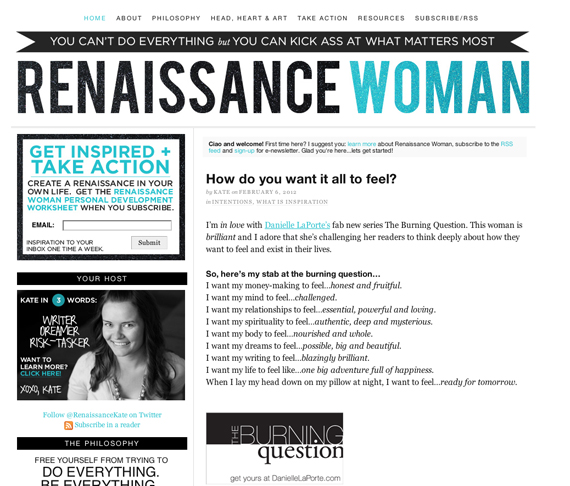 Links I'm Loving This Week
1. The luminous Kate Northrup raises some brilliant points on the six letter word to banish from your vocabulary. Amen to that!
2. Caleb from Think Traffic shares six (more) priceless lessons to learn from his first year of blogging. Interesting reading with plenty of fantastic take-aways.
3. I'm a huge fan of dainty, delicate jewellery (and paradoxically, chunky, oversized jewels!) and loved this easy DIY chain collar necklace from the DIY queen herself, Geneva from A Pair & A Spare.
4. Achieving a goal isn't magic: 4 tips to make it happen from Positively Present is brilliant. I love the line: "Achieving goals isn't magic; it's muscle, motivation and moxie."
5. Kate Swoboda from Your Courageous Life is one of my favourite online writers and I was hanging on every word in her recent posts seeing the rope and the confusion that precedes clarity. Highly recommended reading (her website has also just been jazzed up – pretty!)