I'm so excited to share with you the first post in a new 'Food + Entertaining' series I'm going to publish here on In Spaces Between.
If you're anything like me, you probably spend (too much) time thinking about meals to cook for dinner – either for yourself, you and your partner, or when you have friends and family over to visit – so my hope is that these posts serve as inspiration for everything from the styling to the resources that will guide you as you whip up a feast fit for any occasion.
I've been adding to this one all week as I wanted to make it as useful as possible for you – and I hope, like me, you'll refer back to it next time you're entertaining your nearest and dearest!
So without any further ado, let's get started with the first installment, which is all about…
So I'm back, to the velvet underground
Back to the floor, that I love
To a room with some lace and paper flowers
Back to the gypsy that I was
To the gyspy… that I was
— Stevie Nicks, Fleetwood Mac
Calling all free spirits!
You're invited to experience a thrown-together soiree, where inspiration is drawn from freewheeling bohemians and creative expression reigns supreme.
In a space where incense and nostalgia swirl in equal measure, the floors will be covered in worn ethnic rugs, dreamcatchers will hang from doorways, and daisies in jam jars will sit atop a rustic table littered with candles.
The vinyls will be out. Background music from rock 'n' roll greats will emanate from the old record player in the corner, speaking to the wandering gypsy in us all. Fairy lights, pewter drinkware, jewel-hues and lashings of eclecticism will marry the old, the new, and the warmth of laid-back ambience.
Dive down the rabbit hole into a whimsical world. Dream on.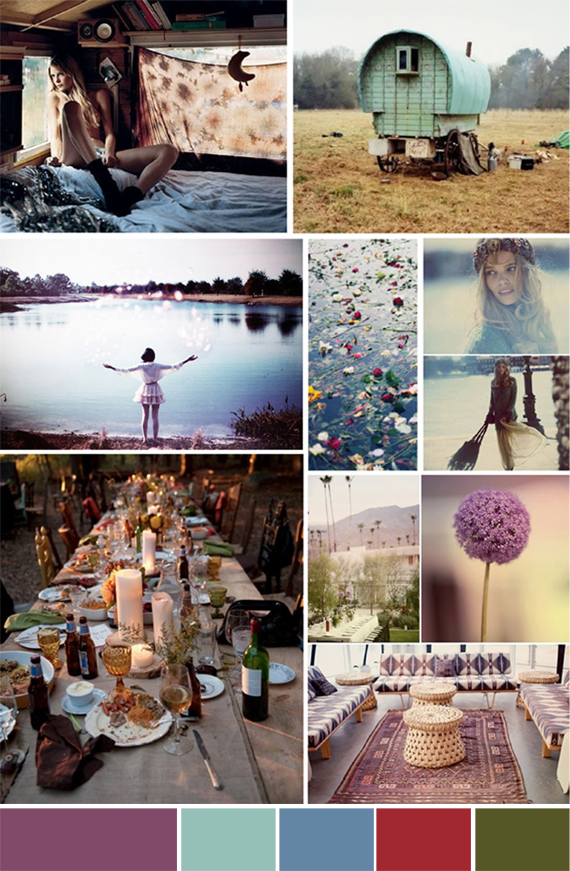 Starter
Balsamic Beetroot Relish
You will need:
3 or 4 bunches baby beetroot
Olive oil
Sea salt
Balsamic vinegar
1 red onion, chopped
1 tbsp lemon juice
1/2 cup white wine vinegar
1/4 light brown sugar
Fresh thyme
For instructions, view original recipe on What Katie Ate.
Serving Suggestions
+ Think toasted pita bread, sourdough smeared with garlic butter and a diverse mix of cheeses, olives, dips and fruit (grapes, prunes, dried apricots).
+ Fill a vintage basket with breadsticks and present cheeses on a rustic wooden chopping board.
+ Serve dips (in flavours like roasted beetroot (as above), tzaziki, hummus and spinach) in old jam jars or crystal bowls from thrift stores.
+ For the super arty creatives amongst us: turn your dinner party into a 'Cheese and Charcoal' party!

Main 
Vegetarian Option: Curried Lentil Stew
Serves 6
You will need:
1 can pre-cooked lentils
1 can chickpeas
1 packet pre-cooked brown rice
2 carrots
1 zucchini
1 tsp cumin
1 tsp paprika
Dash chilli powder
1 tbs curry powder
1 litre vegetable stock
1. Put all ingredients in a saucepan, cook on high until boiling, then reduce to simmer until mixture thickens to a stew (around 30 mins).
2. Garnish with coriander and serve with mango chutney and sour cream/ plain yoghurt.

Meat-Lover Option: Pan-Fried Free-Range Chicken with Roasted Vegetables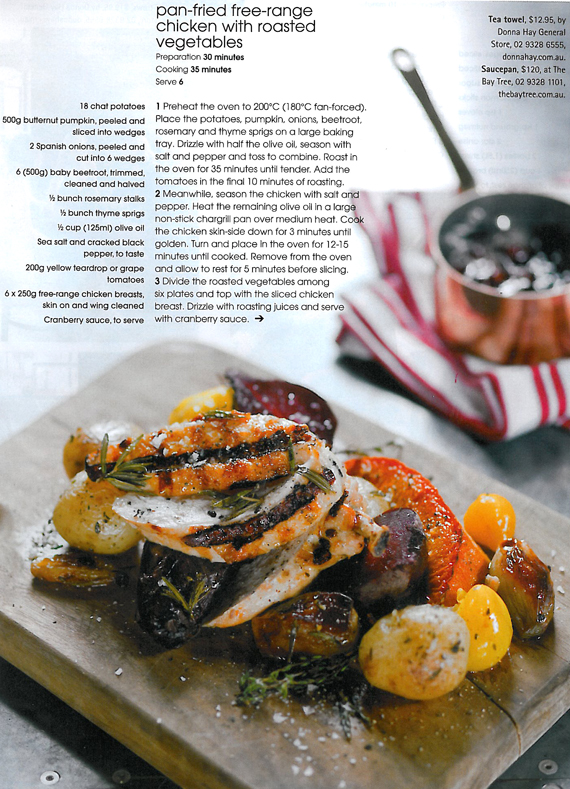 More main meal inspiration:
1. Vegetarian: Grilled Veggie and Tofu Stack with Eggplant, Balsamic and Mint (if you're not into tofu, add pumpkin and sweet potato).
2. Meat-Lover: Balsamic Brown Sugar Steak with Caramalised Shallots and Zucchini Bread (oh my god, I don't even eat red meat that much and I'm drooling over this!)
3. Meat-Lover: Moroccan Lamb Tagine with Cous Cous

Dessert 
For warm, summer nights: Orange & Blueberry Pops
You will need:
1/2 cup milk (any milk will do – almond, vanilla soy or low fat – but if you want a creamier pop go for cream)
1 1/4 cups fresh squeezed orange juice
1/4 cup blueberries
1. Mix ingredients and pour into popsicle molds.
2. Freeze for 5+ hours or until firm.

For cosy, winter evenings: Blueberry Crumble
You will need:
2 x boxes of frozen blueberries
2 x tbsp caster sugar
120g (1 cup) plain/all purpose flour
160g (2/3 cup) chilled butter
135g (3/4 cup) brown sugar
A handful of rolled oats (optional)
For instructions, read original recipe on What Katie Ate.




To cool down: Blackberry Mojito
You will need:
6 each mint leaves
5 fresh blackberries
1/2 part simple syrup
1 part fresh lime juice
1 part white rum
1 part crème de cassis
1 part club soda
For garnish:
1 sprig mint
1 each fresh blackberry speared with cocktail pick
1. In a Collins glass, muddle mint leaves with blackberries and simple syrup.
2. Add lime juice, rum and crème do cassis and stir to combine.
3. Fill glass with ice, top with club soda, and stir to combine.
4. Garnish with mint sprig and blackberry.

To warm up: Mulled Wine 
You will need:
1 bottle of medium to full bodied red wine – a cabernet sauvignon is good
1 cup water
2 tbsp brown sugar or honey
1 tsp finely grated fresh ginger
1 sliced orange
1 sliced lemon
1 stick cinnamon
6-8 cloves
6-8 split cardomom pods
1. Put all the ingredients in a saucepan and heat to simmering point over a very low heat stirring occasionally. Don't let it boil or the alcohol will evaporate.
2. Keep mix barely at simmering point for about 20 minutes.
3. Serve warm in warmed sturdy glasses or metal goblets.


1. Jamie Oliver 30 Minute Meals
2. Food, Fashion, Friends by Fleur Wood
3. Spice It Murdoch Books
4. Taste.com.au
5. Green Kitchen Stories vegetarian recipes
6. And if you want to make choosing your meals about 875 times easier, check out Tastespotting

+ So there we go! Who's feeling inspired (or just hungry?!) Is this 'theme' something you think you'd try out? I'd love to hear your thoughts below – what would you add to the mix?
+ And finally, FAVOUR ALERT! If you like this post, would you mind clicking 'Share on Facebook' below. Thanks so much for sharing the love, I really appreciate it. Like, massively! xx
Image and recipe sources: Moodboard images; Beetroot Relish; Blueberry Pops; Blueberry Crumble; Lentil image (recipe by me); Roast Chicken (via Madison magazine); Blackberry Mojito (image) (recipe); Mulled Wine.