It's back! I know it's been a while between foodie posts but I'm launching back in with something that's very close to my heart – a spotlight on the quintessential lazy Sunday brunch.
They say breakfast is the most important meal of the day and in my opinion, there really is nothing like lazing about all morning with your beloved, sitting in the sun with a good book and a freshly brewed coffee (or fresh juice in my case) and enjoying a tasty meal that will keep you satisfied for hours.
Read on for all the recipes you'll need to whip up a bountiful brunch for your nearest and dearest, and for more of my themed food and entertaining posts, check out Bohemian Dreams and the Backyard BBQ.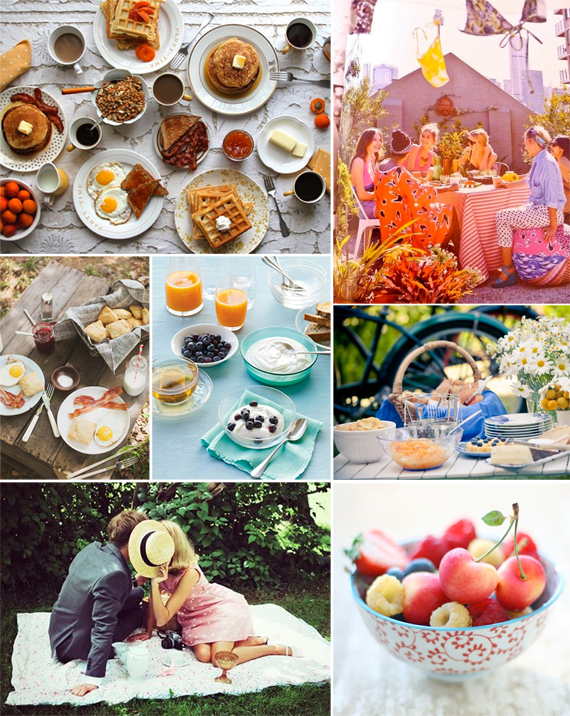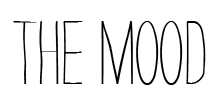 To me, brunch is about simplicity. When I think brunch, I envisage easy-to-prepare food, colourful fruit platters covering a crochet-swathed table, fresh bread from the farmers markets and the smell of coffee wafting through the air.
There's something about brunch with friends that spells 'weekend.' It's about relaxing and indulging. Maple syrup drizzled pancakes piled high with a cheeky scoop of ice-cream and cheesy omelettes with side of bacon are all totally encouraged. There's nothing better, in fact.
And the best part? If you can't eat it all at once, there's nothing wrong with spending the whole day feasting with your fabulous company in the sun.
If only every day could be a Sunday!
Savoury
Baked Eggs
I make baked eggs a couple of times a week and their beauty lies in the fact that they're super simple to whip up but look "gourmet" – making them perfect to serve at brunch with friends.
You will need:
One egg
1 – 2 mushrooms
Half a handful of baby spinach
2 cherry tomatoes
1 tablespoon tomato pasta sauce
Cheese – fetta or tasty work well
Bacon, basil and cream/ milk (optional)
1. Pre-heat over to 180 degrees.
2. Sautee mushrooms, baby spinach and any other ingredients you decide to throw in (obviously cook the bacon if you decide to use that – I don't normally add it in).
3.  Lightly grease a ramekin or muffin tray with oil/ butter.
4. Add all ingredients to ramekin, crack egg over top and sprinkle cheese on last.
5. Cook for 15 minutes on 180 degrees.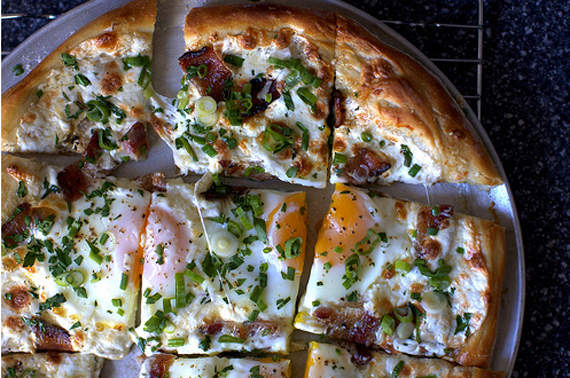 Makes 2 pizzas
Pizza bases *
Salt
6 strips bacon
1/2 cup grated Parmesan
2 cups grated mozzarella
6 large eggs
Freshly ground black pepper
2 tablespoons minced flat-leaf parsley
2 tablespoons minced chives
2 spring onions thinly sliced
For instructions, view original recipe on Smitten Kitchen.

Sweet
Serves 4-6
You will need:
Almond cream:
1 cup raw almonds, soaked overnight
1/2 cup water
1 tbsp extra virgin coconut oil
1 tbsp agave nectar (or maple syrup, raw honey)
Seeds from 1/2 a vanilla bean (or 1 tsp extract)
Pinch of salt
Crumble:
1 cup nuts or seeds of your choice (pecans, walnuts, almonds and hemp seeds)
3/4 cup pitted medjool dates
1/2 tsp ground cinnamon
A smidgin of seeds from the vanilla bean (or 1/4 tsp vanilla extract)
1/2 tsp salt
For instructions, view original recipe on First Mess.
Fresh Pear and Dried Fig Bran Bake
You will need:
Wet
½ cup unsweetened apple sauce
½ fresh pear, diced
1 dried fig, chopped
2 egg whites
2 tbsp unsweetened soy milk
1 tsp blackstrap molasses (can buy in supermarkets in spreads aisle or health food store)
Dry
¼ cup unprocessed bran
1 tbsp whole wheat pastry flour
1 tbsp raw hulled buckwheat
1 tbsp black chia seeds
¼ tsp baking powder
Pinch of salt
Toppings
Yoghurt *
Other goodies
¼ pear, diced
1 dried fig, chopped
1 tbsp pistachios, chopped
1 tbsp honey
For instructions, view original recipe on The Healthy Foodie.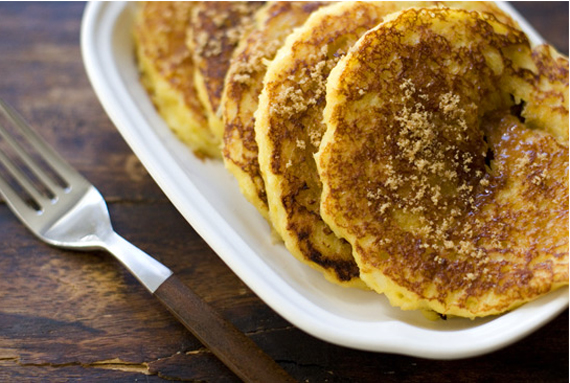 Makes a dozen or so large pancakes.
You will need:
1 and 3/4 cups coconut milk
2 tablespoons honey (or agave nectar)
1 /4 cup whole wheat pastry flour (or all-purpose or regular pastry flour)
3 cups unsweetened dried shredded coconut
1/2 teaspoon fine grain sea salt
2 teaspoons baking powder
3 large eggs whisked in a medium bowl
1/4 cup natural cane sugar or brown sugar
For instructions, view original recipe on 101 Cookbooks.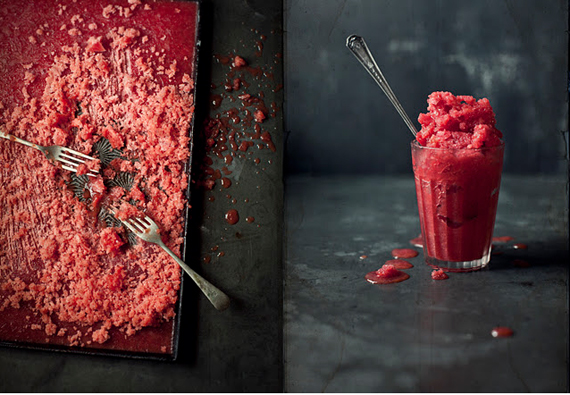 Blood Orange, Mango and Peach Granita
Serves 4
You will need:
1 mango, peeled, flesh cut into round pieces
3 ripe yellow peaches, stone removed, cut into chunks
2 cups fresh blood orange juice
Juice 1 lemon
For instructions, view original recipe on What Katie Ate.

Smoothies are so versatile and you can literally throw in whatever your tastebuds desire but if you want to crank things up a notch or ten, follow the instructions above for a sensational power smoothie – these bad boys are the BEST!

+ Over to you now: Are you a brunch-lover? What's your favourite breakfast/ brunch recipe? Is anyone else hungry right now?
Images and Recipes Sources: Moodboard images; Raw Fruit Crumbles;  Fresh Pear and Dried Fig Bran Bake; Coconut Macaron Pancakes; Blood Orange, Mango and Peach Granita