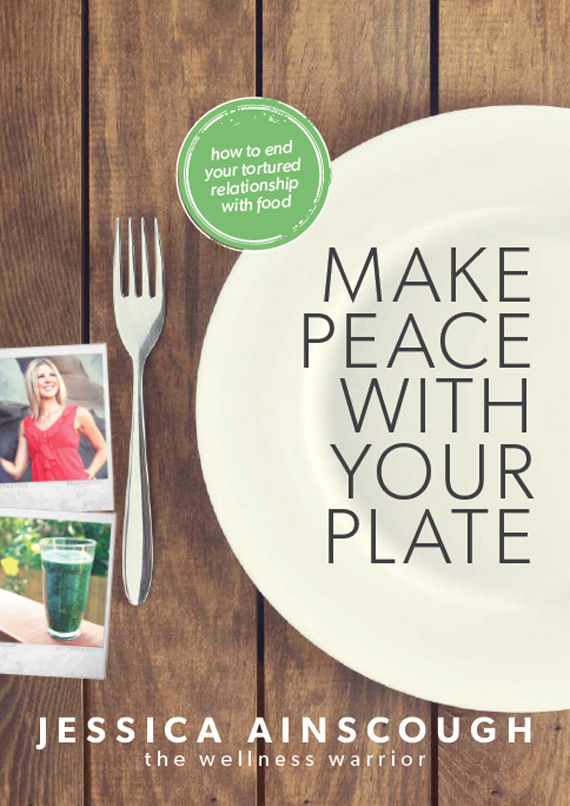 A shimmering site
Every once in a while, I stumble across a blog that really speaks to me. Stars align, things make sense, words leap off the screen and into my psyche and I know that amongst the 300 or so other sites that sit in my Google Reader, this one will shine.
That's how I felt when I discovered The Wellness Warrior.
Writer/ holistic health coach/ all-round superstar Jessica Ainscough's personal journey through the murky waters of a cancer diagnosis formed the blueprint for The Wellness Warrior, and daily, Jess empowers people to take control of their health in a bid to improve their quality of life – on a physical level and a mental level.
A bold + brilliant book
Being a passionate supporter of all the gifts this luminous, ridiculously inspiring soul sends out into the world, I was thrilled when Jess approached me recently to read through her latest book Make Peace With Your Plate (designed by my girl Sian, who seriously knocked it out of the park!)
I read it in one sitting. And then read it again the next day. It's that good.
Personally, this book couldn't have come into my sphere at a more perfect time as living the healthiest/ shiniest/ most energetic version of me is most certainly on my mind at the moment (hello, wedding, hello serious energy requirements!)
In speaking with a lot of you about your goals and intentions for 2012, I know you're also looking to make subtle (or major) shifts in your lifestyle this year so I thought I'd give you a bit of a rundown on Make Peace With Your Plate to help you on your way to mega-health and glowing… everything.
The official spiel 
Make Peace With Your Plate is not a diet book. It's not a book that preaches a certain dietary dogma. Whether someone is vegan, vegetarian, a meat eater, raw vegan, or Paleo is not of concern in the slightest. The gist of this book is real, whole, natural foods.
It's a book that has been craved, for its potential to free people from their tortured relationship with food and covers: the simple truths that put an end to the torturous relationship we have with food; what foods our body wants us to put in, and which ones it does not even consider to be foods; which foods are contributing to weight gain, bad skin, and bitchy emotions, and which ones will lead to a body that is gorgeous and healthy and a mind that is clear and happy.
A few reasons why I loved the book and why I think it's necessary + super important + a total game-changer:
1 // The big one here is the obvious. Staring down the barrel of a life-altering cancer diagnosis, Jess completely transformed her life to save her life (and her arm, which doctors said would need to be amputated). I don't know about you, but to me that kinda screams "I know what I'm on about here, people!"
2 // Infused with Jess' signature 'advice-from-trenches' style, by the time you get through the first section you'll realise Jess has poured everything she's learnt on her wellness journey into this baby. She doesn't hold anything back and the result is a super informative resource that I know I'll continue to refer back to as I make changes to my diet – both for motivation and reassurance that I'm on the right track.
3 // While Jess speaks from firsthand experience, the book is backed up with a plethora of research and expert advice.
4 // Coffee enemas. Fascinating stuff. Read the book to see what I mean. It'll pique your curiosity.
5 // pH balance in our bodies is crucial to health and I loved the information on why our bodies need to stay slightly alkalised to function optimally.
6 // After years of reading countless books on nutrition, I'll admit to feeling more than a little confuzzled so I've made a commitment to myself to listen to my instincts first and foremost, and roll with the information that really resonates with me. There were a few key things in this book that had me saying a silent 'YES' because they were explained better than I've ever heard them explained before. Eliminating/ lowering dairy intake is one that really jumped out – I know my body doesn't deal well with dairy and hearing the facts was a real eye-opener.
7 // Chemicals, chemicals, chemicals. Artificial sweeteners and sugars are toxic, and will make us fat, moody or worse still, very sick. I needed the reminder (like a big slap on the face!)
8 // Lots o' recipes and shopping lists. Because we all love it when it's easy.
9 // Beyond the plate – Jess talks about meditation, sunlight, movement and self-love and why they are intrinsic to our overall wellbeing.
10 // The over-arching message: eat for enjoyment. End the vicious cycle of deprivation, indulgence and guilt and instead eat to feel amazing. Eat what your body runs best on. Ultimately, it's about making peace with your mind. body AND your plate.
Head over to the The Wellness Warrior to grab your copy of Make Peace With Your Plate today!
* In the spirit of full disclosure, I'm an affiliate for this product, which means that I may get a commission if you decide to purchase it. I think you know me well enough to know I only recommend products that I use and love myself, so I have no hesitations at all giving this one a huge thumbs up. As I mentioned before, total game-changer. Enjoy!