How do I begin to describe Gwinganna?
Heaven on Earth? Absolutely. A game-changer? No doubt. A place that will unhinge your resistance, unlock the buried (and beautiful) parts of your soul and inspire you to make changes – whether radical or subtle – to your life so you're living the best possible version of you? A million gazillion percent yes.
Can you tell I'm fanatical about the place?
As proof that vision boards and manifesting your desires go hand in hand, a few years ago I had a nice, big image of the retreat on my board, with the words "I am enjoying a weekend at Gwinganna" written in red underneath.
Not long after, I started my current job and got talking to Gwinganna's Marketing Manager, the glorious Tracy, who epitomises everything the place stands for – calm and centred, caring and mega positive – and she invited me to come and spend the weekend to try out their brand new luxury villas. Insert ZOMG x infinity! This was huge!
Of course, I leapt at the chance and had one of the most relaxing, rewarding and eye-opening experiences of my life. I was in awe of the staff who were on a mission to spread the word on health and wellness in a very big way, and mingling with others who were relishing in the journey as much as I was left me totally inspired.
If you're on the fence about health retreats and thinking you kinda maybe sorta might like to visit one, I should let you know that Gwinganna wins pretty much every spa award under the sun and Hugh Jackman loved his visit so much he returned to become part-owner. Nice.
Giveaway Time
Tracy has been kind enough to give me 5 copies of Gwinganna's 'Inspirations' coffee table book (RRP $19.95) to give away to In Spaces Between readers. Hooray!
Check out a few snapshots of the pages below: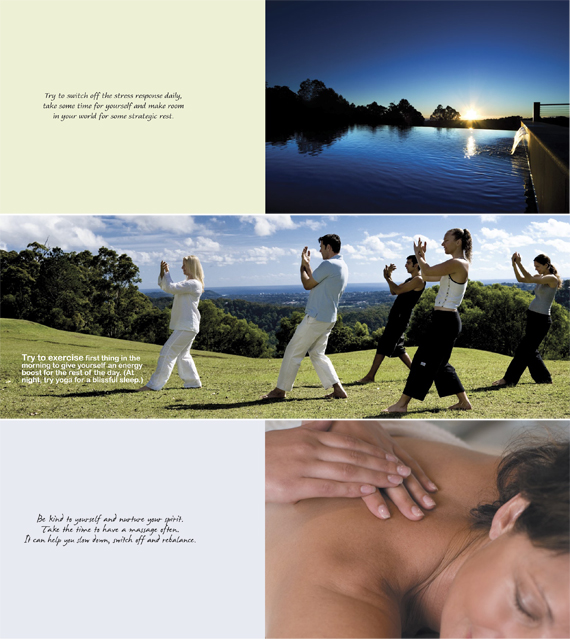 To Enter
Simply leave a comment under this post before 9am Friday 27 January, 2012.
Any comment will do – you can tell us why you'd love a copy of the book, what appeals to you about the retreat, or about your Gwinganna experience if you've been before – and a winner will be selected using random.org and contacted by email.
Best of luck x
Wait, wait, there's more!
Gwinganna have also very generously shared one of their incredible recipes with us all, so if you're need some inspiration for dinner tonight, why not give this baby a go? Delicious.
Coconut Crusted Snapper
Serves 6 mains or 20 portions
1 kg snapper
1 cup desiccated coconut
¼ cup sesame seeds
½ bunch fresh coriander
Zest and juice of 1 lime
Ssea salt/ cracked pepper
1 tsp maple syrup
Directions:
1. In food processor combine coconut, sesame seeds and coriander.
2. Blend till finely chopped, add rest of ingredients except fish until combined.
3. Cut snapper either into bite size pieces or main course size.
4. Press the topping onto the fish pieces.
5. Bake in pre-heated oven (approx. 160 C) until cooked
For more on Gwinganna if you're interested:
+ Diary of My Mental & Physical Detox on Mamamia
+ The Sleep Discovery Retreat Part 1 , Part 2 and Part 3, by Zoe Foster from PRIMPED.

+ Ready, set, GO! Don't forget I have 5 lovely copies to give away – can't wait to read your comments!
UPDATE: The lucky winners, randomly drawn using random.org, are:
28 – Courtney
32 – Alice
24 – Kim
34 – Majella
4 – Rhiannon
Congrats! I'll be in touch via email. Thanks for entering everyone x