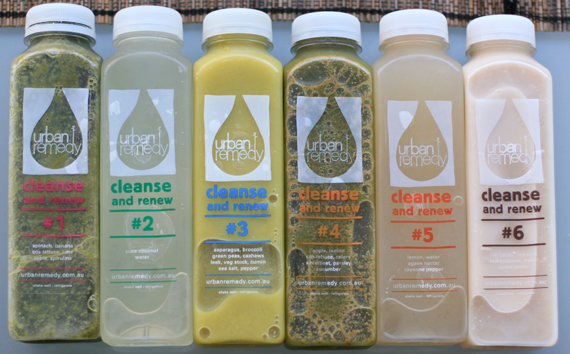 Good morning lovelies! It's Week Two of the Life Reset (how are we all feeling?!) and I want to kick things off with a bang by reviewing the Urban Remedy juice cleanse I did for three days last week.
Urban Remedy is a no-fuss healthy juice cleansing program designed to detox and renew your body and tailored to suit your lifestyle and diet. In the interest of full disclosure, I was sent this cleanse to review by the lovely Laura from Urban Remedy (thanks Laura!) but all opinions are completely my own. I know there are a few of you that are curious and looking to do the cleanse yourself so I hope this answers all your questions, but if not, feel free to ask away in the comments.
The 'Juicy' Bits
Type of cleanse: Level 2, three day Winter Warmer cleanse. The juices come in Level 1, 2 and 3 and you can either go for one, three or five days.
Delivery: Straight to the door! Or in my case, straight to my office.
Schedule: I drank the juices at 9am, 11am, 1pm, 3pm, 5pm, 7pm – sipping each slowly for an hour, with water in between.
Exercise: I maintained my normal schedule but something gentle like walking or light stretching is fabulous.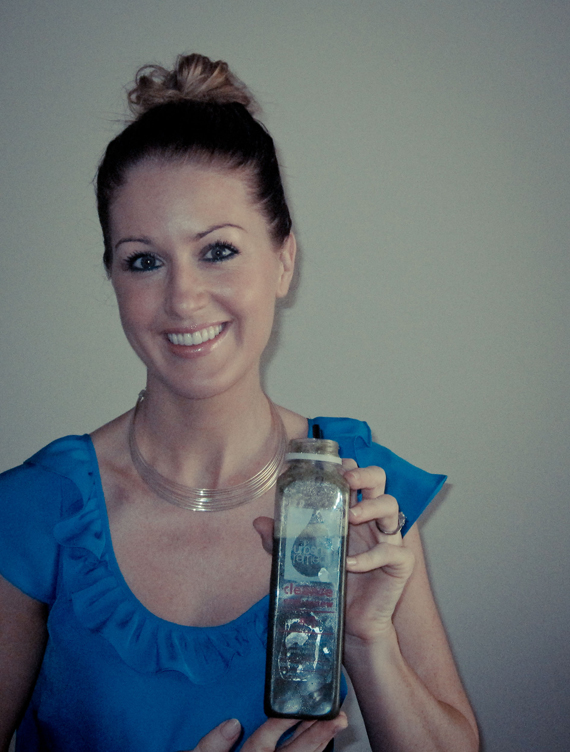 Day One
It's the first day of the cleanse and after waking up and going for a run, knocking back 500mls or so of water, I was excited to try my first juice of the day (that's actually a smoothie if we're going to get technical). I've done the Urban Remedy cleanse before and this one wasn't part of the range but looking at the ingredients – banana, spinach, cos lettuce, lime and spirulina – I knew it was going to be tasty. I wasn't wrong! The smoothie had a thickish consistency and I would have been happy to drink several more of these throughout the day. YUM! I also found it to be really filling, even though I'd exercised and been awake for 3.5 hours by that stage. Winner.
Next up on the menu was coconut water which I can either take or leave – I don't find it particularly offensive but it's also not my favourite beverage. Not hard to sip on throughout the morning though, and before I knew it 1pm was approaching and it was time to tuck into my lunch soup (asparagus, broccoli, green pea, cashews, leek, vege stock, cumin, sea salt and pepper) which was delicious and really creamy! It was nice to have something warm to mix things up as well.
I was still chugging back water in between (I'm a big water drinker as it is so don't really need to remind myself to do this) and I found I was still quite thirsty despite all the liquids I was consuming. Just on that, I remember last time I was peeing like a demon but this time I wasn't at all. Nothing too out of the ordinary anyway.
3pm-ish: Oh hello hunger monster, there you are! I'm an afternoon snacker, so I had expected an attack of the munchies mid-afternoon, and because I have a massive, ridiculous aversion to juiced celery (too overpowering!) and cucumber, I couldn't face the afternoon juice. Instead, I ate five blueberries. Whoops. Felt bad (for 2.5 minutes) but figured it was better than a Mars Bar. Right?
The rest of the afternoon can be neatly organised into the Serious Daydreams About Food category. Surprisingly, the last thing on my mind was sugary treats – I was salivating over bowls of brown rice with tamari, or a juicy steak. Yes, steak! Strange, to say the least – especially as I hardly eat red meat. To add to the hilarity, on my way home from work I saw a bus shelter ad for Pizza Hut BBQ ribs and immediately started wondering what they'd taste like, picturing myself licking off that sticky BBQ sauce… YUCK! Ribs are SO not my bag usually!
You could say my mind was playing tricks on me by then, so I quickly filled that emptyish feeling in my stomach with (one of my fave) juices, which contains lemon, cayenne, agave nectar and water. So good, this one tastes like homemade lemonade with a little heat. I guess it's technically dinner, and what followed was "dessert" – a milky juice with raw cacao, agave nectar, rice milk and cashews which I slammed back pretty quickly because I'd already been off dairy (on the Clean program) prior to the Urban Remedy cleanse, so I was acutely aware of the rice milk taste.
Mood-wise I felt fine all day – pretty energetic actually – but was exhausted by 8pm and asleep by 9pm. Clearly the detoxing and rejuvenating was underway!

Day Two
Wowsers, woke up from the craziest nightmare on Day Two. It was our wedding day and I'd forgotten to buy a dress, book the caterer and send the invitations – but somehow everyone knew anyway and were at the venue waiting for me. When I did arrive, I was wearing one shoe and handed my old boss a microphone and told him to entertain the crowd… and well, I could go on but it was just BI-ZARRE. Note to self: DO NOT talk about wedding stuff before bed, especially without food in one's (flat) stomach!
I trotted off to a 7am pilates class and did a pretty intense workout for a hour, with a beautiful meditation at the end. I felt really clear-headed and almost like I was floating during the meditation, it was such an amazing feeling. I'd also noticed when I was getting ready that my skin was looking noticeably brighter and definitely more hydrated. We all know it's true but it's worth saying again – beauty really does start from within. The laugh lines under my eyes weren't as pronounced, my skin felt super soft and I was a kilo lighter on the scales. Sweet!
Energy-wise, Day Two was a bit of a slower day for me. I felt a bit sleepy and coupled with a busy lunch hour doing wedding stuff and no down time, I was a bit foggy by late afternoon. For some reason, everyone at work decided to engage in deep and meaningful food conversations BESIDE MY DESK (this is out of the ordinary – a friend at work even picked up on it) so either they were being jerks or my lack of food brought out their survival instincts and they thought it was time to ruminate on the beauty of a good Nando's burger or debate whether Tim Tams or Mint Slices were more superior. Big thanks to one male colleague who spent the day offering me the aforementioned biscuits (both varieties), Smith chips and sherbet lollies. My glowing skin and my juice and I just sat there being all pious and muttering "Type 2 Diabetes" a lot.
I also donated my afternoon green juice to a colleague at work who LOVED it, so just goes to show that everyone's tastebuds are different. One woman's grass is anothers Bollinger.
To finish off the day I had a Far Infra Red sauna, which has a multitude of benefits. Sweating is one of the best ways to detox the body, helping eliminate toxins and improve skin texture and tone, and believe me when I say I don't think I've ever sweated that much in my life! One thing I did forget to do was take off my makeup so the next morning I had two lovely blemishes appear on my face (only small, but still) but I felt amazing after the sauna and was thrilled to know that along with aiding insomnia, helping de-stress, boosting circulation and boosting the immune system, one of the big benefits of the sauna is that you can sweat off between 300 and 600 calories a session!
Day Three
Friday Fun Day!
My final day on the juice cleanse was awesome. I woke up 20 minutes before my 5:30am alarm and felt light and energetic and excited to get to bootcamp. Yes, you read that right – I did just write excited and bootcamp in the same sentence!
After an hour of circuit training, I headed to work and gulped down my breakfast green smoothie. I was full of beans, and as I posted on my social media profiles, feeling 'bouncy' all day!
I had a pesky eyelash stuck in my eye for most of the day and when I was trying to get it out at lunch, jamming delicately inserting my finger under my eyelid (you should totally try this if you're looking for something fun and daring to do today, it's amazing!) (ha!) I noticed in the rearview mirror my eyes were significantly brighter and bluer. Like, much brighter. Hooray!
In the afternoon, I had a freshly squeezed beetroot, carrot, apple and ginger juice instead of my green juice but apart from that I stuck to the prescribed juices and whizzed through the day, making the most of the last day of the cleanse. If I felt my mind drifting towards food, I would make a conscious effort to draw my attention back to what I was doing. My stomach was nice and flat and my usual random bloating had totally disappeared. Still no sugar cravings either, which was the biggest bonus.
The Day After
I bounced, danced, bounded out of bed today feeling seriously incredible! As a Lover of Food, I was pretty excited to chew again so I shoved a handful of almonds in my mouth before heading out the door to the gym for a Body Attack class. I couldn't quite believe how sky-high my energy levels were. The scales told me I was 1.5 kilo's lighter as well and I felt that both physically and mentally. My mind felt razor-sharp. I was feeling so good that I think I may have even been grinning on the way to the gym, which is a really good look when you're by yourself in the car. It definitely doesn't get you strange looks at the traffic lights.
+ So that's it – it really wasn't that hard at all and I reaped all the rewards you hope for when you embark on a cleanse or detox of any type.
+ Have you done a juice cleanse like this before? Anything you'd like to know? Feel free to ask away below, and be sure to check out the Urban Remedy blog for a plethora of great advice and tasty recipes, I'm signed up to their newsletter and it's an excellent resource.
+ Finally, find Urban Remedy on Facebook and Twitter to keep up to date with their latest news, I believe there is a new cleanse on its way!