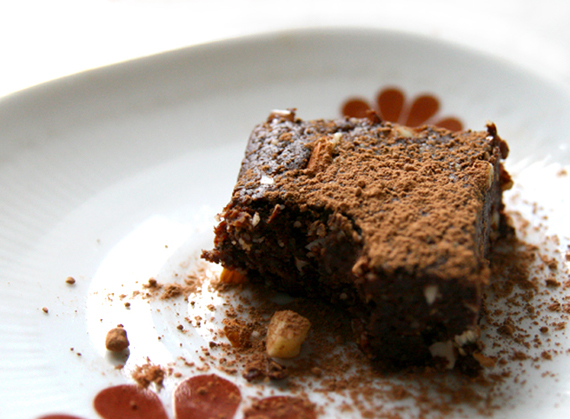 I just had to post this today in case some of you want to whip these delicious treats up over the weekend! There's a high to extreme chance you'll want to. Believe me.
I found this recipe on the incredible site My New Roots that I've linked to previously, and I have to say, Sarah had me at brownie. Oh, and dates. Brownies made from dates… two of my favourite things combined? This could only mean amazing things.
The recipe is below and I'm not exaggerating when I say that these raw brownies (yes raw, no cooking) will take you under five minutes to make.
Ingredients:

2 cups whole walnuts
2 ½ cups Medjool dates, pitted (Medjool dates are a must, don't go for the packet variety as you need the juiciness and flavour of the Medjools!)
1 cup raw cacao
1 cup raw unsalted almonds, roughly chopped
¼ tsp. sea salt
Directions:

1. Place walnuts in food processor and blend on high until the nuts are finely ground.
2. Add the cacao and salt. Pulse to combine.
3. Add the dates one at a time through the feed tube of the food processor while it is running. What you should end up with is a mix that appears rather like cake crumbs, but that when pressed, will easily stick together (if the mixture does not hold together well, add more dates).
4. In a large bowl (or the pan you plan on putting the brownies in), combine the walnut-cacao mix with the chopped almonds. Press into a lined cake pan or mold. Place in freezer until ready to serve (it is also easier to cut these when they are cold). Store in an airtight container.
 A huge thanks to Sarah for providing us chocoholics with a healthier alternative. These beauties really do satisfy your cravings. Enjoy!