Today, it's all about the love. I'm loading it up. You ready?
Let me share with you a few things that are currently blowing my mind…
---
Such Different Eats
I'm so outrageously proud of my gorgeous friend Tara and her rad dude of a husband Glen for their brand spankin,' mouth-waterin' new creation Such Different Eats: Radical, Real Food Recipes.
You only have to read the first few pages to feel the magnitude of how much heart and soul has been poured in to this baby.
All 36 recipes are thoughtful. Beautifully presented. Nutritious, delicious. This is REAL FOOD. Wholesome AND exquisite.
To give you a bit of a rundown, I've pinched some of the 'official' copy about the book, which reads:
"You want to nourish your body, but you want it to taste really.damn.good. at the same time.
You're a foodie and a wellness passionista, but lately you've just felt bored in the kitchen. Uninspired. Like it's all a bit of a yawnfest.
You see the same old recipes zipping around online. Nothing's new, nothing's making your tastebuds swoon, nothing's setting your kitchen on fire with its straight-up, sensual deliciousness."
Can I get a hell yes? Bring on the swoon-y tastebuds! Having devoured a handful of these recipes already – straight from the kitchen, made with passion by the man himself – let it be said: this is next level nourishment. And my tastebuds were swooning, long after the fact.
I know what a labour of love the creation process has been behind-the-scenes for this healthy, happy offering, so if you're feeling called, I want you to know you are in for a real treat.
Get your hands on Such Different Eats.
---
Guided Chakra Cleanse for Busy People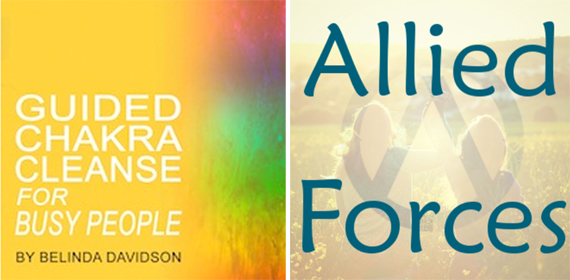 Ahh, Belinda Davidson. My incredible mentor. I'm forever recommending her and her meditations to my coaching clients who are looking for peace and a deeper connection with themselves, and the awesome news is, B has just added a shorter Guided Chakra Cleanse for Busy People to her store which I'm really loving.
This medi is the perfect length – enough time to get those chakras humming, and drop deep into my meditation, but also short enough to fit into my day.
Belinda often says 'Change your energy, change your life' so if you're looking for balance, stress relief, and to find your centre and 'come home' to you – you might want to give this a go. It rocks.
---
 Meditones
I teared up when I first heard the Allied Forces meditone created by Tahlee from The Attitude Revolution. Holy WOW. Talk about transformational.
I actually find it hard to describe this soul-soothing, other-wordly meditation track in words because it's the way it makes you feel that's where the true gold is at, but to whet your appetite, you can listen to a short Allied Forces preview on her site.
I love listening to this on my iPod as I write, or take it outside with me as I wander on the beach because it transports me… somewhere. (somewhere pretty awesome, I must say!)
One for your Spirit kit. Grab it here. 
---
And, in other news!
Development for my blogging ecourse is coming along beautifully, and I'll be able to reveal the name very soon. The launch for earlybird pricing is not far off, so stay tuned, my friend.
I'll be coming at you with more info in no time – but before then, feel free to let me know if you'll be joining us for six weeks of blogging brilliance in the comments below, or share what you're most excited about.
As always, I adore hearing from you. x