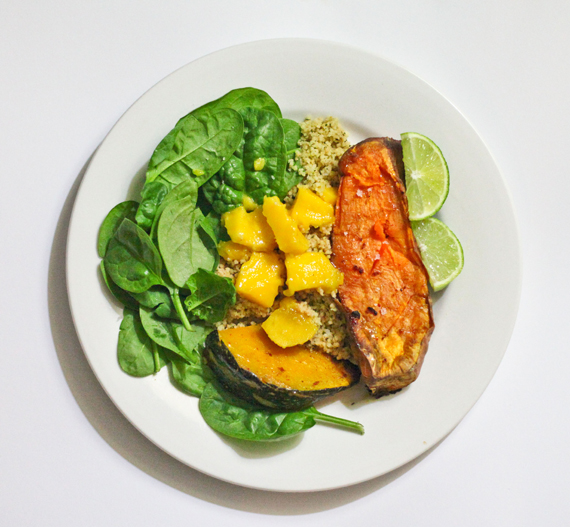 Once again, this salad sounds random when you consider each ingredient but the taste is like an explosion of awesome on your tastebuds. The spice of the red curry mixed with the freshness of the mango and lime is pretty much the perfect combo. Gimme more!
The key ingredients
Baby spinach leaves
Sweet potato (halved)
1 lime
1/4 mango
1 – 2 pieces Kent pumpkin
Couscous (I used Ainsley Harriot's Lemon, Mint & Parsley packet couscous)
1/2 can coconut milk (I used low-fat)
Red curry paste
Celtic sea salt
Pulling it all together
1. Preheat oven. Wash skin of sweet potato and cut it in half, scoring the skin with knife.
2. Mix coconut milk and red curry paste (about a tablespoon's worth) in a bowl. Place sweet potato and pumpkin in baking tray and pour coconut milk mix over (a liberal amount – but leave some to mix with couscous) along with a small amount of olive oil. Roast for 30 – 40 minutes in oven.
3. Cook couscous according to packet instructions. I normally boil water, pour in bowl, empty packet in bowl and let it absorb.
4. Mix remaining coconut milk through couscous, fluffing lightly, and add couscous on plate along with other ingredients.
5. Sprinkle celtic sea salt and squeeze lime over salad and sweet potato – and prepare to be delighted!