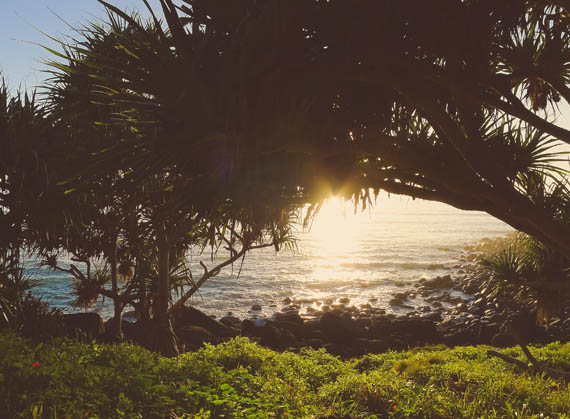 It all just came together.
Perched on a rock under a Pandanus, turquoise waves crashing and my love huddled next to me, I saw 2013.
Freedom. Bounding (forward, upwards, beyond). Space. Creation. Guidance. Teaching. A giant tribe of women. Going deeper. A divine flow of electric energy. Abundance. Ease.
I saw it all. I felt it right down deep in my bones. A majestic moment – just me, the rock, my honey and the ocean.
As we sat there talking with the wind whipping up good manifest-y juju around us, I realised it might take a little time to wean off the old drug called Work and get used to the new spacious moments in my schedule – for stillness, creating, or lunch with a friend.
Free weekends! A whole day – during the week – to write blog posts! (Monday is going to be my blog day). A totally new way of working but one I'm truly ready to embrace.
What new way of doing things are you ready to embrace?
Wind still swirling, carrying our dreams out to sea, Ramai and I riffed on trusting everything will always unfold with the best possible outcome. On blasting through Upper Limits. On reaching that point where you are SO ready to change something in your life and the feelings that come along with it (for instance, the healthier I eat, the less I find chocolate (my vice) does it for me, something I realised this week. Ditto wine – just one glass leaves me foggy-headed).
I said: "Isn't it so beautiful how we are always being supported?"
And we are. You are. 
I hope you have an incredible New Year's Eve and that you wake up tomorrow morning with the unbridled enthusiasm that only a New Year can bring. Blank canvas baby, colour your world as you please!
* Photo taken in May 2012. Techno gadgets stay at home on these kind of adventures.