Yep you read the title correctly, I've just made a decision to finish up on the Clean Program (and therefore the Life Reset) today instead of Sunday morning and I'm feeling really good about it!
The thing is, I'd forgotten that I have a work lunch for a colleague's birthday at a restaurant where the healthiest option for lunch is cheesy vegetarian lasagne, as well as two lunch dates – where the meals are being made for me – and a dinner date in the next two days. Sure, I could go along and not eat but I feel like I've gotten what I needed to out of the program so I'm going to go and enjoy myself with no restrictions and no apologies. Can't wait!
Doing the Life Reset, including the Clean Program and the Urban Remedy juice cleanse over the past three weeks has taught me a lot about my eating habits and what my body needs for fuel to leave me feeling healthy, balanced and energised and I wanted to share with you some of the insights I garnered from the whole experiment:
1. Only eat when hungry… and keep an eagle-eye on portion sizes
This was a big one for me as I love to snack and will often eat out of boredom, particularly at work. It was both confronting and exhilarating to feel "true hunger" when I was on the three day juice cleanse, and it made me realise how often I'll shovel something in my mouth for the sake of it, rather than out of necessity. The detox taught me to be more aware of the frequency of my eating and I've also noticed that with less sugar in my diet (a known appetite stimulant) I've been getting fuller more easily. I overate once or twice in the last two weeks and really paid for it. This may sound disgusting but both times it felt like I was literally full to my esophagus. It doesn't help that I'm a big water drinker so with all that food (both times I'd eaten too much brown rice) and the food mixed, I felt like if I made any sudden movements my meals would once again see the light of day. Gross. Lesson well and truly learned.
2. Fat kills sugar cravings
Sarah Wilson has spoken about this on her blog quite a bit in her posts about quitting sugar and I'd tested it out occasionally, trying to push aside the old mental conditioning of "fat makes you fat." Too much can, yes, but if you've ever read the brilliant book Sweet Poison by David Gillespie, you'll have read about the affect sugar (namely fructose) has on our appetite and the way that fructose slips through the cracks and goes undetected, where fat doesn't.
This from Sarah: "We're designed to metabolise fat (and carbs and protein) and to be satiated by it; we have a hormone that registers fat in our bodies and tells the brain to stop eating. We're not designed to metabolise fructose (table sugar is half fructose). Our bodies don't detect it when we eat it, so we have to eat a stack of it to feel full. Which we do. Which is why apple juice can be more fattening than milk – we have to drink more of it to hit the "I'm full" point. Plus, unlike fat, fructose turns directly to fat in our systems."
Basically, eating sugar makes you crave more sugar. It's not unthinkable for a block of Cadbury Dairy Milk to disappear down your trap, but could you eat a big block of cheese in one sitting? Me either. I'm sick of being a slave to sugar so have been eating fats like avocado and haloumi (not on the Clean program, I added this in for the last week after eating cheesecake/ ice-cream last week woke my inner sugar beast and left me wanting to devour the chocolate aisle in the supermarket bar by sweet bar).
Haloumi has really helped, a few slices in the morning really do fill me up. Just on that note, I'm really missing my morning eggs and can't wait to get back into them. I've decided I'll probably alternate between a green smoothie (with all the additions – maca, chia, coconut oil) and eggs from now on for breakfast. After many years of eating toast, muesli or fruit and yoghurt for breakfast, I've come to realise that eating savoury food in the morning is the way to go for me.
+ For more on quitting sugar, I highly recommend both Sweet Poison and Sarah's 'I Quit Sugar' e-book, which at $10 is worth every penny.
3. Chia seeds are the bomb
If I could single out one thing that I've consistently added to my diet that's made a huge difference in my skin of late it would be chia. IN. LOVE. I sprinkle them on salads or have in my morning smoothie. Give them a go, they're full of essential nutrients and they give good glow. Believe me.
4. Preparation = detox success
I've really dropped in the 'Housewife of the Year' stakes of late (probably because I'm not an actual housewife) due to other priorities at night and even though my lovely fiance is tremendously helpful and supportive, we've both been getting lazy with preparing our dinners ahead of time, which means, often, we're seen peering aimlessly into the fridge at 7pm realising we have nothing decent to eat. Sometimes we'll go without, or we'll snack on something random or carb-based, which doesn't do either of us any good. We both have bizarre dreams and wake up feeling hungover if we eat heavy carbs at dinner so we try to avoid them at all costs, but sometimes they'll sneak in through "healthy" variations of meals (homemade Mountain Bread pizzas stacked with vegies, brown rice salads, sweet potato and vegetable stacks and so on).
This detox has taught me more than anything else that we need to ensure we get to the Farmers Markets every Saturday and stock up on fresh, organic produce for the week and if we have nothing in the fridge for dinner, we need to make the effort to either do a quick run to the supermarket on our lunch breaks or straight after work. No more excuses.
5. A good piece of fish with a big salad rocks
Snapper or salmon with salad is an easy-to-throw-together, light, tasty meal that I always feel good after eating. Without exception. Not unsurprisingly, I always feel mega-energised the morning after eating fish and salad for dinner and find I wake up feeling nice and clear-headed – which is gratefully appreciated at 5:20am! So yes, happy to fly the flag as a major fish-lover because it gives me the perfect protein boost I need for early morning exercise effectiveness. My favourite salad dressing is either fresh lemon mixed with a bit of olive oil, or lime juice with chilli and a bit of rice wine vinegar. Keepin' it simple, all the way.
6. Move daily 
This isn't a new lesson to me, but with the change of seasons I always feel increasingly enamoured by exercise and movement. I want to be outside as much as possible and I want to be moving my body in a variety of ways. I'm really loving the mix of cardio, pilates, and strengthening exercises I'm doing at the moment and look forward to ramping it up even more over the coming months. Pre-wedding next year it's going to be ON!
7.  Listen to your body
My body has told me a few things over the past few weeks and I've been all ears, because, you know, when your body talks to you in that loud, booming, scary mannish voice, you should listen. Not sure why my body has a man voice, but who am I to question such things?
Anyway, I learnt I don't need bread. I thought I'd miss it but I haven't, and I'd rather eat rice cakes if I need a carby fix. Bye bye bread. I also need eight hours sleep every, single night.
Finally, I need more protein and I need to consciously add vegetables to every meal (or at least my two main meals). I plan on doing this by having cooked spinach with my eggs or spinach in my smoothies, as I have been doing, along with a salad at lunch and vegies with dinner EVERY night. When thinking about what we'll eat, I want to plan everything around the vegetables, rather than the other way around where the chicken/ fish/ lentils/ carbs take precendence. I must say being engaged to a vegetarian means we are very conscious of our vegetable intake but we can always do better.
8. If you're not "going" at least once a day, you need fibre baby!
Again, listen to your body and take steps to up your fibre intake so things move as they should. Enough said.
9. Writing is therapy
It's all very busy in my head. There are 10-thought pile ups happening on my information highway on a regular basis, so sometimes the only way to make sense of them all is to write them down. I generally bounce ideas around and mull over my concerns with my man (the best listener I know) and in doing so, will usually give myself advice mid-conversation (do you do this too? Just shows, the answers are always within!) but there's something different about putting pen to paper. Stuff comes out that you didn't even know you needed to get out and I always feel like when I get my thoughts out onto paper that I can then let them go, forget about them. I usually just do one page in my journal and I love it. Definitely keeping this up, I'm sure my scribbled ramblings will provide me with a great deal of entertainment someday.
10. Gratitude and quiet time make everything better
I seriously hang out to write my 'Making Me Happy' posts because, guess what, they MAKE ME HAPPY. I'll let you in on a little secret – there are some weeks where I don't get a chance to write the good stuff down as it happens, and I get to Tuesday night and have a moment where I go "Uh oh, maybe I don't have anything for my post this week!" However, all it takes is for me to step away from the computer with my pen and my trusty journal and before I know it, the page will be full. There are always things to be grateful for and recognising them makes you life infinitely better.
Likewise, quiet time/ meditation really helps clear the junk from your grey matter. Give yourself five minutes of peace today, tomorrow and everyday. It's so worth it.
Oh yeah and…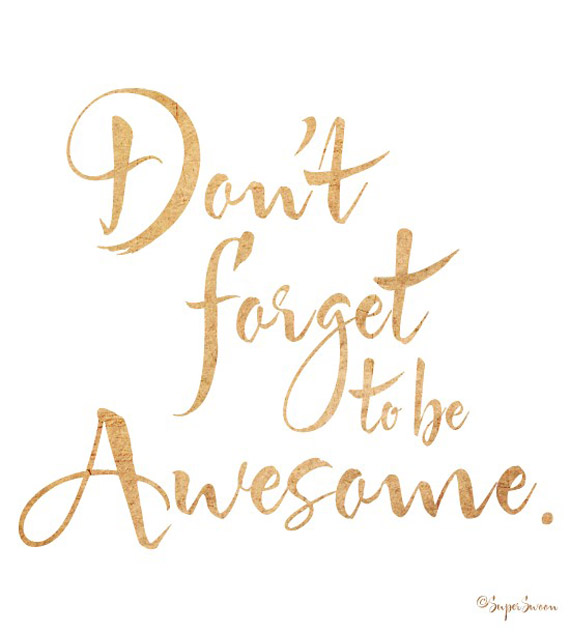 + I'm sure I've forgotten some of the other lessons I learned but those are the main ones. All in all, it's been an incredibly productive and insightful few weeks and I've loved making a conscious effort to connect with my body and soul and reset the components of my life that needed a shake up.
+ I'd love to know your thoughts on the Life Reset in general and would also LOVE to know, what health rules/ guidelines do you try and live by? What are your must-do's for living a happy, balanced existence? Tell us in the comments below! And if you're continuing your Life Reset, or just starting, wishing you all the very best – please drop back in and tell us how it went when you're done! x
Images: 1. Brown Eyed Belle Julie 2. Super Swoon