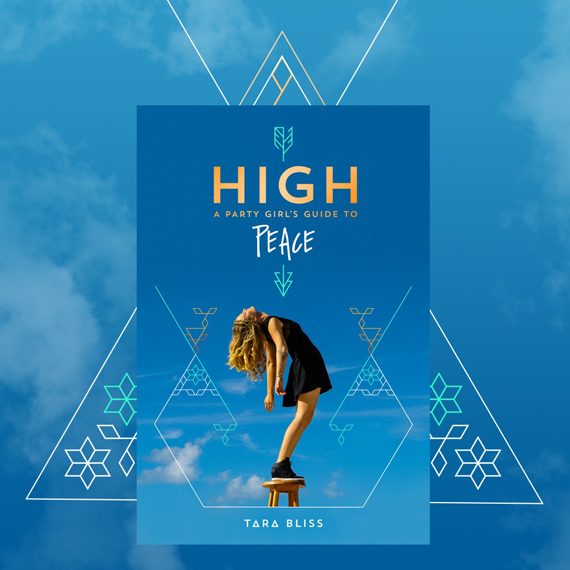 Today's post is a special one because I'm celebrating a huge milestone in the life of one of my closest friends, Tara Bliss — the release of her debut book High: A Party Girl's Guide to Peace.  
Over the past two years, I've been in what I consider a privileged position of watching along intently, with equal parts awe and excitement, as this beautiful woman has devoted herself to writing this book.
Let it be declared: High is one hell of a creation. But we'll get to that soon.
We all love a sneaky peek behind the curtain, and whilst I'm only giving you a taste of the whole enchilada, behind-the-scenes…
The two of us have trekked kilometres of sand (as we tend to do) up and down the shoreline, where Tara has shared her progress, her epiphanies, the challenges, the heartfelt desires, the little cumulative steps that have merged to bring High to fruition. Brick-by-brick. Day-by-precious-day.
I've seen her put that intricate puzzle together, and pull it apart again — only to piece it back with even more consideration and dedication to the message.
I can picture her lit-up, Bali-sweat-glistened face beaming back at me over Skype while she was there writing the first iteration (a full draft in 28 days — whoa.)
If you've ever seen someone pregnant with purpose… you'll know exactly what I mean. 
Now that the book has been metaphorically birthed, I wanted to have a quick chat to this lady love of mine to share a few more insights, which you'll hear by hitting Play below.
As we were playing back the video before uploading it last night, my husband turned to me and said 'I'm just so happy for Tara.'
I think it's damn near impossible not to feel moved and inspired by her divine commitment to this much-needed message — and the souls that need it most.
---
---
Amongst other things, in the vid Tara and I explore:
// How High came about, and how this epically crafted book has evolved since its inception
// What Party Girl Tara was like, and what her days 'in the party' robbed Tara of that she now has in abundance
// Her interpretation of peace today
// The sections of the book that were the easiest to write — and those that brought up the most resistance (and why)
---
Friends, I encourage you — with the utmost enthusiasm — to get this book in your life.
Instigate a little radical self-reflection and allow High to soothe and heal the parts of yourself that you may not even consciously know need attention.
Regardless of whether you've found yourself in the vortex of the FOMO-fuelled, 'endless party' or not, you'll nod/ smile/ shed a tear of recognition when reading Tara's searing stories about self-betrayal, tangled relationships, transition, fear, wavering confidence… and the rest.
What I know for sure is you'll applaud her vulnerability, her courage and her gift of illuminating what needs to be said… lovingly and unapologetically.
This mighty book speaks to universal themes and the collective consciousness, so as you're reading, listen up as the voice of truth — the voice of YOUR highest self — booms from its pages.
I couldn't be more proud. High is an exceptional read that will stay with you long after you close its covers.
---
To get your hot lil' hands on High.
Right here is where you'll find all the important details, including where to purchase the various formats (audio, Kindle and paperback), plus chapter previews and THAT stunning intro video.
AND :: here's the direct link to purchase the audio book* if you want to take this baby on your next beach walk/ hike/ road trip, and you can't wait a moment longer.
---
* Heads up: I'm an affiliate for the audiobook.
---
If you enjoyed this video Peace-seekers, let's spread the love to support the #highpeace revolution! Big love. x