The light is getting brighter.
The path is getting clearer.
And you are getting closer.
That's all I'm saying,
I'm making up for missing this post last week with a double whammy, full-to-the-brim edition today, so grab a cuppa and make yourself comfortable! It's been a joy-filled week, and I have a lot to be grateful for so let's wind up the love-o-meter, shall we?
Sydney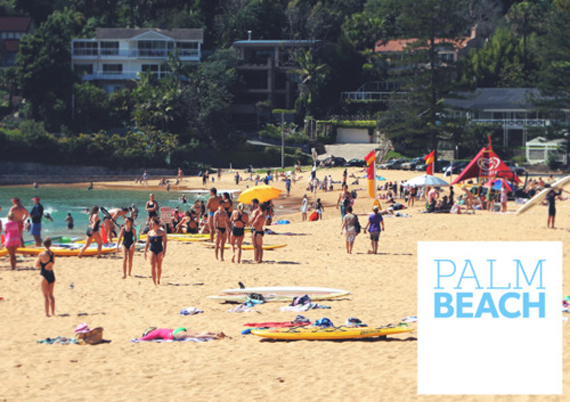 In true R & R fashion, my man Ramai and I decided last week that we needed to scrap our plan to "stay-at-home-and-do-wedding-stuff" over the Xmas break, and instead, book ourselves a little getaway somewhere. Anywhere. Over there. Down there.
Which is why, about 15 minutes later, I'd booked flights to Sydney and that was that (we've booked almost every holiday we've ever taken like this – three cheers for impulsiveness).
We have loose plans which involve checking out the Northern Beaches and Garie Beach, heading out to the bush and celebrating New Years with another friend who is flying down from Queensland – but ultimately, we're just going to take each day as it comes.
I'm not super familiar with Sydney so I'm looking forward to exploring it a little more, and I'm also looking forward to switching off/ stepping away from the computer, taking some photos (it's been too long), recharging, dreamsetting for 2012 and relaxing into a slower rhythm. Bliss.
2012 Horoscopes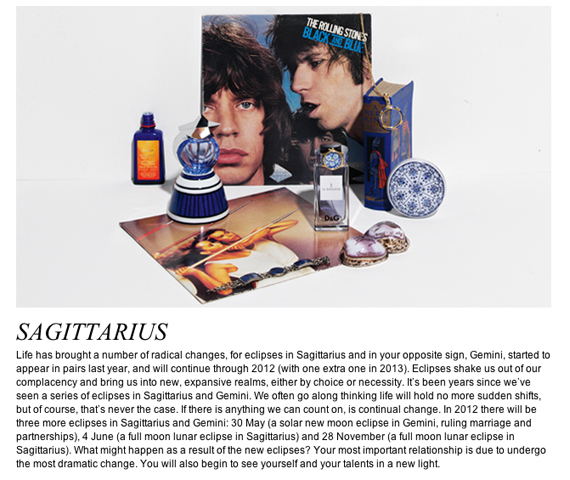 It's no secret I love Susan Miller's AstrologyZone and I always look forward to her astro forecasts in the January edition of Russh magazine each year.
All signs point toward an amazing 2012 for Saggo's and I'm definitely feeling like it's going to be my most fulfilling yet. Along the same lines, Ramai's report (he's a Virgo) is sounding epic and I was thrilled to read that "the luckiest weekend of the year, 12 – 13 May, will bring exciting results." We get married on 12 May so yep, you could say that's an exciting result!
The Wedding Venue Hunt
Speaking of weddings…
We're getting closer to finding The Winning Venue. Actually, we saw two potentials in the Byron Bay Hinterland region on Monday and we should know very soon whether the one we're leaning towards is going to work out for us, which is very exciting!
Just on the wedding venue front, I have to say that everything I know about positivity and keeping faith has been called into question over the past few weeks and I'm not going to lie, there were about four days there where I felt really defeated and down on the whole situation. I was "surface happy" but inside I was despairing over why, five months out, this was happening to us and found it really hard to see the lesson/ reason behind our dream venue selling because I was too wrapped up in the emotional aspects. Suck factor = massive.
And this is why I'm thankful:
On one particularly crappy day, I had a really sore lower back (stress, no doubt) so I ran myself a bath, called my Mum with tears in my eyes and asked her to tell me something awesome "to make me feel better." My Mum is a counsellor and the most intuitive, profoundly aware and wise woman I know, and her simple advice was the reminder to trust I really needed.
Wanna know what she said? Stop. Breathe. Recognise you're overwhelmed. Give yourself some time off (thinking about it). Trust. Adapt and try not to get hung up on the date – if you don't get married on 12 May, the world won't stop spinning, nor will your relationship end. Aha moment. Thank you Mum. x
Fish Tacos


Excuse the photo and the seemingly excessive layering of toppings (it's an optical illusion, I swear). We made fish tacos – using snapper, my favourite fish – on Sunday night for dinner and they were deeeeeelightful.
If you're thinking of whipping some up yourself, here's a good recipe if you like a little direction.
Byron + A Bright New Scarf!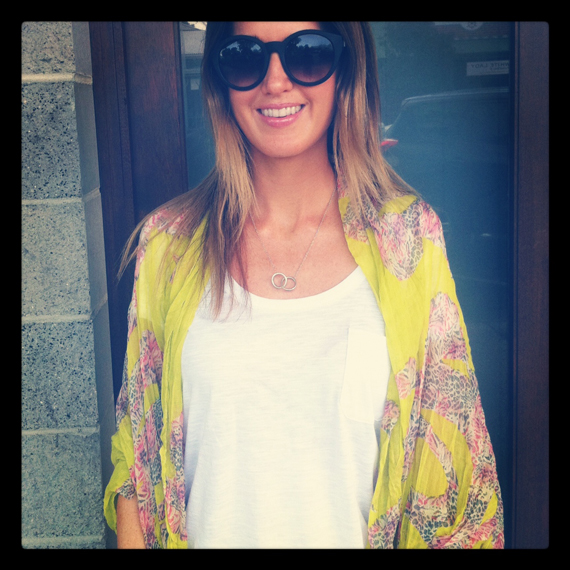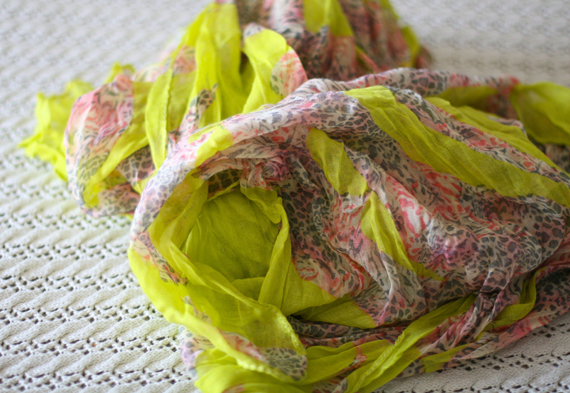 We took the day off on Monday to go and check out some wedding venues in Byron, as mentioned above, and it was SUCH a great day.
You know those days where you wake up happy and you know things are going to get phenomenally better? It was one of those and I was doling out mad gratitude at every opportunity. I'm pretty sure the fact it was Monday and I wasn't going to work might have had something massive to do with it. Pretty kinda definitely sure.
The day involved: laughing our heads off, meeting lovely people and a dog called Boo who looked like this and was basically the most adorable thing we'd ever seen, tasty tucker at the Byron Beach Cafe, a Sarah Wilson spotting (she was riding up the hill near one of the wedding venues), a shopping score (the neon scarf in the pic above was purchased from Karma Kameleon in town) and a playlist that had everything from Rihanna to Faith No More and The Black Keys to Nero. Our air band – me on guitar, Ramai on drums – also rocked out an epic gig, possibly the best of our career.
A Good Pair of Flats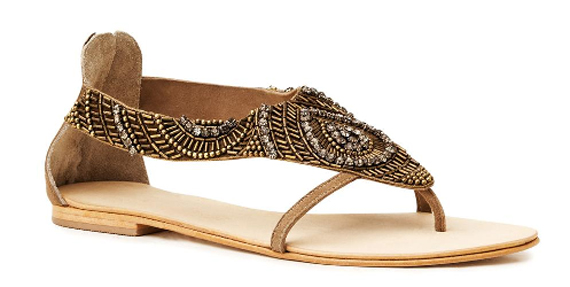 I don't know if it's just me, but I find flats/ sandals quite hard to buy. Good ones, that is – ones that don't make your feet look a kilometre wide and that sit correctly around your ankle. Do you get that too?
If you answered yes, you might just like these tribal sandals I picked up from Sportsgirl over the weekend (apologies, can't find them on their site but they are new season). All boxes are ticked – comfortable, well-priced and pretty to boot. Or sandal, if you will.
Friendship Bracelets
This may sound a little strange but some of my most vivid memories growing up involve rainbow colours (stay with me).
When I was about five years of age, it was all about my Crayola crayon box that was stuffed with 64 crayons of varying shades. Then it was my Derwent pencils – same deal – and as a pre-teen, one of my most cherished possessions was a gorgeous floral box containing reams of cotton thread I'd beg my Mum to buy me each week, which eventually lead to a collection of just about every colour under the sun. When I got my first "real job" I also guarded the Pantone book like it was my own, even though I'm clearly not a graphic designer.
You could say I've always had a bit of a "thing" with colour. I definitely missed my calling as a sales rep for Dulux.
Anyway, as a young entrepreneur, at the tender age of 10, I used to do hair wraps (remember them?!) for the girls in the neighbourhood, which then transitioned to a successful side business crafting colourful friendship bracelets. After posting this the other day, all the memories of those tireless hours in my bedroom came flooding back, so I've decided my goal this week is to Google the instructions see if I can remember  how to make these bands and whip one up for fun. Stay tuned for the results.
Xmas Anticipation
I still can't believe it's only one and a half weeks until Christmas, but I'm certainly not complaining!
I'm feeling grateful for the sense of calm that's washed over me this week (despite a rather hectic schedule) and I'm really looking forward to the three Xmas parties I have this week and the chance to wind up projects at work and slide into holiday mode.
I love the lightness that surrounds big holidays – the mood lifts, people embrace their full diaries with gusto and connection becomes more important as we step away from the things that have tied us up for the year and "come together."
Whether it's a pre-Xmas cocktail with a friend on a school night or a long lunch with the team at work, there's this sense of ease in the air that I really relish. Shoulders retract from that space they've held around our ears, stress fades as we replenish our reserves and of course, we let ourselves off the hook and indulge a little more. Special times.
2012 Dreams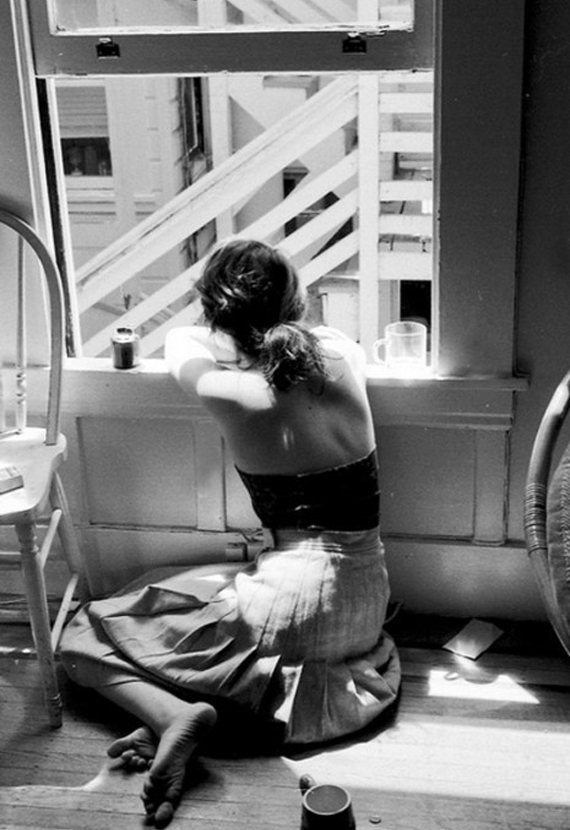 2012 is going to be yuuuuuuge, my friend, yuuuuuuge I tell ya!
Things I've been dreaming of so far:
My hen's party in March, the three Melbourne trips I have booked before mid-April, our wedding in May, a mid-year international adventure (that's very quickly gathering momentum in the' freedom-seeking' region of my mind), an e-book idea, my 30th birthday and lots of blog-related conceptions to squeeze in around all that.
What about you? What's on the cards? Tell, tell!
Shine Magnifying Spray
Shine and Blonde in the same sentence? You better believe it, this hair mist rocks!
The Op Shop Score
I'll probably use this for serving caviar and white truffles off on Saturday nights, as I swan around the house in my Prada and Loubi's. The fact it cost me $10 from the local Salvo's is completely and utterly irrelevant.
Vogue Coffee Table Book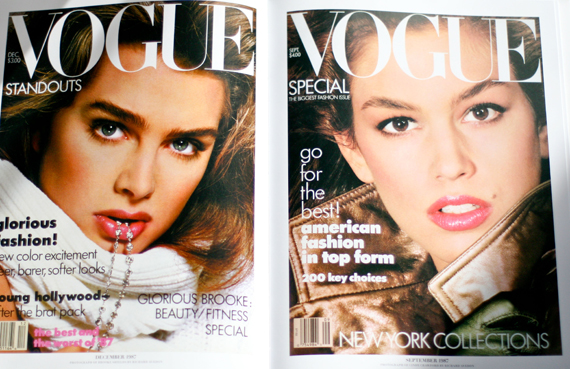 My colleagues kindly bought me a voucher for the Retrospect Gallery for my birthday so I picked up Vogue: The Covers, and I love it! Such a great coffee table book, with covers dating back to 1892 and serving as a snapshot of the mood, style and icons of each era since. It also comes with a bunch of great cardboard prints for framing. Lovely gift idea!
The Lovely Mention
Feeling very blessed to have been mentioned on Jess Ainscough's incredible site The Wellness Warrior in her '8 Things I'm Loving at the Moment' post. So exciting!
If you haven't yet had a chance to check out The Wellness Warrior – which details Jess' personal healing journey from a very rare form of cancer – I can't recommend it highly enough. Not only is the site beautifully designed (massive win in my eyes), but the way Jess shares her wealth of holistic health knowledge with such sincerity and a genuine desire to help others will kinda blow you away. The girl is amazing.

+ If you made it this far, bravo for sticking around! What's making you happy this week? Share your love list below!
Image: 52 Weeks of Australia | The Essence of the Good Life | The Wedding Chicks | Wit and Delight