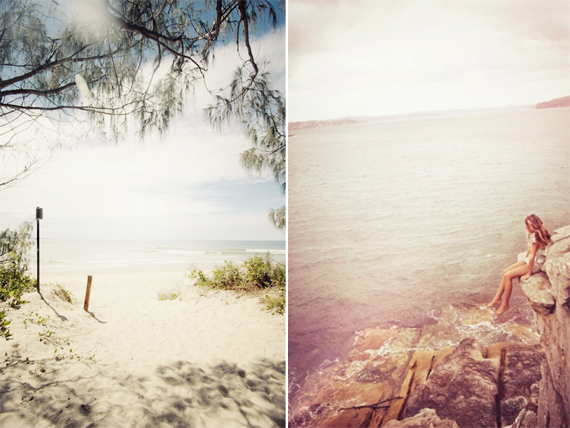 Welcome to the first 'Making Me Happy' post for 2012!
What a start to the year it's been. I'm feeling delightfully clear-headed and mega motivated to make 2012 my most phenomenal year yet, and with a bunch of trips (interstate + overseas), my hen's party, our wedding, plenty of In Spaces Between goodness and my 30th all on the cards, I'm pretty certain that life is going to rise up and meet me on that bold intention. I can't wait!
How about you? Are you feelin' the 2012 love? How have the first couple of weeks been for you?
I know this post is a day late so I'm ready to load the love up high today – I've really missed this post over the past few weeks! – so read on below for some of the things that have put a gigantic smile on my face of late.

Finding a Wedding Venue!
I know I've mentioned this on Facebook and Twitter but in case you missed it, we have a new wedding venue (one that definitely isn't going to sell on us) and it's absolutely divine!
Let me just talk you through the morning we knew we'd found The One because it's a memory I'm more than happy to remember. My mother, Ramai and I jumped in the car and headed south to Byron and on the way down it was bucketing down. Positively teaming. Rain everywhere, couldn't see out the front windscreen and all that.
And then when we started to near Byron, the sun burst out (and I'd like to say from behind the clouds, but there were no individual clouds, the whole sky was a great big wooly blanket of greyness) and if there were a choir of young children nearby they would have been cheerfully singing "ahhhhhhhhh" and if it were possible, unicorns would have galloped across rainbows, sprinkling fair dust across the sky.
You could say we were off to a good start.
As I said here, we'd seen this venue before, but after visiting a plethora of others we'd forgotten how magical it really was. We traipsed through the grounds with the owner and Mum was looking at me like "OHMYGODTHISPLACEISAMAZINGCANWEMOVEINLIKENOW?" and I kept giving Ramai sneaky looks with a huge dopey grin on my face and eyes that were screaming "LET'S JUST EFFIN' BOOK THIS PLACE ALREADY!" There were a lot of caps locks that day.
Needless to say, if we needed a reminder that the Universe always has our backs, that was it.
We excitedly booked the venue straight away – just before Xmas – and from then on in it's been full steam ahead for the R & R wedding express. The only change is that our old photographer was unable to shoot our wedding on the new date, which again, has turned out to be totally for the best as we're kinda dying over the mad talent of our new photographer. She's pretty much amazing and I'll be able to reveal all very soon!
Christmas With My Family!
I adore my family and I love that on Christmas there are no shops open, nothing to do but eat and drink and nowhere to be but together. Bliss.
(the mug shots above are of my younger brothers… and our little "sister" Mischa, the world's funniest dog-who-truly-believes-she's-human).
Lover.ly
What's that I hear you say? Well, according to their site: "Lover.ly is a new visual search engine and scrapbook for all your wedding inspiration. Lover.ly has an archive of over 100,000 images organised by our blogging editors and community of users – our database is updating and evolving daily."
Basically, it's a similar concept to Pinterest, but solely for weddings, which if you're a bride-to-be like me, is an absolute godsend.
Priori Eye Cream + Ella Bache Great Face Tan Without Sun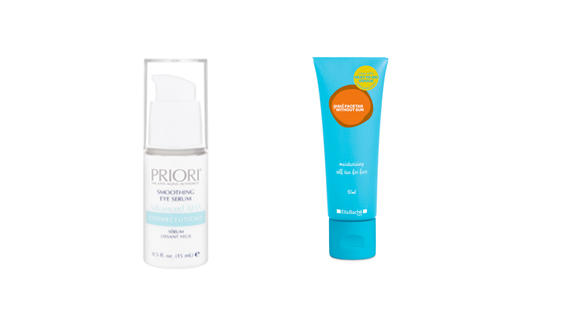 Over the Xmas break I had a tremendous facial and massage and I got talking to the therapist about eye creams, admitting I haven't had a specialised eye cream for ages, despite being conscious of the fabulous expression lines that have formed around my eyes.
I walked out with the Priori Smoothing Eye Serum, which I'm really impressed with so far. Not cheap at $100 but definitely seems to have helped. Eye crinkles begone!
I also have a confession to make: for far too long I have been using my Ella Bache Body Tan on my face (and yes, I know that's not ideal and yes, it is too oily for my face and makes my skin feel ugh). I finally bought the dedicated face tan and what a difference it makes! The colour is beautiful – a gorgeous caramel shade – and it spreads really evenly, which the body tan doesn't do when applied to ones face. It also contains shea butter, honey-moist and Vitamin E so it leaves my skin super hydrated.
Lesson learned, buy ze face tan from now on.
Beautiful Beach Energy
Sometimes I have to pinch myself that I get to soak in the energy of this stunning spot before work in the morning. Seriously so thankful.
Weekend Food Prep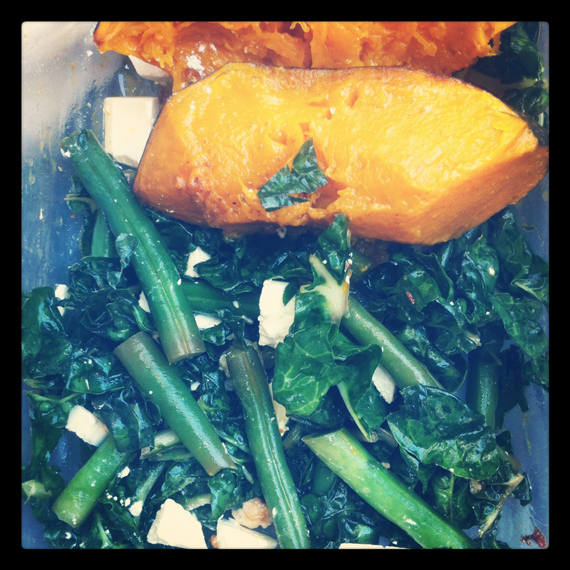 Every Sunday, I've been throwing a few things together so that we have some "base meals" to add to during the week, either for lunch at work or dinner if we're busy, which is most of the time.
In the kitchen, I've been:
+ Roasting up a bunch of Kent pumpkin with curry powder sprinkled on it.
+ Chopping up some silverbeet and dressing it with a mix of balsamic vinegar/ sushi seasoning/ some chilli and ginger paste.
+ Cooking up a big bowl of vermicelli noodles, adding some mint and coriander and tossing through a similar dressing as above (minus the balsamic – I add a few drops of sesame oil instead).
That, coupled with the fact we've decided to order our groceries through Woolworths online and get them home delivered, has already save us heaps of time during the week and ensured we continue to eat well when we're flat out.
Do you do a cook-up on the weekends to make life easier during the week? If so, what do you prepare? I'd love some inspiration!
Organising My Makeup and Jewellery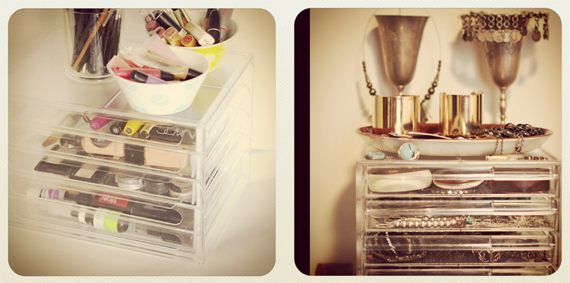 I know I've posted on these before but seeing other people go out and organise their loot has brought the biggest smile to my face over the past week. I love finding DIY's or hacks that cost next-to-nothing but make things prettier/ easier/ better.
Momentum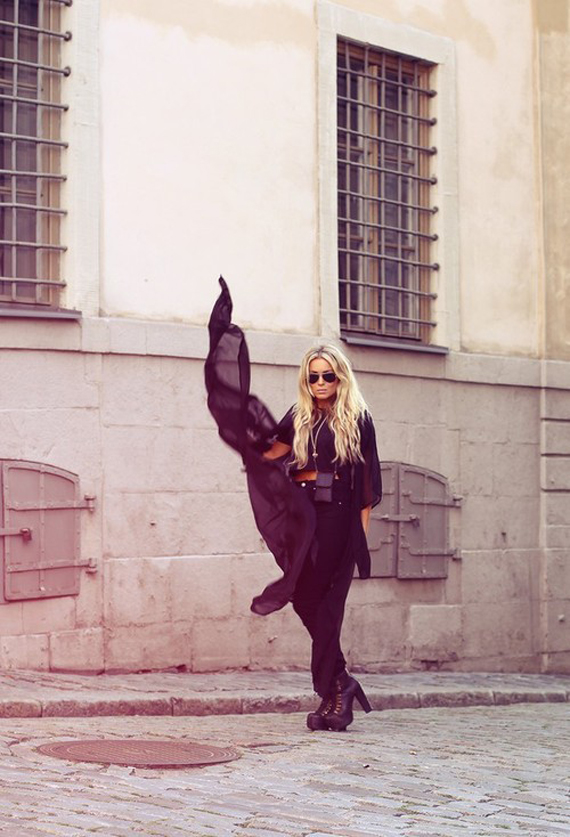 I feel like things have been flowing really magnificently for me at the moment, both for our wedding planning and this blog, and I'm so grateful that they are. Plenty of opportunities are arising daily and things are falling into place without too much effort at all.
Reminds me of one of my words for the year: EASE. 
Jacket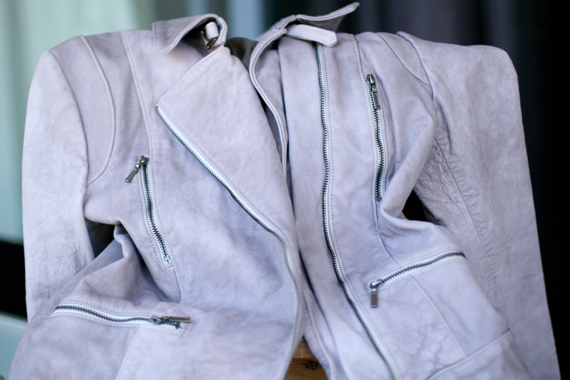 I've been on the hunt for an awesome leather jacket for at least two years. Two trips to New York, one to L.A and San Fran, countless visits to Melbourne and nothing. Zip. Zilch. Nada.
So of course I found a beautiful leather jacket on the summer holidays at Kookai of all places. Of. Course. I. Did.
Thankfully, I had a $250 gift card from work (Xmas bonus) so I smoked that on the jacket, which was 50% off the original $500.
What do you think? I love the colour – grey is one of my favourite shades to wear because I think it's super flattering and it's a bit different to the standard black – and the leather is lovely and soft. Can't wait for the temperature to drop so I can break it out at night!
This Gem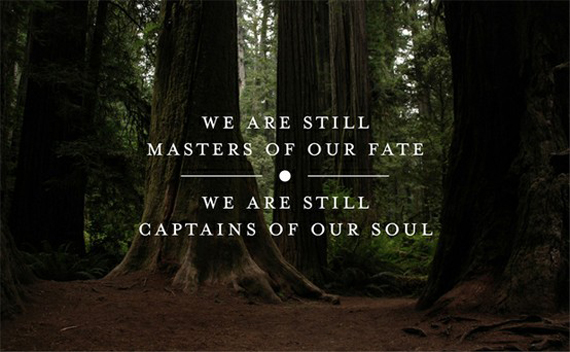 Yes, yes we are.
Pretty Prints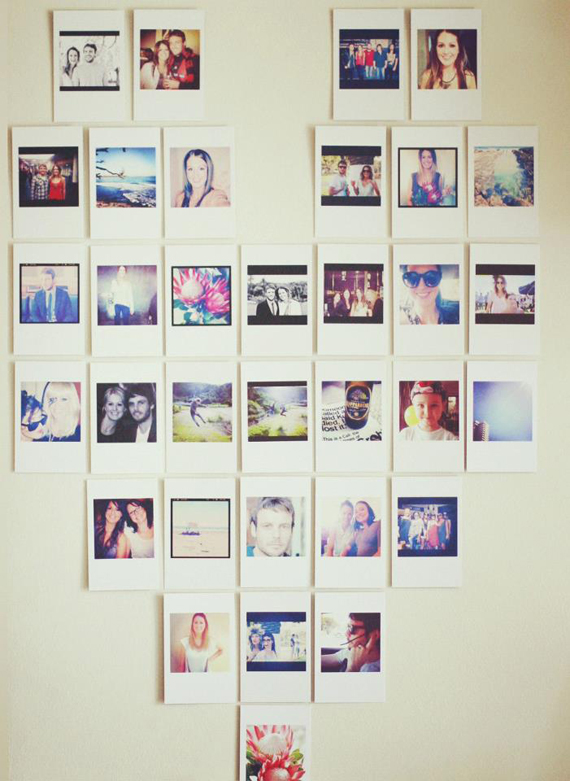 Look Mum, I made a heart with my Printstagram prints!
Magnificent Morsels:
+ Receiving our wedding invites in the mail this morning, I can't wait to show you them, they're absolutely beautiful! + Awesome emails from someone I admire + the two gems that told me I smelt nice (well my perfume did!) within 5 minutes of each other (note: if you like someone's perfume, tell them – totally put a skip in my step) + infectious, out-of-control energy + planning big projects + talking about Italy with my physio and picturing myself there – Ahhh…MALFI!  + getting the opportunity to connect with amazing people everyday through this blog + reaching 700 Likes on Facebook + writing my man's vision statement for 2012 in the back of his wagon, with the rain pouring down, at Wategos beach in Byron on the Xmas break. BEST! + thinking of my friend's weddings and how beautiful they will be + Alkalising Greens in freshly squeezed juices (holy energy boost, Batman) + gyoza + power weeks where my to-do list gets obliterated! + anticipation for the GC/ Brisbane Bloggers Meet Up next week where I get to meet some of the beautiful girls I chat to daily online. FUN! x
"I am free to create success in my life – it's my choice" ~ Deepak Chopra
+ Why don't you set the tone for an incredible day by chatting about the things making YOU happy in the comments below? It's been a few weeks so I'm hanging to hear what's been going on in your world – share away!
Images: My Pink Cloud  | Piccsy  | Julian Bialowas | Evelyn Nt