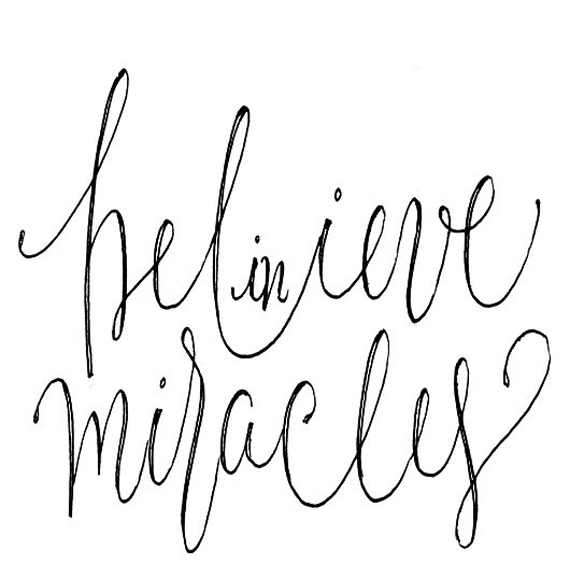 Do you ever experience synchronicity in your life?
Do you see 11:11 or 1:11 (or other numerical patterns) when you glance at the clock, or do you only have to think of someone you haven't seen forever and you run into them – in the most random of places?
Some might call this coincidence, but I like to think of it as synchronicity – gentle guidance and messages that help us make sense of a problem, uncover hidden feelings about a situation or steer us in the right direction. There's no doubt that being in sync is a beautiful thing!
The idea of synchronicity has been a big one for me this week. I read devoured the wondrous Gabrielle Bernstein's book Spirit Junkie on the plane when I was travelling to and from Melbourne, and through her words – some of which were on this very topic – I started to feel a real shift in my awareness and a connection to an inner voice that I think I've been ignoring a little lately.
Funnily enough, I've had Spirit Junkie sitting on my bedside table for a while, and actually had a different booked packed to take away with me, but as I was walking out the door to the airport I felt compelled to go back and swap books. Love how that happens. Wink wink, guide friends.
Anyway, back to synchronicity – last week in my quotes post I posted one of my all-time favourite quotes by Marianne Williamson, as below: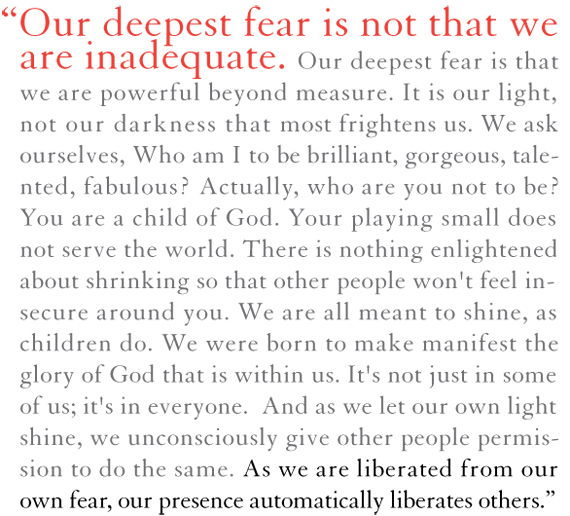 Despite not being 'rare,' this quote earned its place in the line-up because my parents used to have it on a poster stuck on the back of our toilet door growing up and I used to read it over and over again, soaking up those heart-warming words, and also, because I felt like I needed to hear it. It's freakin' magnificent, don't you think?
Since I included that quote in the post, I've read it in Gabrielle's book (the foreword was written by her mentor – you guessed it – Marianne Williamson!), I've seen it on two separate blog articles that I found by total mistake, I've had it emailed to me, and finally, when I was googling life coaches in my area, a coach I found had a blog… and the first article I read started with this quote. OK universe, I'm listening!
Miss Bernstein says something awesome when "coincidences" happen in her life. I think you'll find it useful to carry with you as you go about your day.
"Thank you for your message. I am present to your guidance. Show me what you got."
She says that when she's in tune and connected, she expects miracles. Pure and simple.
So go on gorgeous… when you go out into the world today, expect miracles. You never know what will happen!
Love list time!
New Alexander Wang Bag
Oh my WANG! I finally used the Net-a-Porter voucher Ramai got me for my birthday (way back in November) and nabbed myself an Alexander Wang 'Rocco,' which is the perfect mix of rock 'n' roll tough and sleek sophistication.
OK, so it's more the former, but I'm totally down with that. It's definitely love, I've got a big crush on my Wang.
Wedding Dress Fittings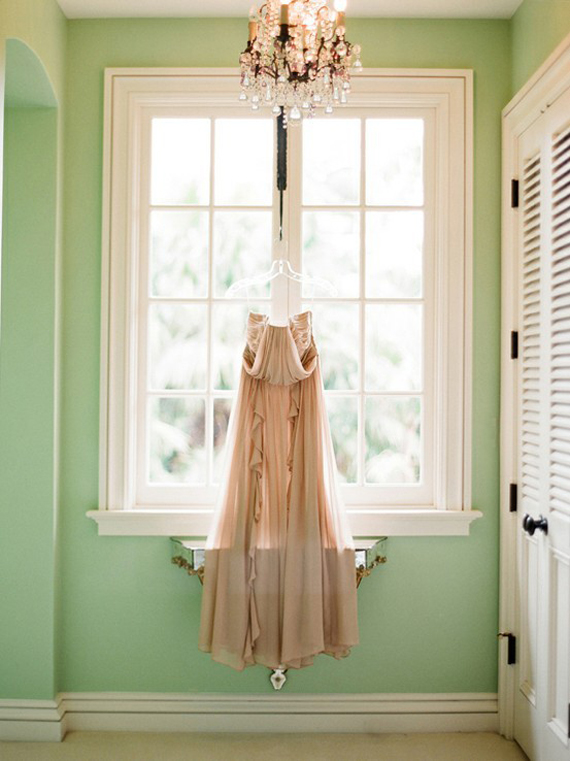 Hip hip hooray, I had my first two wedding dress fittings on Monday and Tuesday in Melbourne!
Granted I was only trying on the lining so the designer could get the measurements just so, but I'm still madly in love with my gown (which is always a good thing) and both the designer and her assistant are absolute delights. Superlative overload, I couldn't be more thrilled.
And the best part? It's back down to Melbourne for the next round in under a month. Woot woot!
Melbourne + Eating + Reconnecting With Old Friends
I had a fabulously busy time in Melbourne catching up with my friends Jess, Nick, Camilla, Cleo, Soren and my dear friend from school Bekah. My brother and another good friend from Brisbane flew down for the weekend too, so it was a super social few days.
We talked, we stayed up late, Jess (besty/ bridesmaid) and I planned the menu for my hens party in 3 weeks, and I revelled in being (mostly) offline and slowing down. My energy shifted down about 57 gears, and I really enjoyed doing things more deliberately.
I made an interesting observation too – I think because I spend so much time engaging in conversation online, when I was away from the computer, there were times when I didn't feel like talking – AT ALL.
Antisocial much? I'm not really sure, I just know the silence was much appreciated.
I barely took any photos on the trip (because sometimes it's best to just 'be') but I did do a spot of shopping at Topshop (pastel coloured knit shown above) and Zara (jeans and basic tees) and I think I sprayed almost every perfume at Klein's Perfumery. Did you know Demeter have perfumes that smell like 'dirt' and 'sex on the beach?' Yep, I'll leave you to ponder that for a moment.
A Trip to the Hairdresser
The scary hair monster was unleashed onto the world… and the girl on the right emerged not long after.
Love Notes
My man wrote a bunch of love notes and left them all over the house for me (some I saw before I left for Melbourne, another I found in my purse as I was boarding the plane, and a few others I found upon my return) and I was so touched.
Little acts of loving kindness go such a long way. It was a nice reminder to think about ways I can surprise him more often too. Gratitude explosion.
Interview on Wellness W.A!
Big thanks to the effervescent Annette from Wellness W.A, who interviewed me on my beauty and wellbeing routine.
Creative Meetings
I met with a friend on Friday night to discuss all the in's and out of my hens weekend (16 – 18 March) and without revealing too much, I'm pretty certain there will be some awesome photos of this soiree that I'll actually be able to make public.
(And yes, I realise I might be the first bride-to-be in the history of the world who can confidently assert that).
Watch this space!
The best of the rest:
+ Jamie Oliver's '30 Minute Meals' cookbook (obsessed!) + Nail, Skin & Hair vitamins (they work!) + trusting my intuition/ honouring my limits + sipping chlorophyll at work (mmm, mint) + 10km runs/ catch up chats with my training buddy every Wednesday + crystal-clear clarity and glorious Aha! moments + the most refreshing chat I've had in a long time with one of my 'soul sistas' + pulling together our wedding playlist + receiving lots of RSVP's in the mail (sure beats bills!) + affirmations and meditation.
+ So now that I've loaded up the love, it would thrill the socks off me if you could share the wonderful things happening in your neck of the woods. Tell us all about them in the comments below!
Images: Ornamelle | Lago M Design  | Kiss the Groom | One Kiss | Heather Spriggs