I've just finished reading Dying To Be Me by Anita Moorjani and let me tell you, it was a real head-spinner. In the best possible way.
To give you a sweeping overview of the book, after battling an aggressive cancer for four years, Anita falls into a coma and is rushed to hospital where doctors basically declare that she has passed on. Her organs have shut down, she has lesions all over her body, she's so malnourished and has so little flesh that doctors can't find a vein in her arm, and so on. The whole horrific ordeal.
While her body is shutting down on the outside, something magnificent is going on however – her Near Death Experience is transpiring – and when she comes out of the coma, she emerges with this deep understanding of life, oneness and the way we are all meant to live.
Incredibly, a day later Anita begs for the feeding tubes to be removed from her body so she can eat as normal, and within weeks, her cancer is completely gone (in fact, she goes to a wedding just a few weeks after "dying" and is dancing and drinking champagne like she would have years prior). There's no documented case of such a full recovery from such an aggressive cancer and her message throughout the book is one we could all do with hearing at some point I'm sure.
Anita's book, a few conversations (both with loved ones and with my "inside peeps") and the fact that a very good friend is going through some challenging health issues at the moment got me thinking about perspective and focusing on what really matters. To stop beating ourselves up for minor things that won't matter in six months time. To stop judging – others and ourselves. To stop rushing through life to "get somewhere" (where is this imaginary place anyway?) Ultimately, to stop being slave to expectation.
None of it matters in the grand scheme of things – but being happy does. So, SO much. Happiness, love, and living without fear, as Anita discovers through her amazing journey.
If you needed a gentle reminder today, this is it beautiful – go and do the things that make you happy. You're worth it.

On my love list this week:
Easter Break + Chocolate + Socialising a-Plenty!
Ahh, Easter. That glorious time of year where chocolate eating is encouraged ("Everyone's doing it!"), healthy eating plans go out the window, sugar crashes are inevitable and if you're like most, a sneaky wine or 7 is thrown in the mix somewhere for good measure. That's pretty much how my Easter played out.
My four-day weekend involved:
+ Wedding decoration making, three trips to Bunnings, one trip to Spotlight (that must be a record… for the LEAST amount of trips to Spotlight over the course of a weekend of late)
+ Running 15km's in an attempt to trick myself into believing that eating copius amounts of easter eggs is A-OK
+ Throwing a surprise party for my best friend (fun!)
+ Family time
+ Watching The Girl with the Dragon Tattoo (U.S version) and loving it
+ Watching the first couple of ep's of Season 2 of The Killing (again, U.S version) and loving it
+ Making bright new things for our house (see below)
+ Catching up with more friends at the beach – the weather has been freakin' incredible (photographic evidence below)
+ Going for another long run to try and burn off more bad food (eek!)
And in conclusion, I would like to propose to the Australian Government that four-day weekends be compulsory from this moment forward. Right. That's settled then.
National Geographic App
Put your hand up if you're obsessed with spinning globes like me? Atlases? Anything that loosely relates to travel or exploring or adventure?
Have an iPad? You need this app then, my friend. You're welcome.
Neon Macrame Planter
When I first saw this picture, I knew I had to find out how to make this gorgeous hangy thing and while I was more than willing to have a go at figuring it out myself, I stumbled across this tutorial and well, a few quick knots and I was away!
If you're keen to give it a go yourself, I bought the neon pink Brickies Line from Bunnings, but beware – once you've made one, you'll want a whole cluster of them. Thinking this would be a great DIY housewarming gift – perhaps a string of them all tied to a long sunbleached stick? Can you really go wrong with the beautiful marriage of hot pink and succulents?
Beautiful Emails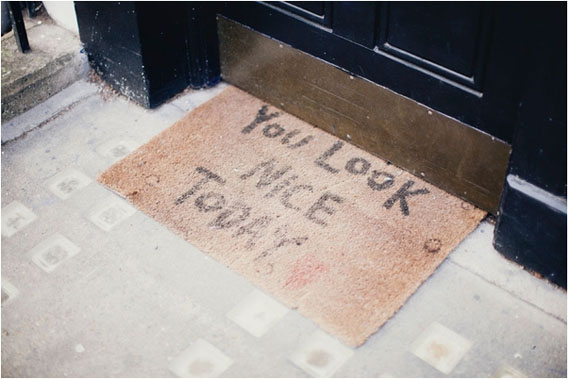 Even though I've been significantly less "here" (and unfortunately won't be fully into a more frequent blogging schedule until after we get married), I'm so humbled and touched by the gorgeous emails I continue to receive from readers.
I always like to imagine you as the people that tell a friend when her skin's glowing and she looks incredible in that new red top. You're the type that sends a lovely text message to someone to tell them you're thinking about them, or flash a smile at a stranger on your morning walk. The world needs more random acts of awesomeness, so I thank you from the bottom of my heart for being a bringer of greatness. Blessed doesn't even begin to describe it.
Bottles
Loving my cute new glass bottles from Sarbe. I've got a few ideas in mind for these, so will have to decide soon!
Neon Treasures from Typo!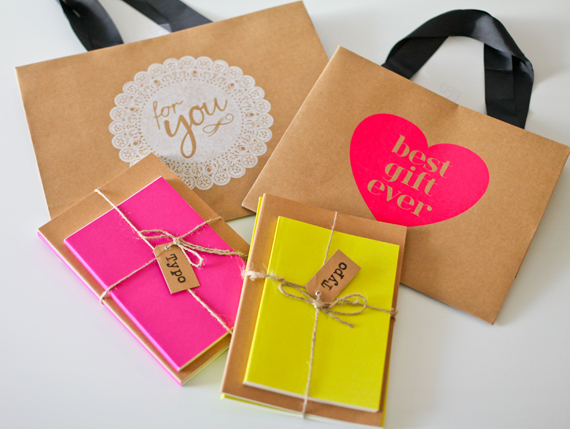 Neon in general, actually (are you picking up on that vibe yet?)
I'm having a huge moment with the combo of hot pink/ fluro yellow/ natural kraft paper so I was stoked to find these notepad packs (a steal at $7.95 for 3 notepads!) and cool gift bags at my local Typo store last week.
Crossing Wedding Tasks off the List
The list was overwhelmingly large when I first started seriously planning our wedding in January but we're getting there now and it's the best feeling.
Something has really shifted in my mind as well – I feel very calm about the whole thing and know that it will all come together before the day. Plus, I'm seriously LOVING all the hands-on, creative, crafting stuff. Could do it all day every day!
Speaking of which, last week Ramai made our wishing well out of an old wooden childrens chair (with a few additions) as shown above. We'll actually turn it around to face the other way, with a wooden sign attached to the front and tall bottles/ pots of flowers on the seat part at the back. It makes sense if you see it "in real life," trust me!
New Watch, New Shoes… & Matching Them Both
My running is starting to get more serious now so I thought it was about time I replaced my Garmin watch with a new one (and no, I didn't just buy it because grey and hot pink are one of my all-time fave colour combos but it certainly helped me click the Paypal button!)
I love that these watches tell you your pace, the distance you've run and the calories you've burned obliterated (let's think positive, shall we!) Super motivating as you try and beat your previous "scores."
I also bought a new pair of Nike Free's to replace the very worn out pair I wear to bootcamp. I don't do long runs in these as the soles of my feet end up burning because of the minimal support but they are PERFECT for the gym or stair running, interval training and walking as they really strengthen your feet up and encourage the use of different muscles.
* Tip for those not in the U.S: buy your running shoes on Eastbay – the prices are SO much better than in Australia.
Lululemon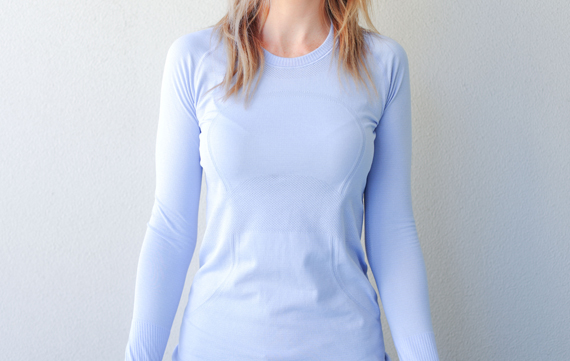 Also on the sporting gear front, my lululemon addiction is now getting to be a little bit ridiculous. Somebody stop me. New top for running in this winter? Check!
Autumn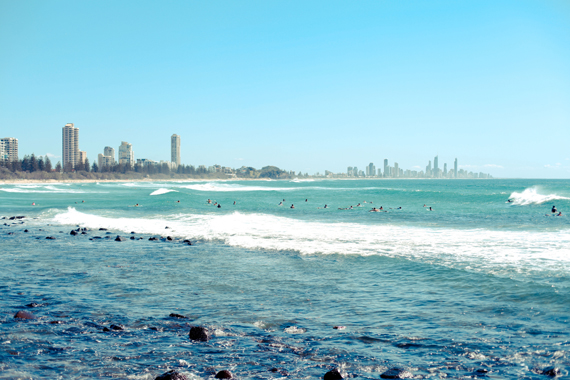 Here's my photo evidence of the recent outstanding weather on the Gold Coast. It's been consistently this good every day and if I didn't know it before, I certainly do now – my mood directly (completely, utterly) correlates with the weather.
Unfortunately, I don't think I'd be able to live anywhere where grey skies/ rainy days are the norm, which crosses a few major cities off my list. Doh.
Fluoro Spray Paint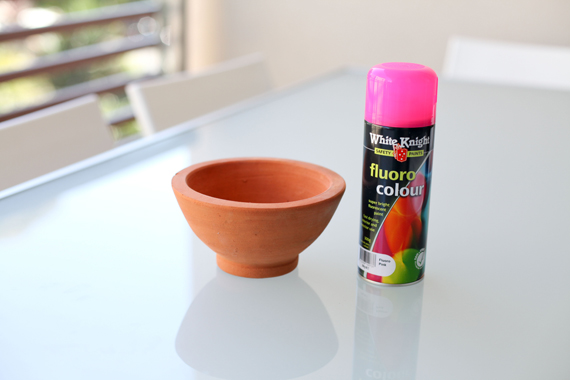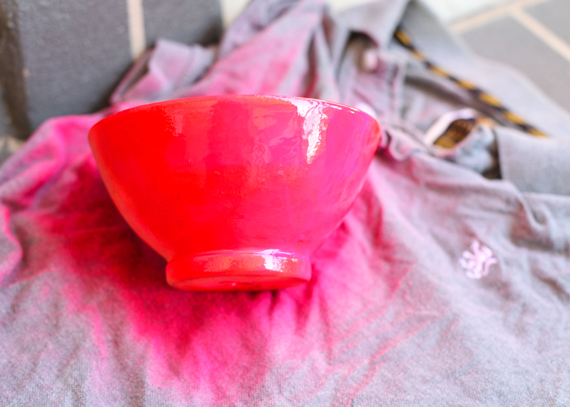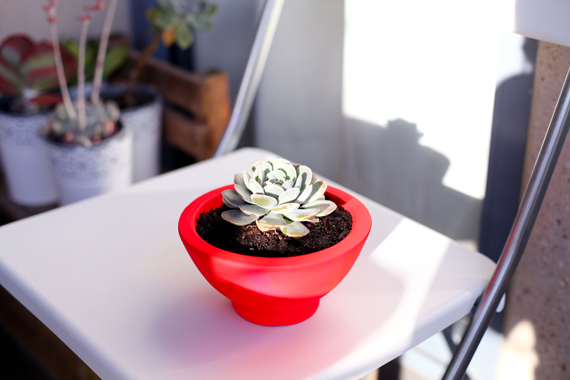 I love painting. I find it so therapeutic (and when it comes to spray painting, also a little euphoric… woooooweeee, look at the purple unicorns!)
A few days ago I attacked a terracotta planter with fluoro pink spray paint thinking I would end up with a neon pink pot. Fair assumption right? WRONG. Somewhere along the line, hot pink got confused and thought it was red.
Lesson learned: paint pot white first. I'm still diggin' it though.
Bits & Pieces:
+  Chia seeds + helpful peeps + magnificent florals + feeling more loved up than ever + being called "honey toast" because it's sweet and makes you feel good (haha!) + clarity and just "being" + date day/ night anticipation for this weekend, can't wait!

Honey toast (hehe), how do you rate your happiness at the moment? We're going to do things a little differently today – I'd love to hear what makes you happy in general. Is it sunsets, or Instagram or op shopping or cooking an awesome meal? Your rad vintage furniture business, the sound of rain on a tin roof, painting your nails bold, bright colours? Lay the love on thick in the comments below, I love getting to know you guys and can't wait to hear what brings sunshine into your life x
Image: Park and Cube