Launching straight in today lovers… here's what's bringing me joy right now!
Marriage + Being a Wife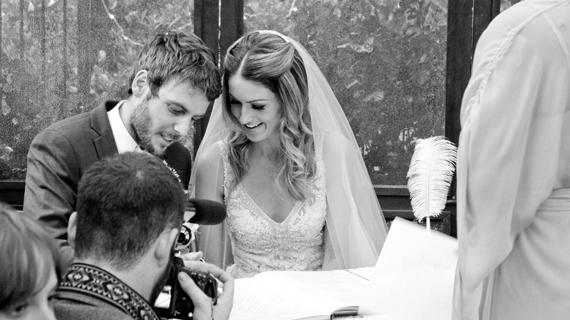 What can I say other than I'm deleriously happy and ridiculously thankful for the man I now call my husband. The whole "You're my husband, I'm your wife" thing is still a total novelty and more than one conversation over the past week has gone like this:
Me: "So, when people ask you 'Who did you go out to dinner with on Friday?' what will you say?"
Ramai: "Oh, just my wife."  (insert both of us dissolving into fits of laughter)
And so on and so on, etc to fade. Needless to say, we're "special." If you know what I mean.
B-School
I'd been tossing up whether to enrol in Marie Forleo's Rich Happy & Hot B-School for a while. On one hand, it was a bit of an expense (at $2000 for the 8 week program) straight after our wedding, but on the other, I knew it would give me the push I needed to steer my ship in a new direction.
And good golly am I glad I did.
I've completed Module 1 (adored it – I could listen to Marie speak all day) and I'm going to sink my teeth into the second module this weekend. Coupled with some coaching sessions with the beauteous Susana Frioni to keep me accountable, along with a very active Facebook group for Aussie B-Schoolers where everyone is completely forthcoming with information and willing to help in any way they can, I feel like I've been immersed in this awesome world where kicking ass is the only agenda.
If you're not familiar with Marie, get acquainted with her genius here. You may lose several hours working your way through her back catalogue of vids, so I highly recommend you put the kettle on.
Chevron Pillowcases
Pretty much obsessed with these pillowcases I bought from Earth Cadets (the glorious pinks ones) and Delicious Pillows, both on Etsy.
I actually squealed when I opened the package from Earth Cadets, the vibrance of the pink is seriously out-of-this-world!
Sleep
Leading into the wedding my sleep patterns were all over the place and I was crashing out in bed exhausted at night, having a "half sleep" and waking up around 4:30am every morning with slight knots in my stomach.
You know that feeling like you've slept through your alarm and you're going to miss your flight/ exam/ be majorly late for a job interview? That.
I found in the last two weeks it was really difficult to switch off properly as my to-do list swirled in my head constantly, and I really noticed the difference to my energy levels – not to mention the really hot black bags under my eyes. One thing I did find that helped was Valerian Forte (if you're experiencing any sleep disruptions and don't want to go down the track of hardcore sleeping pills).
However, my friends! I'm pleased to report however that my sleeping patterns have returned to normal and I'm actually having vivid dreams again – these disappeared strangely enough – which is kinda fun!
A special note to all you mama's out there, or those that deal with insomnia on a regular basis – you are amazing doing what you do on so little sleep. Deep bow.
Guest Blogging
So pumped to be contributing occasionally to my friend Jess' site The Wellness Warrior. What an honour!
Special mentions:
Cuddly winter knits + likewise, Bonds "house socks" (amazingly warm & uber comfy!) + having more time to research new things + Nars lipgloss in Female Trouble (and the fact Nars has come down in price at Mecca, halleluljah!) + roadside honesty boxes – we picked up a bunch of bananas, 3 lettuces and 6 avocados for $5 on the weekend + getting my Invisalign off, which is something I'll cover on a separate post + Em Rusciano. The girl is hilarious and her recaps on The Voice have me in stitches.
Thought for the week:
"Desperately seeking something is not what attracts it to us. When we dwell in deep peace and kindness, whatever would add to our happiness just flows to our door." ~ Marianne Williamson
+ What's made you smile this week? What's made you want to blow a big grateful kiss to the Universe? Share away in the comments below!
 Don't forget to follow In Spaces Between on Facebook and Twitter to keep up with all the latest posts as they're published.  
Image: Yellow Button Studio on Etsy