Last week was a great week. The health program I was on gave me the massive injection of energy my body was so badly craving and I rode that sprightly wave of creativity all the way through. It was like someone had cranked the dial of my vibration right-freaking-UP. 100,000 decibels.
Everything aligned… and most importantly, it all felt right.
+ I heard two pieces of really exciting news on Wednesday.
+ On Friday, when I was 40 fans away from hitting the 2000 mark on the In Spaces Between Facebook page, a lightbulb went off – I knew I wanted to give you all a free gift but it hadn't dawned on me until then that the Make Magic planner would be The Perfect Thing. My fellow Sagittarian friend Sian responded to my over-zealous email requesting her help in a flash, which was a blessing in itself. Heads and plates were spinning rapidly and inspiration was high.
+ Friday and Saturday mornings were spent whipping up a video interview for a friend's site and learning a few new things along the way.
+ I helped another friend with her new project. The days sped by quickly but the vibe was electric.
The thing is – and I was telling my naturopath this yesterday as we went over how I was feeling post-detox – all this flow and leaping-from-my-cells joy simply came my way because I was clear-headed enough to be open to receiving it. And, importantly, to then use that energy to fuel my creations.
Without a doubt, treating my body with respect and clearing the cobwebs out with clean food put me in the right state of mind to attract, rather than repel, more goodness and invite it in. I know when I'm repelling things and it's usually when I'm overwhelmed because I'm too busy and don't have the mental capacity to add something else in to the mix. I can literally feel myself sending out a weary message that goes a little something like this: "No more, please."
Last week was different.
I wrote the words MORE OPPORTUNITY, MORE PASSION at the top of a page in my Moleskine and let me tell you, life definitely rose up to meet me with the right kind of more. There seemed to be a bit of a snowball effect when it came to joyful occurrences and with the joy came some 'loud and clear' messages as well. I used to let things like "people pleasing" or "doing it because I should" guide most of my efforts, but lately I've created space to let my "inside peeps" guide, well, pretty much everything. Like Jonathan Field's says in the article I linked to yesterday, realising that you are your own guru and that your power starts within means you can cut out the stuff that isn't serving you or bringing you closer to your goals. Turning the wobbly, forward-facing line into a relatively straight one, if you will.
Creativity made me come alive last week. Other weeks it's connection and deep, soulful conversations. Others it's adventure or rebelling against my to-do list. Like the quote says "The world needs more people to come alive" so today I encourage you to go and find what it is that makes you come alive… and barrell head first into it. Live passionately, gorgeous. Come alive.
"Let your alignment (with well-being) be first and foremost, and let everything else be secondary. And not only will you have an eternally joyous journey, but everything you have ever imagined will flow effortlessly into your experience. There is nothing you cannot be or do or have—but your dominant intent is to be joyful. The doing and the having will come into alignment once you get that one down." ~ Abraham-Hicks
Sunday Bliss
Above is a snapshot of our day on Sunday. Can I get an OH.MY.GOD? Amazing.
Ramai and I have been hanging to dive back into our Sunday ritual (that is, getting out of the house and heading out on an adventure) so we made a beeline for Broken Head, just outside of Byron Bay, on the weekend and spent the day reading, meditating, taking photos and lazing around on a secluded hill overlooking the ocean. Whales and dolphins were frolicking, the sun was sparkling, the water was turquoise, the sky was clear. Quite simply, the day was a total peach and we lapped it right up.
I think the photos pretty much say it all but I have to ask: do you reckon MJ would have been proud of my 'Smooth Criminal' move in the last pic?
"Annie are you OK, are you OK, are you OK Annie…?"
MJ fo'evah.
Babies + Creative "Jobs"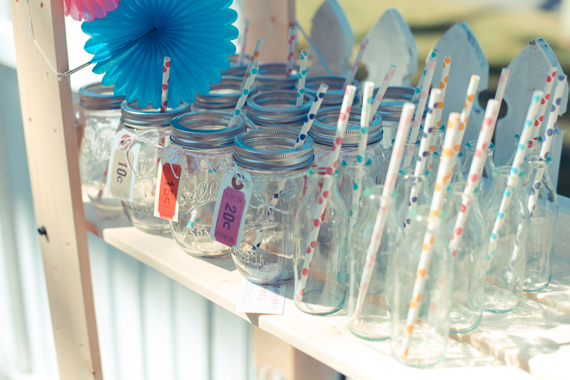 On Saturday I took on the role of Designated Photographer at a friend's baby shower, which wasn't a hard gig because the decorations were gorgeous and there was plenty of eye-candy (of the decor variety, not the ripped-ab variety).
I worked out over the weekend that I really (really) love taking photos of nicely "styled" details. There's something super rewarding about sending a friend a big folder of images that tell a story from start to finish.
Perhaps I'll come back as a photographer in my next life…
Make Magic Daily Planner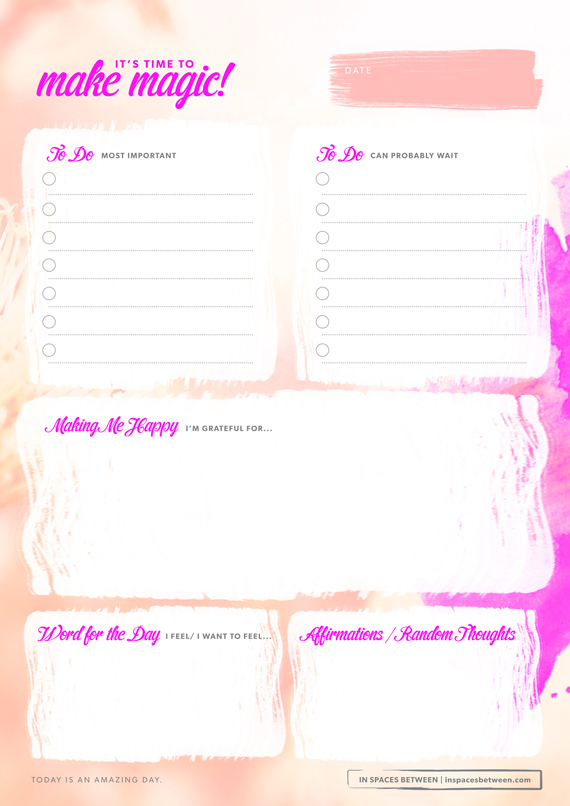 Feeling very grateful for the response to the Make Magic Daily Planner. Muchas gracias!
Creating the planner was one of those "Quick, I've got an idea and I need to execute immediately!" moments and like I mentioned above, I'm blessed that Sian was able to turn this pretty puppy around so quickly for us all.
I'd love to know: have you been using yours? Finding it useful? Post a pic of your planner "in use" on Instagram and tag me @rachelmagahy with the hashtag #makemagicdaily – I'd love to see!
More Moleskine Love
My note scribbling is getting a bit out of control at the moment and I've had to add another Moleskine to my collection – this time, a big ol' A4 sized one! A Big Girl Journal.
I've decided this one will be purely for 'Blog + Business' notes and my Magic Moleskine will be for 'Manifesting + Miracles.' I think it will be more effective that way, and the larger size is going to make it a hell of a lot easier to freely unleash the ideas and inspiration that are currently all over the place in my smaller diary.
Stationery nerds, if you haven't yet come across Notemaker, I highly recommend you check them out. You'll see.
Best of the rest:
A soul-warming Skype chat with Connie from A Life of Perfect Days + some exciting news (related to our wedding!) + heading to Sydney for 2 days for work meetings today (just a heads up that I'll be mostly offline until Friday) + watching the fantastic B-School 'Bonuses' and making plans to go back through the whole course again + clearing out stacks of old magazines + getting on top of emails… for a day + blogger support – man, I LOVE being part of this vibrant community! + getting a tweet from Nikki Gemmell, author of The Bride Stripped Bare (!) + and finally, coming across this quote at just the right time: "Almost everything meaningful is accomplished by a megalomaniac on a mission." Too true, Mister Scott H Young.
+ What about you darling heart? I know you probably have a million things to do and you want to rush back to them right this very second, but why not give yourself the gift of presence for a minute? Why not take a moment to stop what you're doing momentarily – slow the tempo, zone out a bit and think about how you're feeling?
What's your energy like?
Is there any tightness in your body?
Wiggle your toes, push your shoulders back, twist your torso, rub your jawline just under your ears… and release it all. This moment is simply about breathing in energy and breathing out gratitude, and once you do, share those splendid happenings in the comments below so we can all dip into the sweet honey that is your life!
Image by Sian
{SHARE, LIKE, OR TWEET THIS POST USING THE BUTTONS BELOW IF IT BROUGHT A SMILE TO YOUR FACE TODAY!}