I've got some thanking to do.
Here's the thing: I'm an independent little kitten. Have been since I was a tiny child and refused to let my parents dress me (there's long-lost video footage of me running around the house with my pyjama top over my head, obscuring my face, very Beavis and Butthead style, totally "I've got this Mum!").
But like most all of us, I'd be nothing without the people in my world – the teachers, supporters, cheerleaders and everyone in between – and I really want to take a moment today to acknowledge that. The appreciation is served up broadly here, but as I write the words, I'm mentally walking through a sea of faces, so just know that I'm sending love in all directions. Lots of it.
Soul hugs + high fives to:
Ramai. The man whose loves permeates every cell of my very being; the coolest, wisest, most 'comfortable in his own skin,' laidback human I know. The guy who sends me I love you's daily, who silly dances and air guitars his way around the house because he knows it'll make me laugh – especially when I'm in work-mode. The guy who knows when to sit back and wait and when to front up and be there. My gorgeous, intuitive soul-babe with the comfiest 'nook' (neck-chest space) in the world, made just for me. Thank you – always.
My blog babes. There are so many of you that I collectively adore. You've all come into my life over the course of the past year – which may not seem long in Real Life terms but feels like the best type of forever in the Online World – and I'm wildly grateful for your unwavering encouragement, the warmth that wraps its way around my soul, all your unharnessed energy + excitement and the belief in what I'm doing and where I'm going. It's always appreciated, and let me tell you , the sistahood is certainly alive and kicking in the blogosphere and it makes me so proud to be part of this community. SO INSANELY PROUD.
Sian. For designing the bejesus outta my ebook and for not only graciously making every single edit this Woman of Very High Standards requested but for sharing in my excitement for its release. That's the kind of designer a girl wants on her team. Can anyone say the words 'over and above?'
My friends. I know that's a broad one – Look Everybody, I'm thanking All of the Friends – but each plays their own special role, and lately there have definitely been a few sparkly souls that have championed my wins, been there as I've exhaled deeply at the end of another busy week, listened to my stories on morning runs and brought me to my favourite state of being – laughing, carefree, content – time and time again. Thank you for your awesomery,
Who do you need to acknowledge? Today is the day, sweet pea. Unleash your appreciation. 
Creating Personal 'Guidelines'
Ever sat down and gone "Ok where am I right now? What do I need to be reminded of? What do I think about XYZ at this point in my life?"
I did this week and I created a short "guide" to live by – something I've stuck on my wall and written in my Moleskine for inspiration. Simple things that sweeten my life.
An excerpt below:
Dear Rach, this is your guide to better living. Remember…
1 // Health comes first. When that creeping overwhelm becomes a full on GAH-fest, hightail it to somewhere quiet with a green juice or a ginormous salad, lie back/ sit cross-legged, connect to the breath, listen to a guided meditation, do nothing, daydream, read a book. Whatever it takes to end frazzling frazzlement. Get back to centre.
2 // Relationships are muchas importante. When someone is talking, drop everything to listen. Be present.
3 // Do the undress-wash face-shower thing shortly after getting home from work. Much easier that way – especially when you get all sleepy-eyed on the couch and you don't want anything to get in the way (ESPECIALLY water) of that dazed transition from couch to bed.
4 // Salad. Every day. Essential. Vitamins also – support your body while you're living life at full-crank.
5 // Take a moment for your one word visualisation each morning to set the tone for the day ahead. Twitter, FB, Instagram, email first is not ideal.
6 // On that note, social media in bed can stop. Not necessary. Make bed a sacred space for love + wisdom (from deep convo's and the pages of a good book).
That's just a few of my guiding principles right now. What about you? Do you have any of your own? Thinking about creating some? Let me know if you do!
Sydney + Shopping
Last week I spent a few days in Sydney for work and coincidentally, Ramai was down there  for work at the same time which made it approximately 17654 times better.
It was an in and out visit but we had a lovely dinner and cocktails on Wednesday night and I even managed to squeeze what should have been a marathon shopping sesh in Pitt St Mall into a quick sprint (35 minutes to be precise).
See the pics for my new wares from Sportsgirl, Zara and Myer. Lots o' colour!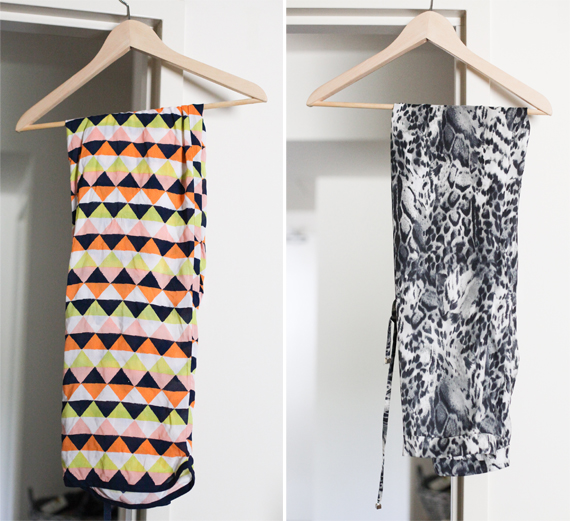 Miracle Thought
I'm loving Marianne Williamson's Miracle Thought by Oprah and have been listening to these at night before bed or in the morning before work. Check them out, I have a feeling you'll love them too.
Pretty Blooms
As a hardcore nature-nerd, flowers make me immensely happy. I got a surprise delivery of gorgeous tulips from Ramai at work yesterday (aren't they lovely?) and have a great bunch of natives, shown below, thriving at home. Simple pleasures.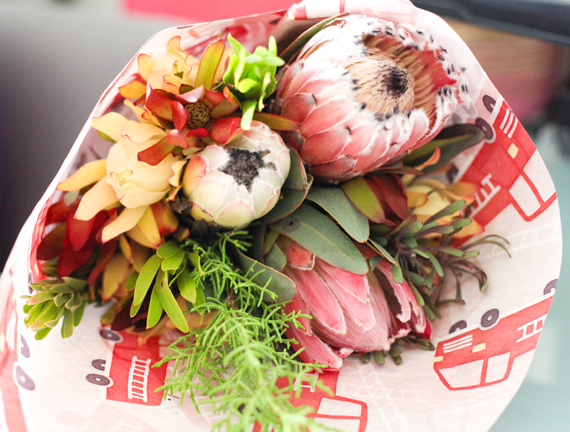 Ebook Anticipation!
MY EBOOK WILL BE OUT TOMORROW!
Sorry for the shouty caps, but I'm so freaking excited to share this with you all and I'm hanging to hear what you think of it. Be ready, my loves, it's a-coming!
Over to you:
Going back to my question at the top, who do you need to acknowledge? Why not give them a shout out in the comments today? Pull your energy in for a minute, let a wave of appreciation flow through you and load up on love – for the people in your life and the blessings of the past week. Go for it.
{SHARE, LIKE, OR TWEET THIS POST USING THE BUTTONS BELOW IF IT BROUGHT A SMILE TO YOUR FACE TODAY!}
Manifesto: Striking Truths