Welcome to another shiny edition of Making Me Happy! I'm going to dive right in today gorgeous souls. My love list this week includes:
Sequins!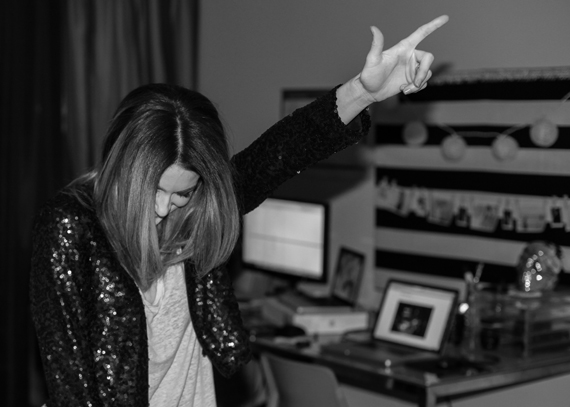 Oww! I got my MJ on over the weekend with my sparkly new black sequin jacket, which I'm kinda crazy about.
Le Jacket made its debut at dinner with the girls on Saturday night, and let me tell you sista, it was a crowd pleaser.
(PS: I'm assuming the dancing is to blame for my "swept back" hair in the first pic. Well, that and the miniature wind machine I carry around in my handbag…)
Daily Rocks
I've heard Danielle LaPorte and a few other inspirational ladies mention Patti Digh, and for some reason or another, I'd never found my way to her site – until yesterday, that is, where I was thrilled to discover Patti's Daily Rocks,
The Daily Rocks are essentially daily meditations and writing prompts – short snippets of wisdom, pithy combinations of words – and it's their simplicity that makes them so brilliant. Love.
Neon Jewels
The neon obsession continues. My favourite colour combo at the moment is WITHOUT. A. DOUBT lime green and light grey (or white) and I can already tell the beaded necklace I picked up on the weekend is going to be on high rotation over the coming months. The perfect complement for a crisp white shirt. Yum.
* Just on neon, thank you so much for all your beyond-wonderful comments on the neon hanging planter giveaway. I had a grand old time reading through them, so much happy in there!
Running Meditation
In reference to my post from last night, I've spent a few days floating between digital fatigue, inertia and complete happiness (yes, it's possible to feel really calm and slightly over it at the same time!) and yesterday I decided to kick the first two not-so-awesome feelings in the butt by testing out something new: running meditation.
I normally run with a friend from work and Ramai but yesterday I went out on my own and started clearing my mind by visualising a clear, open room with a treasure chest in the corner (to contain reckless, swirling thoughts). The room – which of course, was Pinterest-worthy (haha) – was wide and airy with sunlight streaming through the big windows, and as I ran around the Burleigh headland, I pictured energy flooding through the space and me literally picking up rogue thoughts and putting them in the chest.
This might sound kinda wacky, but let me tell you, by the time I got home I felt 286566 times better. Give it a go if you're a visual creature too.
Karen Walker
In lurrrrrve with my new Karen Walker Super Duper Strength sunnies.
Glasshouse Candles
Unsurprisingly, another oozing-with-deliciousness scented candle by Glasshouse has made its way into our home.
I have to warn you though if you buy one of these for yourself – this fragrance is dangerous. It literally smells like caramel tarts, which may or may not lead to eating said caramel tarts (What? It was a friend's birthday!)
This Awesome Infographic
A handy little chart from Paid to Exist for differentiating between a "hobby" and a "passion." Love it.
Prettifying + Creative Goodness
I'm helping friends out with the styling/ set up of a wedding this weekend and I'm really looking forward to dipping my toes back into the wonderful world of weddings for the day!
I'm picturing you sitting there with a cheeky little smile on your dial, and I want to know: why are you happy right now? What's bringing you joy? Share your love list in the comments below!
Images: Jose Villa
PS: I'm super proud to tell you that my eBook More Magic, All the Time is resonating with a boatload of special souls. Get a free copy of your own below!