Good morning hot stuff! I couldn't agree more with the above – what do you think?
Read on for a list of the things that have rocked my world this week – simple soul-warmers that have softened the edges of what has been another full-o-action week in the life of Rach!
Farmers Market Goodies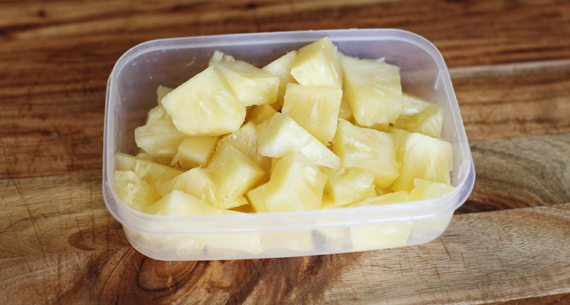 Oh how I love a good jaunt around the Farmers Markets! Amongst bags of fresher than fresh veggies, on Saturday we picked up some to-die-for pineapple and this raw chocolate fudge slice from Raw Ecstasy (ecstasy – ain't that the truth!) which ended up being my breakfast. Oops.
(In case you were wondering, I promise it wasn't as huge as it looks in the pic. If only.)
* For some awesome raw/ vegan dessert recipes to whip up at home, check out this section on Vegie Head.
Dinner With My Bro
My brother Andy has been working in North Queensland for the past 6 weeks so it was awesome to catch up with him (after making this quick video, of course).
We ate Thai food, laughed a lot, mused on the ways Andy and my other brother Ryan (26 and almost 25, respectively) had changed in the past year. We all hit that point – and if I had to pluck some numbers out of the air, I'd say 25 and then again around 30 years of age are just of those two "milestones" – where change is bright and bold and obvious, rather than beige and slow and under-the-radar.
I feel like the three of us are all at that point in our lives right now. Transitioning. Wiggling around. Stepping into new skin. Uh huh.
Melbourne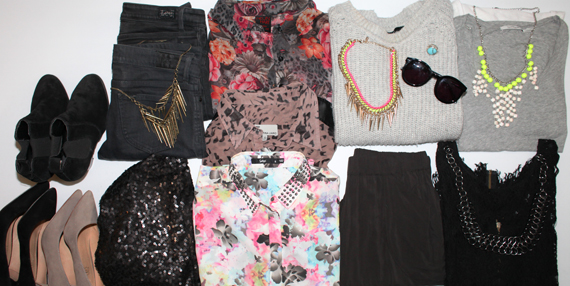 I'm off to Melbourne tomorrow and I thought I'd give you a sneaky-peek into What I've Packed to Wear to the Problogger Conference.
Sass & Bide silk pants, floral shirts, boots, some basic tees and my sequin jacket (for Friday night) all made the cut.
(Please excuse the shocking photo, I'm racing out the door!)
This Quote

I remember listening to a Pearl Jam live concert around 1997 or so and before playing "Daughter," Eddie Vedder mumbled in his gorgeous, husky voice: "This one's for whoever wants it." The crowd went crazy.
In borrowing from my good friend Eddie here, I've shared a quote below on purposefully straying from "The Path"… and it goes out to whoever wants it (or whoever needs the comfort of those words today).
A poignant reminder that we're never lost when we veer off the path, we're simply wandering new trails that lead us to exactly where we need to go.
"Sometimes, following unknown paths, we find ourselves in a maze of growth, in failing light, unsure where we are, flailing through jungles of stiff, impenetrable shrubs and sharp briars in deceptively benign-looking woods. All at once we realise we are lost, unable to retrace our steps. Then, suddenly, we come out onto a paved highway, far from where we thought we were, feeling a gratefulness and a relief we are ashamed to acknowledge." | Robert Finch
Creative Inspiration, Every Day
I hazard a guess that you've heard of Julia Cameron's celebrated book The Artist's Way – a ground-breaking and spiritual tome on the creative process. The book shown above serves a follow on from The Artist's Way, with daily creative reminders laid out for all 365 days of the year. It's pretty darn brilliant.
Never one to follow suit completely, instead of reading consecutive pages, I love leaving things up to the Universe and flicking to a random page to see what words of wisdom lie before me.
Freakishly, I landed on the pages below (the correct date for today). WHAAAAAT?! Seriously! Guess the Universe likes order and sequence after all!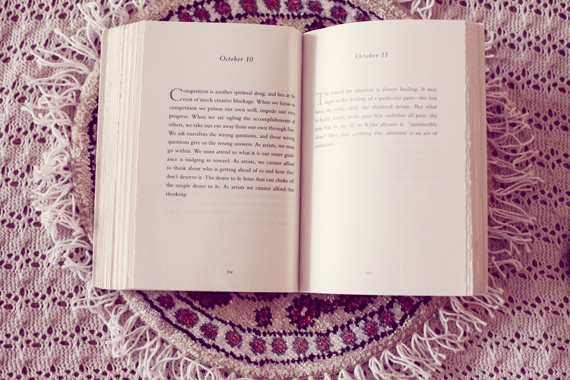 Other bits + bobs:
Lovely gifts in the mail (and a bottle of Moet from my boss!) + holiday scheming + that summer feeling + Burleigh on the weekends – I love seeing people milling around, sipping coffee in cafes, lazing at the beach, riding their bikes, holding hands, LIVING + Super Soul Sunday + emails from readers that bring tears to my eyes and warm me from the inside out. Thank you. x

+ What's on your love list this week, superstar? You know sharing positive experiences gives them wings so go ahead, make EVERYONE'S day by unleashing your joy right here in the comments!
PS: In the past 5 weeks, just short of 2000 people have downloaded my eBook More Magic, All the Time (which kinda blows my mind). To ensure you don't miss out on the action, simply fill in the deets below and hightail it to your inbox to get your hands on your free treat!

Images: Fellow Fellow | Yellow Bird Yellow Beard