January 23rd, 2013
Sometimes messages sneak in the back door quietly, slipping their shoes off with nary a whisper before curling up next to you on the couch and stroking your arm. Others, they'll smash the door down, knock over a few pot plants, kick their boots off and MAKE REALLY LOUD NOISES in case you somehow miss the fact that Hello, They Have Arrived.
I've heard "Get out of your head and into your heart" at least 2965 times in the past week. It's been one of those messages that's been showing up e-ver-y-where – offered up to me as advice, written in the pages of the books I've picked up off the nightstand. I heard it in a tele-seminar. My consulting gig "employer" said it this morning. It's rolled off my tongue in coaching sessions.
Get out of your head, and into your heart. 
It's a goodie.
The head is about doing more. It gets off on over-thinking and overanalysing, perfecting and procrastinating. It makes us a slave to fear, "shoulds" and "what if's." It worries about what our neighbour's doing in their grassy backyard and tricks us into believing we'll never be enough.
The heart, on the other hand, says "You already know the answer, beautiful," (even when the head tries to convince you otherwise). It's intuition. Gratitude. Presence. A smouldering fire of inner confidence. Hope. Excitement. Peace. Contentment.
As my wise husband remarked when we were chatting the other day: "Really, we feel decisions." Love that. You can think your way around the universe and back, but the honey is always in the heart.
I've had a few intimate tete-a-tetes with my own heart this week (we chatted about how I'd like 2013 to unfold, and it was a gooood convo, believe me) and if you take one message away from today's post, it's that I encourage you to pull up a chair with yourself sometime soon and find out what you really want out of this year. Create a mind-free zone.
One more time before we dive into this week's love list:
Get out of your head and into your heart. 
Dinner Dates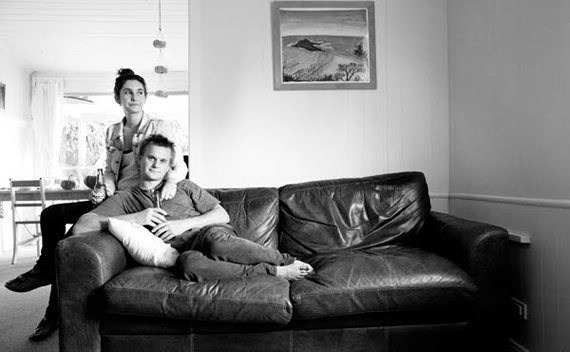 On Monday night I zoomed up the highway to Brisbane to have dinner at Wagaya with Claire Plush before her and her man head off on an extended overseas adventure to France, Indonesia and beyond.
Claire and I "met" online back in the early days of In Spaces Between and we've kept in touch on email along the way – two Sagittarian ladies looking at the world through similar eyes – and meeting her in person was seriously so beautiful. Such a gentle, gorgeous soul.
The night was all about free-flowing conversation, great food and good times and I'm thrilled we made it happen!
Site Updates + Inspired Ideas
I've decided to hold off on a full redesign of this lil ol' blog until later in the year (when I might have some time to think it through properly) but my friend Jo from The Darling Tree is currently working on a little refresh for me, adding in some new pages and fixing a few of the things that have driven me nuts over the past year or so.
On the inspiration front, after a huge day at the computer yesterday, we ventured outside for a quick dinner and – as often happens when you step away from the very thing that's holding all your attention – an inspired idea landed in my lap.
I've written this random brain "spark" on a bright yellow Post It and stuck it on the wall behind my computer and I'm looking forward to seeing how things take shape. You'll be the first to know, promise!
The Secrets of the Sea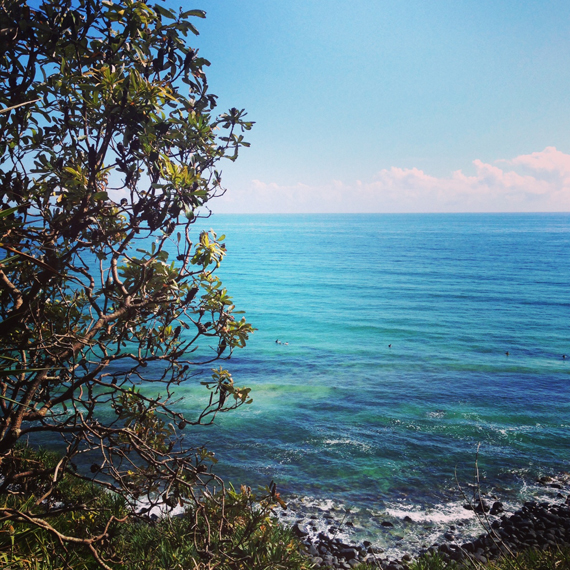 I'll never stem my steady flow of Burleigh love. So grateful for this place. I often stop and stare at the ocean when I'm about to start (or finish up) a run, and it never ceases to amaze me how different it looks day on day – the colours, the intensity of the waves, the surfers either floating effortlessly or hooting and hollering if they're riding a biggie.
"The voice of the sea speaks to the soul" — Kate Chopin 
FUNC
Totally crazy about this new group training method created by my friend Rowena and her biz partners-in-crime!
The first time I did FUNC two weeks ago I could barely move the next day (my quads were so sore that my attempts to sit down sounded something like "Ooh, ooh, ooh, OW!") but now that my muscles have somewhat adapted, I'm absolutely loving it. A good pain. A killer workout. Huge fan over here.
Skype
I can't tell you how grateful I am for Skype. In fact, without it, my business would be nothing like it currently is, considering I spend most of my days conducting coaching sessions over the airwaves.
Another reason I love Skype so much? It's the perfect way to keep in touch with all my bloggy beauties because, y'know, it's nice to see their gorgeous faces too. In the past week I've chatted with Kim, Jo and Jenn and the lovely Connie and I have a date for next week (oh and Tara and I chat daily via all sorts of channels!)
Can everybody please give it up for our good friend Skype?
Lots of love:
The tennis – I've been half-watching while I work with my computer on my lap. The power! The fitness! The grunting! Phwoar! + meditatin' and appreciatin' + Joe Cocker singing (screaming) With a Little Help from My Friends at Woodstock – such an incredible performance + seeing my clients kick ass (their excitement gets me high!) + being called a "blog doula" – "You're helping me birth my blog baby!" + acknowledging what is "enough" and what is "too much" work-wise. I do plenty of Goddess Guidance card readings for myself but I pulled two at the end of last year just before I resigned from my job that always stick in my mind: BRIGHT FUTURE and BOUNDARIES. Boom! + you guys for being your wonderful, supportive, all-round excellent selves. Humbled.
Over to you: what's making YOU happy this week? Share in the comments below beautiful!
Tags: gratitude, making me happy