February 6th, 2013
Good morning gorgeous!
I'm sitting here listening to a melodic mash up of Fiona Apple, Alicia Keys and Fleetwood Mac, the balcony door wide open and the sun shining. Today is going to be a magnificent day, and as it turns out, this Making Me Happy is also kinda magnificent (it's a biggie), so grab yourself a cup of tea and get comfortable.
We're going in.
Here's what has been lighting my fire of late…
Letting Go
For some * unknown * reason (we're leaving that up to the Universe), despite the fact that Ramai and I have wanted to move to a bigger house for quite some time, it just hasn't been happening. We've searched and searched to no avail and although an office and extra bedroom would be lovely, we've always brought it back to the fact that (a) we really are blessed to live where we do, by the beach in Burleigh and (b) it will all happen in good time. Frustrating at times, yes, but for a bigger reason we're sure.
After chatting to Helen Thomas – details below – last week, it became clear that we'll be where we are for another six months or so. Hearing that was the catalyst for some creative thinking, which lead us to renting a storage shed, moving some of the furniture and "stuff" out that was taking up valuable space and having a big old throw-out. A spot of re-decorating (does anyone else re-decorate every few months, or is that just me and my ever-changing tastes?) and the house is like a completely new space. Expanded. Comfortable. Ours… for now.
The moral of the story that I wanted to pass on is that if something's not working as you planned, seek out an alternative to make the situation bearable/ liveable in the mean time. There's always a reason and I truly believe that this space clearing exercise will set the wheels in motion for our perfect home to come along. If you're in the same boat and something in your life is feeling "stuck," get creative. Taking action is the surest way I know to attract what you need into your life!
I'm Going to Be a Bridesmaid!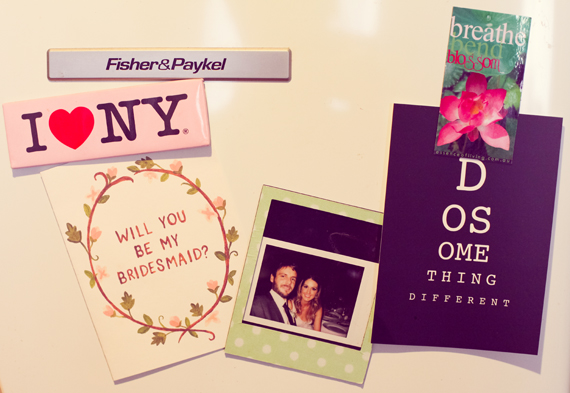 My best friend Megan is getting married and I'm so honoured that I'll be standing beside her as she marries her beloved.
It's definitely the year for it – 3 of my closest friends are getting married which means engagement parties, hen's parties and of course, the Big Day… times three. YES!
Seeing My Clients Kicking Ass

One of my clients has written an eBook in the past fortnight. Another has already smashed her goals for her mailing list, Facebook page and a few other things we're working on – three weeks after our first chat. Another busted through a big fear the day after our call and life is unfolding magically around her. There's that and so much more. Progression is beautiful and it's an honour to travel this path with amazing women who are ready and willing to create the lives/ blogs/ businesses of their dreams.
Somebody, pinch me!
(graphic from the awesome Amanda Genther)
Lorna Jane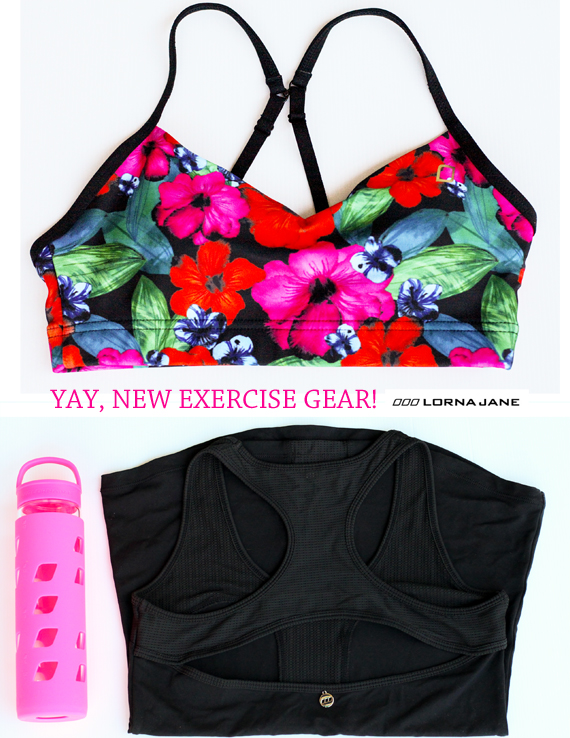 Imagine going to the Post Office to pick up what you think is (another) order of books and finding these beauties waiting there instead!
Lorna Jane kindly sent me the goodies above last week – a brand spankin' new Tropics Bra (we're a match made in exercise heaven) along with their Chloe Excel Tank (the perfect blend of sexiness and functionality) and a neon glass drink bottle to make downing h20 just that little bit cooler.
I'm in love.
Speaking of Lorna Jane, in case you missed it, I'm also stoked to be guest blogging for LJ on their Move Nourish Believe blog, which is both a delight for the eyes and brimming with awesome health and wellness inspiration. Read my first post on setting yourself up for an incredible 2013 here and have a poke around the site. It's well worth a look.
A Sparkly New Discovery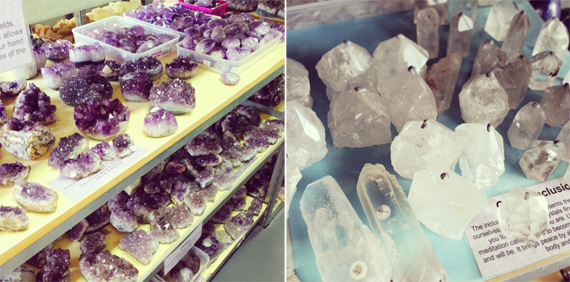 It baffles me how I haven't come across Earth Crystals yet given it's 10 minutes from where I live, but never mind – we're WELL acquainted now.
Close your eyes and picture a big showroom full of every crystal under the sun. My head just about fell off! Ever since I dug up a little rose quartz in my garden when I was six (thinking back that is a very strange experience, but at the time it was like finding a gold nugget) I've been fascinated with crystals and geology, and I remember constantly begging my parents to take me to the crystal shop so I could play with them all. Walking into Earth Crystals took me back there.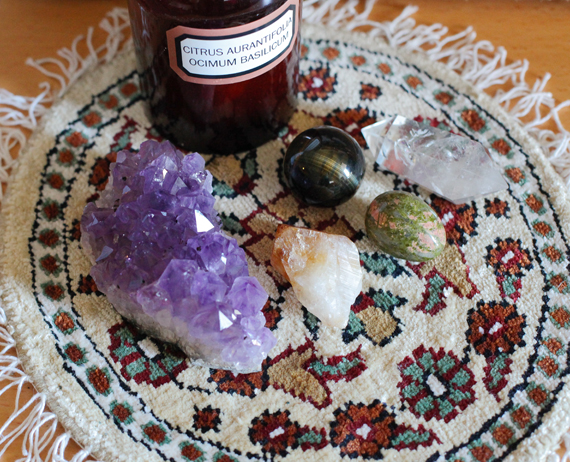 My new amethyst and citrine. Aren't they amazing?
Below – natural sodalite below. Super powerful!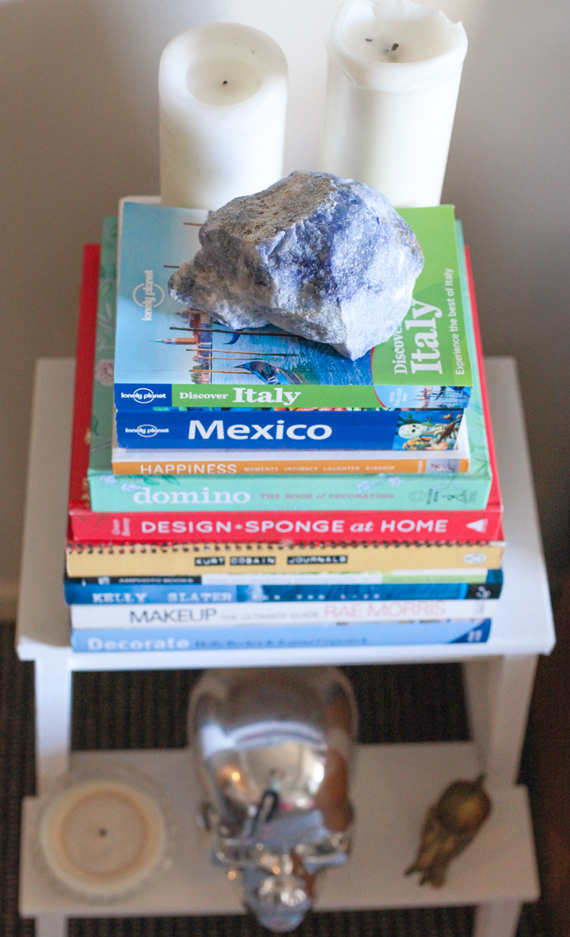 Gratitude Journalling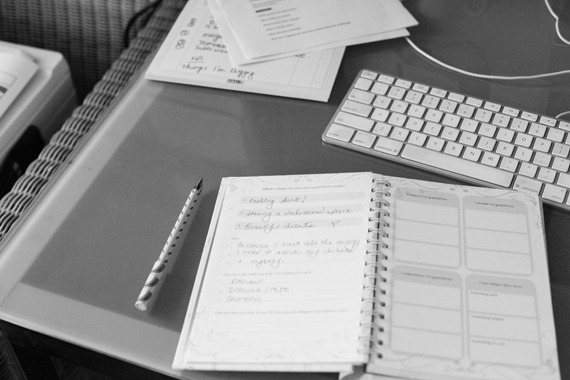 I've been doing lots of this lately, both when I've been feeling vibrant and on top of things, but also on the days where the head takes over and the not-so-awesome feelings – overwhelm, self-doubt and all their mates – pop up. Instant perspective-flipper.
A Spot On Intuitive Reading
One of the most exciting things I've done in the past week was an intuitive reading with Helen Thomas from The Little Sage. One word: incredible. SERIOUSLY incredible.
Our session kicked off with an angel card reading and Helen's bang-on insights on where I'm at and where I'm going, and then progressed to the point where I asked a range of questions (around things like my business, moving house and so on).
I have to confess that I've never had a reading before because I've always been slightly concerned about hearing something negative and then "creating" that in my life, but the whole experience with Helen was wonderful and positive and I was buzzing for hours afterwards (and yep, I may have listened to the recording again that night).
If you're looking for clarity and loving guidance served up generously, get in touch with Helen here for a reading or head along to one of her workshops in Brisbane. Huge thumbs up from me.
Big love, little love – it's all love!:
Setting a giant savings goal for 2013 + that tight tummy feeling you get after a good pilates class + honing in on my Core Desired Feelings (via Danielle LaPorte's Desire Map – I think I've almost got them nailed) + inner peace + feeling the creative juices pump again after dreaming up decor for our house + double date nights with my besty and her husband-to-be + having my babe Tara living two minutes up the road as of yesterday!

OVER TO YOU: Throw out some love grenades. What's making you happy this week? Share in the comments below.
Tags: gratitude, making me happy