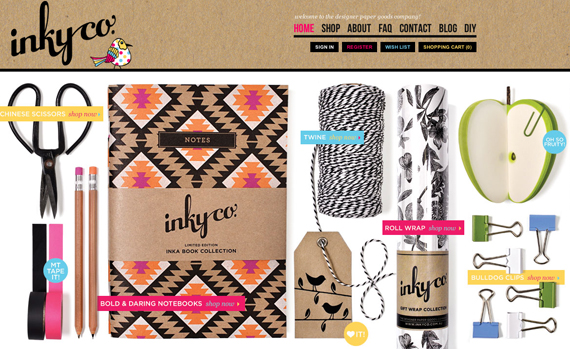 Stationery lovers unite!
Do you remember me talking about fabulous new stationery brand, Inky Co. in my 'On My Love List' post?
Well, lovely Chloe Dam, the graphic designer extraordinaire behind Inky Co. got in touch and has kindly offered a gorgeous gift pack – valued at over $100 – to one lucky In Spaces Between reader!
First, a bit about the brand
Based in Melbourne, Inky Co. is a collaboration between Chloe and her mother, Carolyn, and is the little sister of The Wrapping Paper Company, which has been run by Chloe's parents for the past 15 years. Everything is manufactured in Melbourne using environmentally-friendly materials and as you can see, the products are absolutely beautiful (perfect for gifts too – especially since Christmas is creeping up very quickly!)
Chloe designs all the stationery and gift wrap herself, and also designed the company's super cool website and blog, which I highly recommend you take a look at – it's chock-full of inspiration and there are some great DIY's that you might want to try your hand at.
Hurry up and tell me about the giveaway!
Okay, to celebrate the launch of the Inky. Co online store, you have the chance to score an 'Inka Earth Collection' pack, which includes:
Inka Diamond A5 notebook 3-pack ($19.95)
Inka spots A6 notebook 2 -pack ($9.95)
Inka Earth Range gift wrap – 6 sheets ($14.95)
2 x ribbon cards ($10.95 each)
1 set black message Kraft Tag ($12.95)
Pencil / pen set in black ($15.95)
Red apple notepad ($7.95)
Hooray!
How do I enter, like, immediately?
Easy, simply leave your comment under this post before Tuesday 11 October, 12pm (EST). 
Any comment will do – you can tell us why you're a stationery nut too, or what you think of the Inky co. designs, for example – and a winner will be selected using random.org and contacted by email.
Best of luck to you all! x
UPDATE: A winner has been randomly selected and it's the 13th commenter, Ali.
Congrats Ali, I'll be in touch via email! Thanks for entering everyone xx