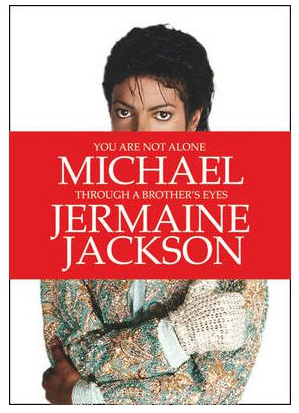 'You Are Not Alone: Michael, Through A Brother's Eyes' by Jermaine Jackson
I'm an unashamed fan of Michael Jackson's music. Have been since Dad made me my own cassette copy of the Thriller album when I was six years old, and probably will be 'til the day I die. The man changed music and the way people move (see if you can listen to 'Wanna Be Startin' Somethin' without shaking a limb or tapping your feet) and I've always thought there was more going on beneath the surface than the sensationalist media reports let on – which is why I was so keen to read this book.
Aptly titled You Are Not Alone: Through A Brother's Eyes, Jermaine Jackson's account of his younger brother Michael shines a bright light on the Jackson family history and thoroughly covers everything from their childhood in Indiana, the success the brothers achieved as the Jackson 5, through to observations about Michael's phenomenal solo career and the happiness and sadness that dotted the path of his life until his tragic death.
It's raw, honest, sincere and seeped in brotherly love and provides an incredible 'behind the scenes' look into the life of the King of Pop. I found it fascinating cover-to-cover (definitely a Can't-Put-Down kinda book) and love that Jermaine refused to shy away from the tough issues; instead covering them from all angles and often revealing a side story that the world was never privy to.
Jermaine sets the record straight on a number of stories – from an insider's perspective – and it gave me a solid insight into the complexity of Michael's character and the power the people around him had over him. On one hand he was the businessman – a perfectionist workaholic, who would rehearse all day for a tour and then come home and dance alone into the early hours of the morning to make sure every move was absolutely flawless. On the other, he was the naïve and gentle soul with the warped childhood who, as Jermaine evidences, became a 'trial-by-media' victim several times in his life.
I won't ruin it for you but particularly interesting are the disturbing incidents going on around Michael before he died during preparations for the 'This is It' comeback tour.
If you're an MJ fan in any capacity – whether you've busted a move to Billy Jean on the dance floor or know his full discography from start to finish – I definitely recommend you add this one to your Xmas list!
THE PERFECT XMAS GIFT FOR: The Music Lover in your life.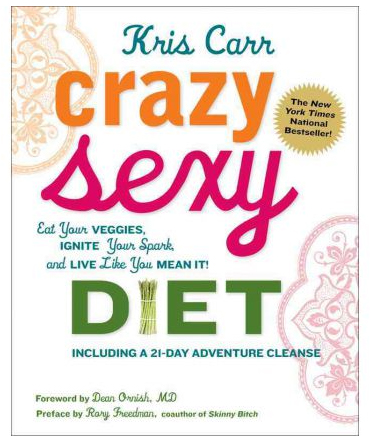 'Crazy, Sexy Diet' by Kris Carr
Kris Carr is an amazing woman.
She literally radiates – beaming supersonic energy around the globe and back again, inspiring the millions that have heard her story (Kris was diagnosed with an extremely rare cancer at 31 and pledged to fight 'her way' with a total lifestyle overhaul).
If you're not familiar with her (see that rock? Crawl out now please), I suggest you head to Kris' insanely popular site CrazySexyLife  and once you've wrapped yourself up in her joie de vivre and her abundant knowledge on all things health and wellness, I guarantee you'll be begging for someone to buy you this book which, as the inside cover says, will "put you on the fast track to vibrant health and happiness."
I read this before I did my Life Reset and although I didn't follow her 21 day cleanse, I did a variation of it and certainly incorporated a large chunk of her wisdom. Super useful resource.
THE PERFECT XMAS GIFT FOR: The Health Goddess (or Future Health Goddess) in your life.  

'You Can Create an Exceptional Life' by Louise Hay and Cheryl Richardson
Have you ever read Louise Hay's bestseller 'You Can Heal Your Life?' 
I have (about ten times) and have always been fond of Louise's philosophies on positive thinking and her advice on using powerful affirmations to manifest the life of our dreams. While I understand it might not be everyone's cup of tea, the premise is that through our thoughts we create our reality, and that we can all improve the quality of our lives through focused thought and bringing our attention to what it is we truly desire.
In my opinion, this book acts as a follow on from You Can Heal Your Life. The collaboration between Louise and Cheryl Richardson is written in a conversational format, where Cheryl, through interview-style questioning, uncovers the way Louise lives her life, with a backstory that touches on the abuse she received as a child, her cancer (self-healed), her work with AIDS victims in the '80's and continues through to the daily rituals she follows today at '84 years young.' The way she starts her day was of particular interest to me, it sounds brilliant!
Louise is the teacher and Cheryl, although being a huge success herself in the realm of self empowerment, is the student in this delightful little book. I read it in two sittings (about 45 minutes each, but I'm a fast reader so don't take that as gospel) and found it to be a heartfelt read that left me feeling super energised and inspired (I couldn't have read it at a better time actually considering the whole wedding venue debacle).
There are also plenty of affirmations throughout if you're looking for some powerful new words to recite, and these affirmations cover everything from income earning to self-love, relationships and accepting death and grief.
THE PERFECT XMAS GIFT FOR: The Positivity Queen – or someone who needs a bit o' love – in your life. 

'Treasure Yourself' by Miranda Kerr

I got this book for my birthday last week from a friend at work and raced through it the next day. Thoroughly enjoyable!
Like You Can Create An Exceptional Life, supermodel Miranda Kerr's book is filled with thoughts on living magically and the back section contains affirmations from Miranda herself, as well as the spiritual/ self -help teachers that have inspired her journey, including Louise Hay, Deepak Chopra, Stephen Covey and Wayne Dyer.
Treasure Yourself serves as a beautiful collection of thoughts, memories and lessons and is one of those gorgeous little books that you could grab and read a page or two of at any time for a pick-me-up if you were feeling low. Miranda is as down-to-earth as they come and the advice comes across as very genuine – particularly her advice on body image which could have very easily veered off into "Yeah what would you know, you're a supermodel!" territory if it wasn't presented properly.
THE PERFECT XMAS GIFT FOR: Your Bestie or Sister (suits a broad age range).
'Opium Nation: Child Brides, Drug Lords and One Woman's Journey Through Afghanistan' by Fariba Nawa

Admittedly, I've just started reading this one but although I'm just a few chapters in, I'm already hooked.
Biographies and documentaries on drug culture fascinate me for some reason, and from what I can see, journalist and author Fariba Nawa deftly weaves her memories as a child that fled Afghanistan with her family during the Soviet invasion of the '80's with the story of a country debilitated by the global drug trade.
Every review I've read for this book has been glowing and I'm hanging for some spare time so I can devour the rest of it!
THE PERFECT XMAS GIFT FOR: The Worldly, Deep-Thinker in your life.
+ You probably know by now that I'm obsessed with books and I love a good recommendation so let's talk about what you're reading and loving at the moment. Load up those literary suggestions in the comments below and let's get a bit of a discussion going!