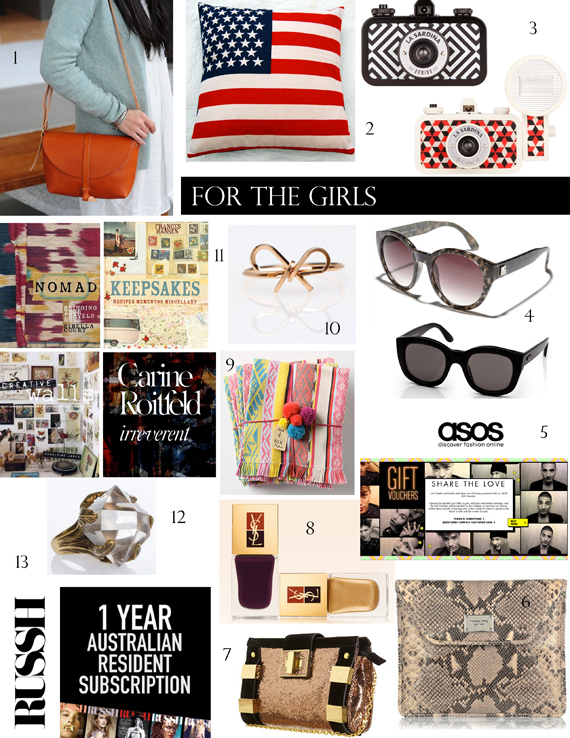 Welcome to the final installment of my Christmas Gift Guide series!
So far we've covered gifts for:
The Design Nerd
The Intrepid Traveller
The Seriously Stylish
The office Kris Kringle
The Guys
And now we're all about the ladies. Hooray!
I had to restrain myself from going completely nuts on this guide (confession: I added the second inspiration board below in a rush this morning before work because, well, you can never have too many ideas when it comes to go-to gifts for the special women in your life).
1  // Artemis Leatherwear Hand Stitched Leather Shoulder Bag
2  // Table Tonic Huge American Flag Cushion3 // La Sardina Camera
4  // Le Specs 'Runaways' and Mink Pink 'Paparazzi' Sunglasses
5 // ASOS Gift Voucher6 // Michael Kors Snake-Effect Leather iPad Case
7 // Topshop Metal Bar Insert Clutch Bag8 // YSL Nail Lacquer Limited Edition9 // Anthropologie Tulum Napkin Set
10 // By Boe Stella Ring11// Sibella Court 'Nomad' ; Frances Hansen 'Keepsakes'; Geraldine James 'Creative Walls'; Carine Roitfeld 'Irreverent'
12 // Spell and The Gypsy Collective Crystal Visions Feather Ring
13 // Russh Magazine 1 Year Subscription
1 // Paper and Chain Chevron Necklace and Chevron Bracelet
2 // Sonodesign Triangular Mugs 
3 // OPI Best of the Best Mini Polish Collection
4 // Harper's Bazaar Greatest Hits 
5 // Rima Sugi 'American Fashion Designers at Home'
6 // L'occitane Creams
7 // Balenciaga L'Essence Candle
8 // Pantone 100 Postcards

+ I hope you've enjoyed this 2011 Xmas Gift Guide Series! I really enjoyed putting them all together, and of course, a big shout out to Sian, Kim, Claire and Jas for their fabulous contributions.
+ What's on your wishlist? Are you coveting anything from the selection above?