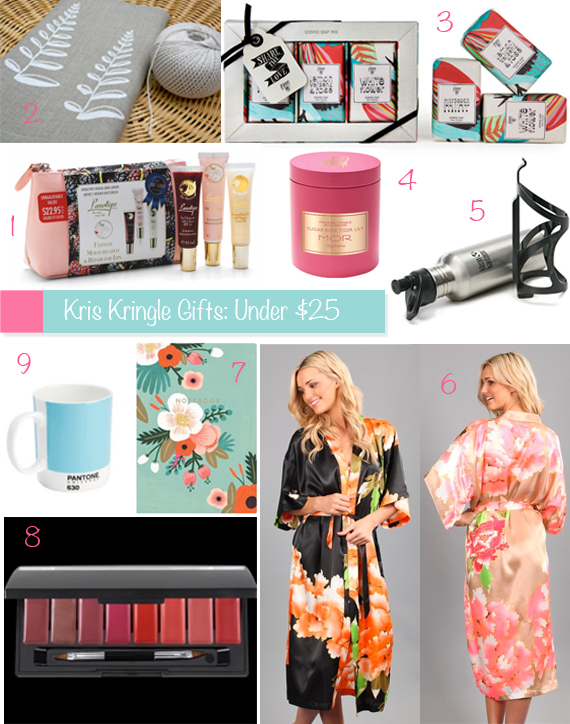 Ahh, the office Kris Kringle.
It can either rock (if your gifter nails it with something you'll actually use) or it can suck – hard – if Malcolm from I.T draws your name out of the hat and gives you a box of those really horrible chocolates that have been sitting on the shelf at Dinky Di Discounts for far, faaar too long. You know the ones.
"Oh gosh Malcolm… thanks… my favourite!"
No. No. NO! We want to avoid this at all costs so if you think any of the boys in your office need a helping hand with picking the right gift, be sure to casually send this guide their way.
1 // Lanolips Gift Set $22.95
2 // Pony and Poppy Linen Tea Towel $16
3 // Bloom Scented Soap Trio $19.95
4 // MOR Essentials Sugar Rose Tiger Lily Scented Candle $19.95
5 // Klean Kanteen Bike Bundle Drink Bottle and Bike Cage $20.95
6 // Cotton On Night Gown $20.95
7 // Rifle Paper Co. Botanicals Notebook Collection Diary $11.65
8 // Australis Lip Tricks $9.95
9 // Pantone Mug $15.95

+ This guide is obviously very female-focused so please let me know if you need some inspiration for the guys and I'll whip something up!
+ Finally, what's the best Kris Kringle/ Secret Santa gift you've given or received?