According to Hitwise reports, in the past six months or so traffic to Pinterest has increased 4000%. Yes, you read right – 4000%. Wowsers.
It's no secret I'm gigantic Pinterest fan (I've written about it here and marvelled at it's awesomeness more times than I can remember) and I was talking to a few friends about the site recently – most are newcomers and agree that pinning a few beautiful images every day is highly relaxing – and it got me thinking about the other ways Pinterest can be used for everything from pimping out your products to keeping you on track with your yearly goals.
Read on to find out how to get the most out of your Pinterest account – oh and before we start, you can follow me on Pinterest here!
1 // How did we all plan weddings without Pinterest? It's been essential for my planning, and my 'dream wedding' board is seriously bursting at the seams with inspiration for our Big Day! Brides-to-be, do yourself a favour and make Pinterest your first port of call before you even consider buying expensive bridal magazines.
2 // Create a specific board for wedding DIY's to save yourself hunting around the web every time you want to make a doily lantern or burlap bunting.
3 // Gather images for wedding gowns and bridesmaid dresses in one spot so you can see how colours and styles will work together.
4 // Save images of wedding day hairstyles to help your hairdresser out.
5 // Likewise, pin images of pretty made up faces so you have a bunch of inspiration to show your make-up artist.
6 // Create a board for photography – the styles you love, different poses, the kinds of shots you want to ensure your photographer gets on your special day.
7 // Invitations. I can't tell you how much I used Pinterest when I was looking for inspiration for our wedding invites. Pin examples of fonts/ calligraphy, colours, examples of wording and creative Save the Date ideas.
8 // Unless you have a specific idea on the types of flowers you want for your wedding, navigating this important element of the day can be tricky because there are so many options (a lot of them season-dependant). Use Pinterest to gather images of a variety of different bouquets and blooms and see which ones you're leaning towards when you go back and review your board. It's so handy to have all the options in front of you!


9 // It's a bit of a no-brainer, but use Pinterest to source stunning imagery to complement your blog posts.
10 // Take a leaf out of Victoria from sfgirlbybay's book and create a 'Blog Log' board for all your favourite blogs (see example above). Much prettier than your standard Bookmarks bar!
11 // Read Bree's super informative Pinterest post and add a Pin It! button to your blog like I have below, so people can pin images straight to Pinterest (which will link back to your site). The plugin I used is called Pinterest 'Pin It' Button.
12 // Discover which images from your blog have made popular pins (market research!) via www.pinterest.com/source/inspacesbetween.com (add your blog URL to the end instead).
13 // Following influential 'pinners' gives you a great insight into upcoming trends, that can therefore inspire future posts on your blog. Some stylish pinners I follow (who always find the coolest stuff) are: Bri Emery from Design Love Fest, Kate Arends from Wit + Delight, Ez Pudewa from Creature Comforts, Joy Cho from oh Joy! and Victoria from sfgirlbybay, as mentioned above.
14 // Network with other bloggers by leaving comments under their pins.
15 // Save screenshots of logos, typography, colour schemes and other graphical elements you love to inspire future redesigns for your blog.
16 // Let Pinterest help increase your website traffic. Pinterest is the fifth highest referrer of traffic to In Spaces Between.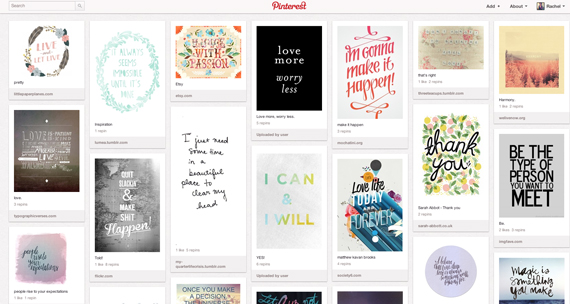 17 // Use Pinterest as a 'virtual vision board' by pinning inspiring quotes to a 'Words of Wisdom' board. Make it the first thing you look at every morning before you begin working to start the day off right!
18 // Pin aspirational images of places you want to explore on your next holiday and write a few words underneath each one to keep you motivated and on track with your savings. You might like to write a positive intention underneath such as 'I will be lying on a sun lounge here in August 2012' or something more specific that will pump you up every time you read it.
19 // Take your own photos and use a program like Photoshop to write your favourite quotes on them. Instant pin bait!
20 // Create a 'Fit & Fab' board and pin images of healthy, fit people to keep you focused on your fitness goals.
21 // Pin images of exercises and yoga poses to one board and have your computer screen open next time you're working out at home.
22 // Create a board for your favourite books, people that inspire you, your bucket list or meditation resources.
23 // Save recipes for healthy snacks and meals – you won't believe how helpful this is! Likewise for party planning – you can have recipes, table settings and decoration ideas all in one place.
24 // Pinterest is hugely popular for creating curated galleries of products people love. Use it to sell your products/ services by pinning your products and linking through to your Etsy store or website. As an added bonus, include your prices.
25 // Conduct market/ competitor research.
26 // Create informative tutorials that link back to your website or business blog.
27 // Pull together moodboards for concepts that you can direct your clients to.
28 // Showcase your portfolio, with descriptions on each piece of work. This is a fantastic way to drum up new business! As I mentioned before, Pinterest traffic is up nearly 40-fold on 6 months ago – that's one mighty big pool to dip your toes into!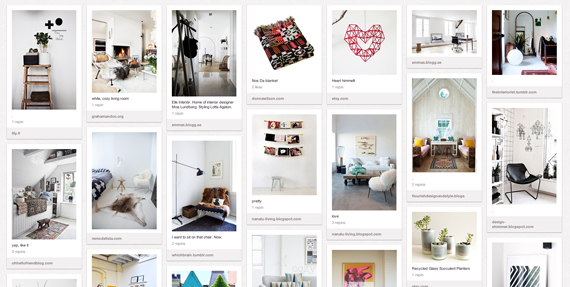 29 // About to embark on a home reno? Plan out each room by creating separate boards for your kitchen/ bathroom/ lounge room/ bedroom and pinning images that represent the mood, colour palette and design elements you want to incorporate.
30 // Save links to Etsy stores that sell beautiful artwork or imagery to adorn your walls.
31 // Get tips and tricks for outdoor DIY's or decorating small spaces. My 'pallet love' board came in particularly handy when we were looking at furniture to make from recycled pallets.
32 // Discover a plethora of ideas to maximise your wall space. Some of my favourites in my 'home is where the heart is' board are pics of magazines hung on stark white walls, gallery walls with mismatched frames and polaroids shaped into a love heart display.
BONUS: I also love Bonnie Tsang's idea of keeping a copy of her iPhone photos on one Pinterest board.
+ Are you a mad pinner too? Have you ever thought of using your Pinterest account for more than just bookmarking pretty images?
If you liked this post, I'd be forever grateful if you could share it on Stumbleupon or use the Facebook/ Twitter social sharing buttons below!
---