If you're like me and you're constantly on the search for amazing imagery online, I've got a feeling you're going to love a few of my favourite image search tools. Oh yes. You're welcome.
1. Pinterest
I've spoken about Pinterest before (and a whole bunch of you have told me since how addicted you've become!) but it's definitely worth mentioning here again as an incredible resource for finding inspiring imagery. Get amongst it and follow me here so I can follow you right back!
2. Multicolr Search Lab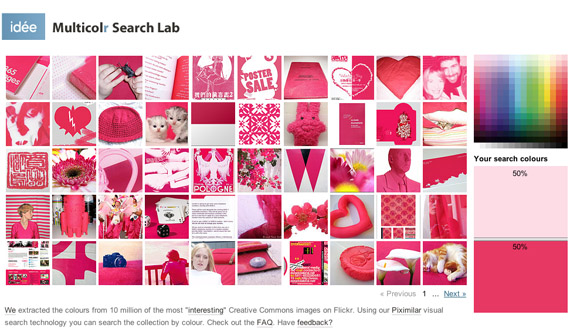 Are you a blogger looking to create a moodboard of images in the same or similar colour schemes? Look no further than one of the coolest colour-based search tools on the web, Multicolr Search Lab. Simply click a single colour swatch and look on in wonder as images of that colour load from more than 10 million of Flickr's most interesting photos. Or if you're looking for something to fit a "theme" – for example, a nautical theme of blue, red and white – click the relevant colour swatches (it allows you to choose up to 10) and images containing these colours will come up. Brilliant.
3 . Compfight
CompFight is a Flickr search engine that allows you to easily find beautiful photos within the vast pool of Flickr uploads. CompFight lets you search based on tags and text, and displays the images quickly in thumbnails allowing you to look through hundreds of images without having to go through the regular (more time-consuming) Flickr search.
4. Tineye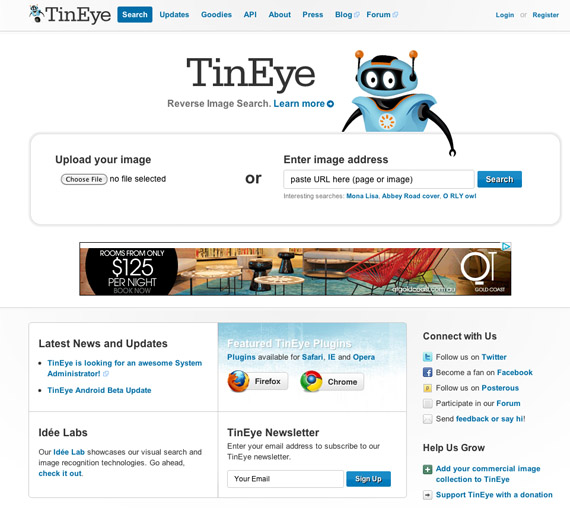 Ever found an uncredited image and needed to track down the original source? Insert: TinEye. TinEye is a reverse image search and once you upload the image in question or paste the image URL, the software will tell you where it originally came from. Perfect for identifying sources for images from Pinterest or Tumblr that may be uncredited (very common!)
5. OSkope
oSkope is a visual search engine that allows you to sort through images and products from sites like Ebay, Amazon, Flickr, and You Tube (you can choose the one you want via a drop down menu).
When it comes to eBay searches, this one is seriously rocking my world. I'm in the market for an Alexander Wang bag at the moment and wanted to see what was on eBay, so basically, I went to oSkope, selected "eBay" in the drop down then selected the categories (Clothing/ Shoes/ Accessories – Women's Handbags – Handbags & Purses) and the below selection came up, with the style name and prices shown. You simply click through to the original listing for more info or to purchase. Can anybody say AWESOME?
+ How do you search for images? Any great tools I need to know about? Send them through!
---