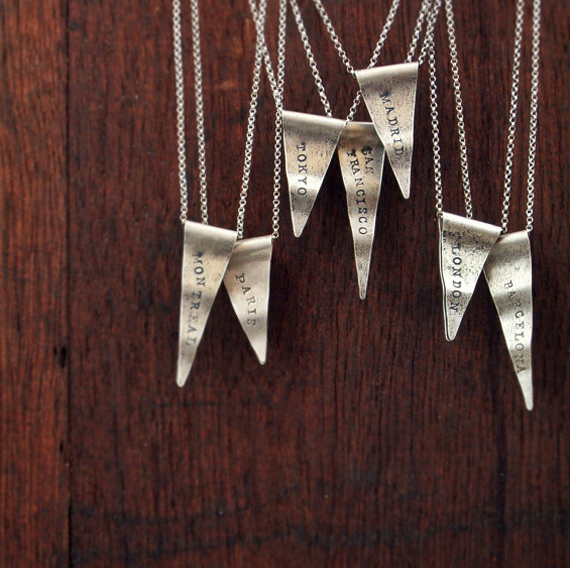 Remember last week I mentioned how obsessed I am with my new necklace from Rand Papele?  I'm still obsessed. I've never had more comments on an accessory in my life!
I've been chatting with the lovely Jude from Rand Papele and we decided that you guys also deserve the chance to add one of their covetable pieces to your own jewellery collection.
The item up for grabs is a souvenir for your soul's journey (the wandering Sagittarius in me is clapping her hands in glee) – a hand fabricated, formed, folded and stamped necklace made from sterling silver, and then oxidized to bring out the textures, tool marks and character.
You can see how beautiful the pieces are above, and the best bit is you get to choose which town/ city/ province/ country or place name you would like marked on your custom piece. Cool, huh?

To Win
MANDATORY
1. Leave a comment in the comment section to tell me your favourite place in the world and why you love it (in 50 words or less)
2. Log in to the widget in the post (using your email or connecting to Facebook) and click +1 DO IT! to add yourself into the draw
OPTIONAL
For + 2 extra chances to win: 'Like' In Spaces Between on Facebook
For + 2 extra chances to win: 'Like' this post on Facebook
For + 2 extra chances to win: Tweet, tweet, tweet!
Best of luck lovers, the winner will be notified on Thursday 5 July, 2012. In the meantime, be sure to go and check out the rest of the Rand Papele range – it's tax return time, after all!
UPDATE: Congrats EMILY CORDES, you are the winner! x
---