Soul Spark is a weekly feature on In Spaces Between. 
My intention for these notes for the soul are that they spark something in you each Monday that you can tuck in your pocket for the week ahead. Encouragement, inspiration, a sense of comfort or something to guide you – may they reach you where you need them most.
This treasury of wise words is best paired with a few deep, meditative breaths before reading, and after, a minute of stillness to let the insight settle in. 
Soul Spark: Radical Reconsiderations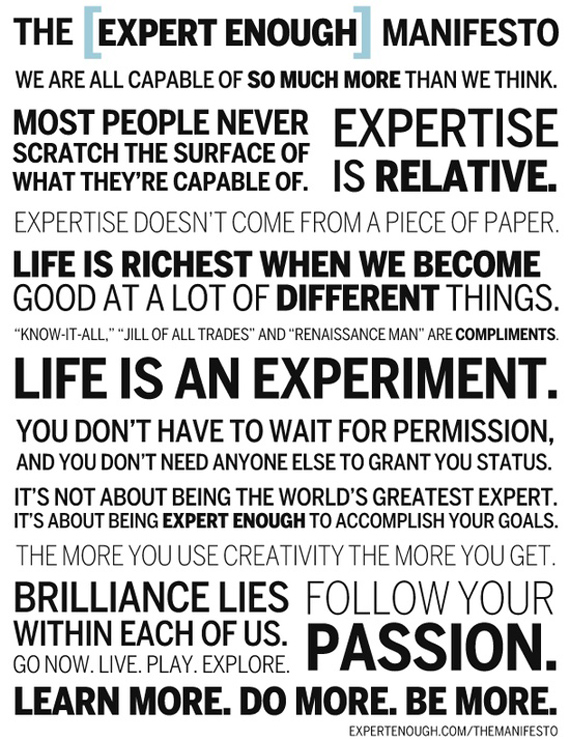 What if you weren't stuck?
What if you had enough time?
What if you could take that fear, rearrange its pieces, and use your handiwork as rocket fuel?
Who would you be?
What if you said a prayer of appreciation for all that's overwhelming you?
What if you threw off the cloak of self-doubt?
What if you said no – with love?
How would you feel?
What if the opposite of all that's troubling you right now was true?
Where would you be?
What would you do?
Today's exercise is simple but oh-so-powerful.
Grab yourself a pen and a notebook, and at the top of the page, write down a fear/ worry/ self-doubt-y thought that's been playing in your mind like a scratched record on repeat.
In response to that limiting thought, answer this question:
What would my biggest, most powerful and courageous self do?
Report back in the comments, beautiful.
Image: Expert Enough
---