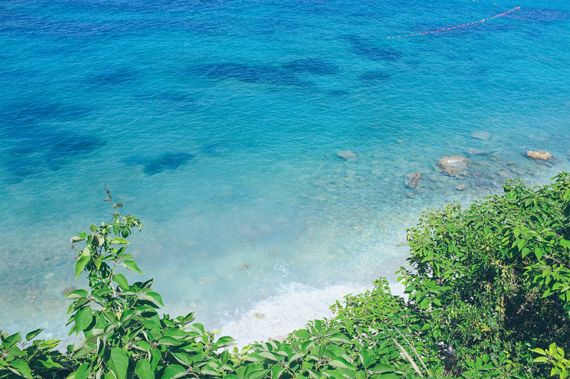 ****
Wow. Possibly the word we used the most in Capri – or 'Cah-pri' as the Italians say – and can you blame us? That water. My goodness. Heaven on earth has been located, friends. The search is over.
We arrived in Capri by ferry from Sorrento, and I actually gasped out loud as we inched closer to this magical island paradise. The Marina Grande, full of day-trippers and boats of all sizes, billionaire-owned superyachts hanging out in the middle of the ocean in that aloof way they do, and the sun shining bright, there's no denying it: the place is ridiculously good-looking. When you see it in all its wonder, you can't really blame celebs and high-rollers for making it their Mediterranean playground.
We were there for two days to celebrate our first wedding anniversary and Ramai made an amazing call with the accommodation, the Capri Inn, which had freaking insane views (see the pics above, a sea-view room is a must) and was run by the lovely Bea, who fed us so.much.food every morning on the rooftop terrace and gave us the full rundown of where to go and what to do.
Total winner. Capri Inn, and Bea, made the trip for us. Our favourite saying of hers, which we couldn't stop repeating, was OCK-AAAY-IE (okay).
What is it about getting fixated on words from other languages when you're travelling?
****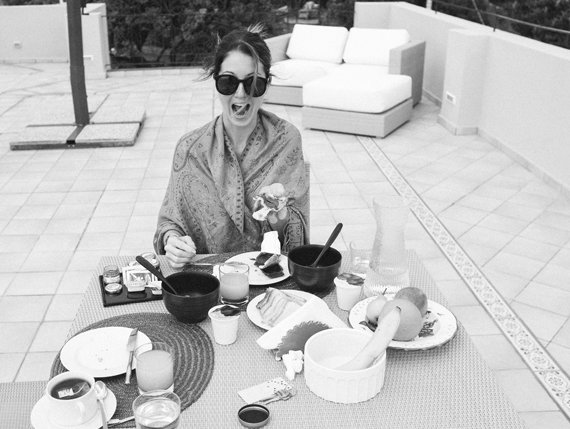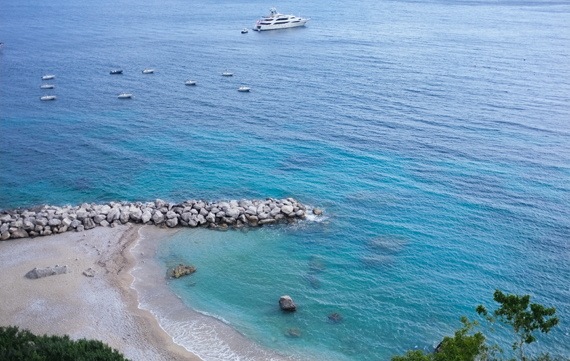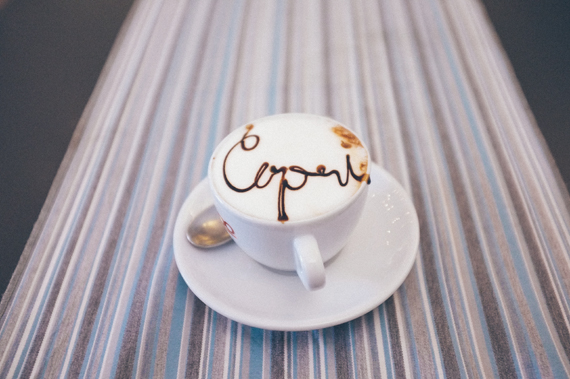 ****
I wanted to know a bit more about Capri when we were there, and if you're interested too, here's a snippet from the best article I've found on the place…
"The island's first tourists were the Romans, who were attracted by its ravishing scenery and its aura of refinement as a former Greek colony. During the second century B.C., the entire Bay of Naples blossomed into a seaside resort. Roman aristocrats, including the emperor Augustus himself, would travel by horseback or wagon to Sorrento, then sail the three miles to Capri to escape the summer heat and to indulge in otium, or educated leisure — working out, swimming, dining and discussing philosophy."
And:
"In 1826, August Kopisch, a young German writer touring Italy, heard rumors of a sea cave feared by local fishermen. He persuaded some boatmen to take him there. After swimming through a small opening in the rocks at the base of a towering cliff, Kopisch found himself in a large cavern where the water glowed, he would write, "like the light of a blue flame." It made him feel as if he were floating in an "unfathomable blue sky." Further inspection revealed the source of the light: an underwater cavity that allows sunlight to filter in.
Kopisch described his explorations in The Discovery of the Blue Grotto on the Isle of Capri, which tapped into the Romantic era's interest in the spiritual and healing powers of nature. Soon travelers were arriving from Germany, Russia, Sweden and Britain to revel in natural beauty and escape conventional society. At the time, Capri had fewer than 2,000 inhabitants, whose traditional rural life, punctuated by religious feasts and the grape harvest, added to the island's allure. Affluent foreigners could rent dirt-cheap rooms, dine under vine-covered pergolas and discuss art over light Caprese wine. In the village cafés, one might spot Friedrich Nietzsche, André Gide, Joseph Conrad, Henry James or Ivan Turgenev, who raved about Capri in an 1871 letter as "a virtual temple of the goddess Nature, the incarnation of beauty."
Perfect description.
****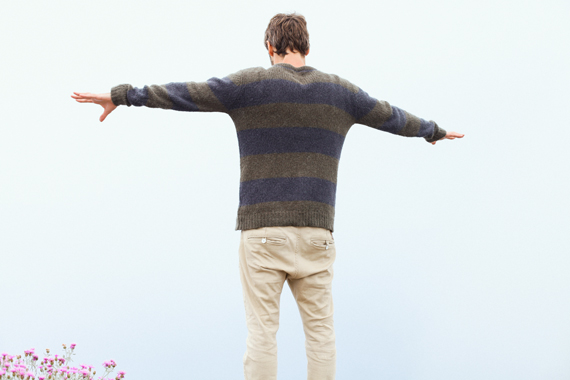 ****
One of the best things we did while in Capri was journey up to Anacapri ("above Capri/ Upper Capri"), which in itself was an adventure – a bus trip that takes you on a tiny road with hairpin bends and a drop below of about 187543 kilometres. (maybe not, but believe me, that's what it feels like when you're standing up on the bus and it twists around the curves dangerously close to the edge).
The weather wasn't great but we decided to go up on the single-seat chairlift to the top of Mount Solaro anyway, the highest peak in Anacapri (1932 feet), and we felt that same intense feeling of being incredibly high and incredibly expanded as we had in Positano. The chairlift is a 10 minute, cruisy ride up but there were definitely a few moments, especially when it tilts upwards towards the end, where I felt my heartbeat speed up. Heights, and any fears around 'getting high,' were certainly thrust into the spotlight on this Euro trip – busting 'em seemed to be the theme for the whole month!
At the top of Mount Solaro, we found a restaurant and 360 degree views that blew our socks off, so we hung out for a while taking photos once the clouds had cleared and the wind had died off. Highly recommend getting your butt on the chairlift if you ever head to Capri, totally worth it.
****
****
'Best gelato in Italy' is a pretty bodacious call, but at Buonocore Gelateria it's warranted. Smooth and creamy-but-not-too-creamy, layered with flavour and served in just-made, warm waffle cones, trust me when I say your tastebuds will get their rave on like never before when one of these babies enter your mouth.
Go there.
(I had the Nutella/ hazelnut (nocciola) flavour. Best.)
****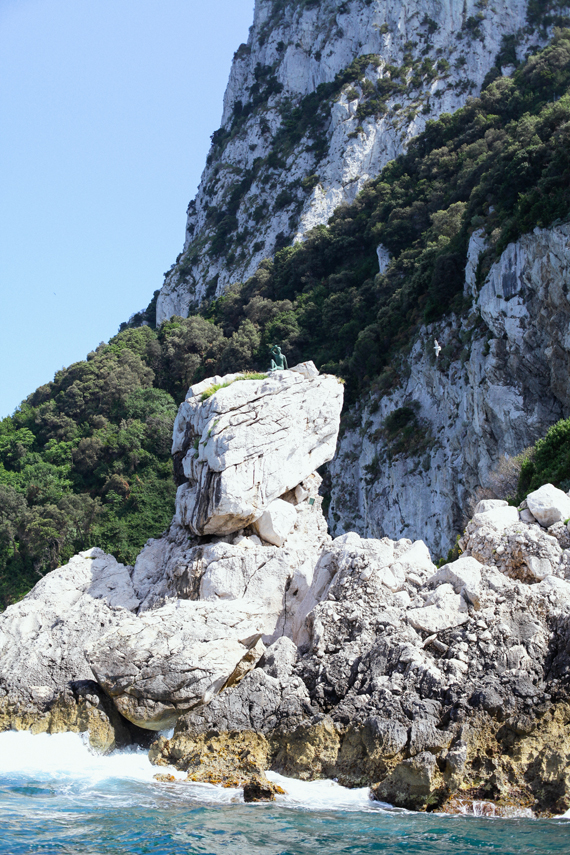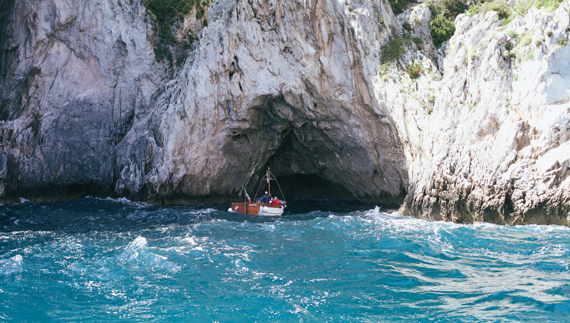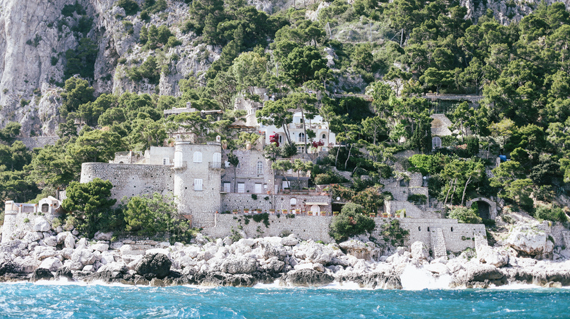 ****
Because we didn't have much time in Capri, we made the decision to go on a boat tour around the whole island instead of visit the Blue Grotto on Day Two (we did go past the grotto though and saw enough – that thing has turned into a crazy tourist attraction!)
The boat ride was epic. We saw castles owned by the rich and famous and weaved our way between rock formations in the middle of the ocean, oohing and ahhing over the colours. I loved looking over to Ramai and seeing him sitting back, taking it all in and truly appreciating the beauty of this place. Straight to the memory bank for those visuals.
A final note on Capri – it is definitely an 'older person's vacation spot' (actually, most of Italy is – expect lots of middle-aged couples if you go) and I reckon two days is the perfect amount of time to kick back, see the sights, devour the gelato and hang out with the crowds in the main piazza. Failing that, definitely take a day-trip across from Sorrento or Naples if you're in the 'hood. Be prepared to pay more as well – it's tailored to affluent travellers and the prices reflect that.
****
Have you been? What did you love? Did you gobble down the gelato too? Share in the comments.