I love discovering awesome DIY projects online. Flexing that creative, crafty muscle we all have is super rewarding, and while store bought items/ decorations are convenient, doing it yourself means you can create something "uniquely you."
Below are a bunch of fun DIY's for your wedding and home (oh and your wrist) that I've discovered in my travels around the wonderful world wide wide. Let me know if you make any of them, I'd love to see pics!
Summery Drink Tags
How gorgeous are these summery floral drink tag designs by Amy from Eat, Drink, Chic. Pass the lemonade!
Birdcage Veil
Birdcage veils are a beautiful alternative to a traditional veil and this tutorial from the Wedding Chicks shows you how to make your own.
Rustic Wedding Table Numbers
Get back to nature with these rustic wooden table numbers.
Recycled Barrel Planter
Love how this old barrel has been customised and turned into a tiered planter. Perfect for your garden or even as a display at a rustic, country-style wedding.
Friendship Bracelets
Talk about a blast from the past! I used to make friendship bracelets like these by the truckload when I was younger but had completely forgotten how to make them. Big thanks to Honestly WTF for this great tutorial! (top image via Jak & Jil)
Bridesmaid Thank You Cards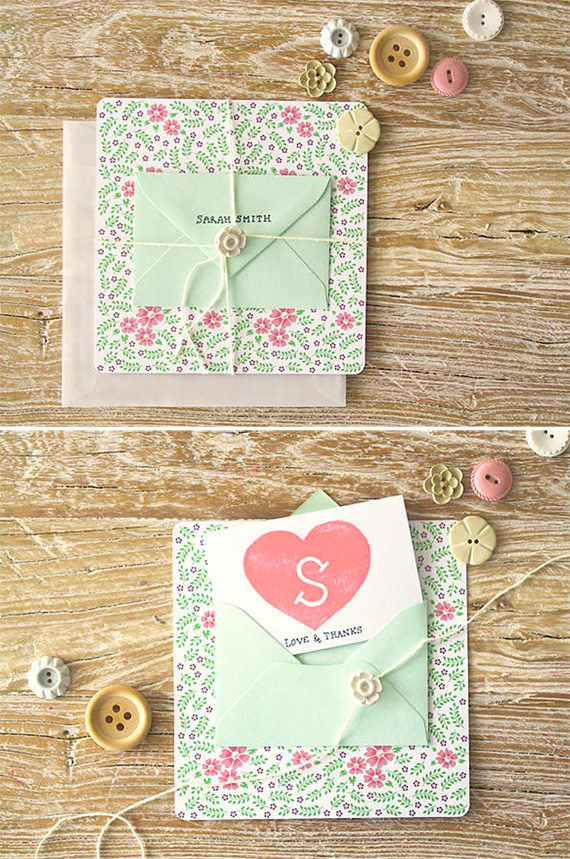 Wow, I would be one happy bridesmaid if I received one of these stunning thank you cards in the mail.
Tea Cup Candles
I fell in love with these tea cup candles last year and made them for my girlfriends for Christmas (and kept one for myself, see below!) with some beautiful tea cups from T2. Such a pretty gift idea!
Origami Heart Invitations/ Love Notes
I'm seriously in love with these origami hearts. Simply stunning.
DIY Basket Lampshade
This "basket masquerading as a lampshade" is a genius idea, love it!
Pencil Holder
Discover how to make this awesome rustic pencil holder. Perfect for little people and big people alike.