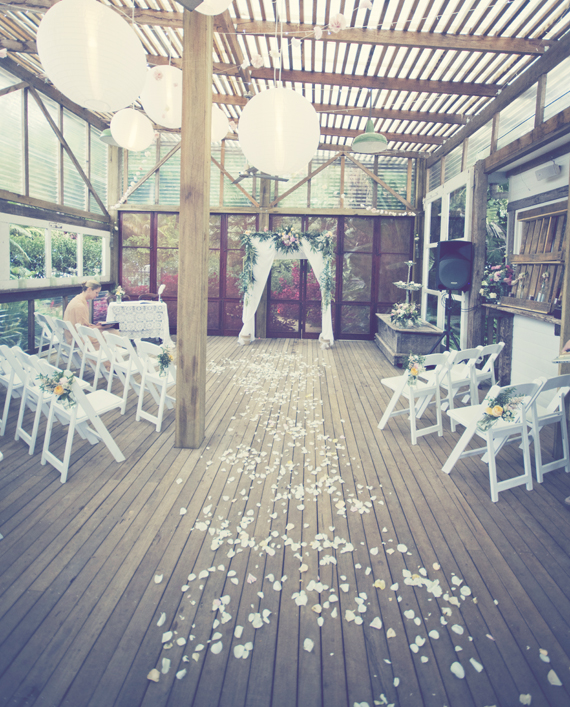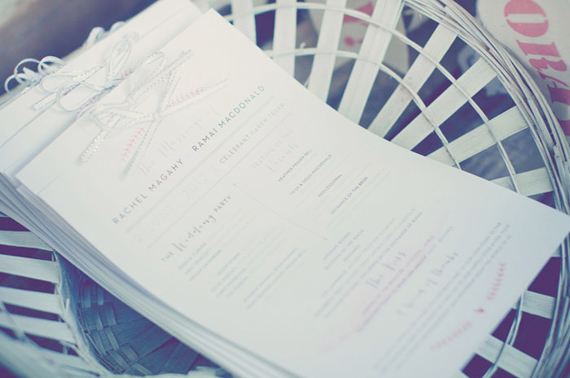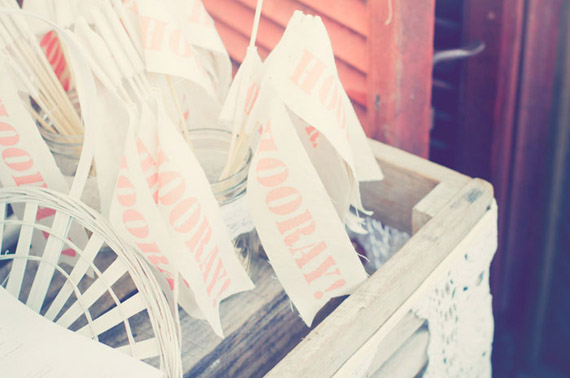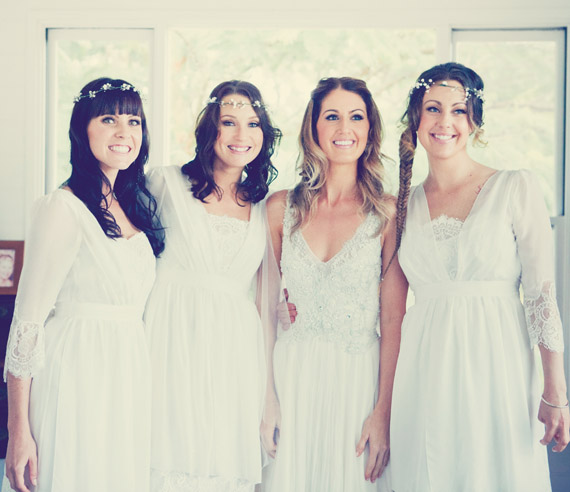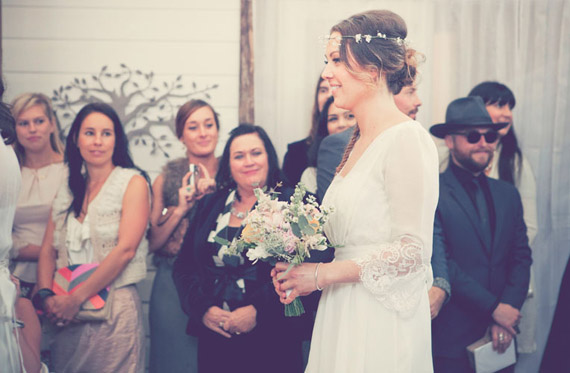 When we started planning our wedding and put some thought around the way the day would unfold, we knew it was crucial to find a celebrant who would really "get" our vision – that is, that burning desire we shared that our ceremony be heartfelt, intimate, totally real and a deep and true reflection of  'Team R & R.'
We were (beyond) blessed to find that person in Karen Tesar, and it was a joy to work with her on distilling the essence of our love into a thoughtful ceremony that was personal, contemporary and unfussy. It seriously couldn't have been more "us."
This is how it went…
Like most of us, when I'm a guest at a wedding I always look to the groom to see his reaction when the bride appears at the top of the aisle, and one of my clearest memories is locking eyes with Ramai as I stepped out through the sheer draping I was hidden behind with my Dad and keeping that gaze fixed the whole time I walked towards him. I probably would've pulled a muscle if my smile was any bigger!
My bridesmaids Megan, Ez and Jess and my brothers Andy, Ryan and Kaidyn had walked down the aisle to Songbird by Fleetwood Mac – one of my all-time favourite bands – and as soon as I heard the intro to James Vincent McMorrow's version of Higher Love, which indicated it was "almost time" for my entrance, I took a deep breath, looped my arm through my Dad's, felt him squeeze my hand and started walking.
Choosing a song to walk down the aisle to is a pretty huge – and daunting task – and when we were going through options, we just couldn't go past this beautifully haunting rendition of Higher Love. I love the lyric "Bring me a higher love" because I imagined that was what Ramai was saying – with my Dad of course "bringing" me to him – and every.single.time I hear the part where he sings "Let me feel the love come over me, let me feel how strong it can be" I tear up. Without fail. Yes, still. And probably forever.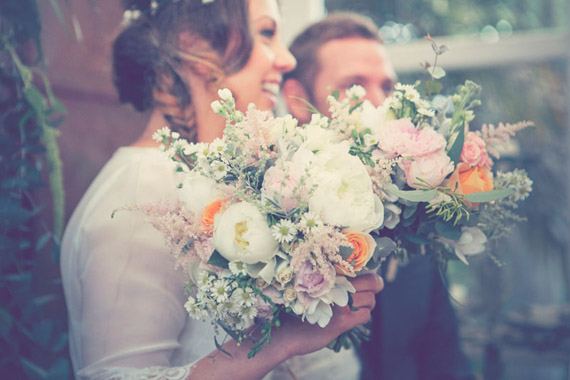 The Readings
We wanted our gorgeous friends Kim and Liz to be involved in the ceremony so we asked them to do our readings, which were as follows:
Passage from The Alchemist (one of our favourite books) 
"When he looked into her eyes, he learned the most important part of the language that all the world spoke – the language that everyone on earth was capable of understanding in their heart. It was love. Something older than humanity, more ancient than the desert. What the boy felt at that moment was that he was in the presence of the only woman in his life, and that, with no need for words, she recognised the same thing.
Because when you know the language, it's easy to understand that someone in the world awaits you, whether it's in the middle of the desert or in some great city. And when two such people encounter each other, the past and the future become unimportant. There is only that moment, and the incredible certainty that everything under the sun has been written by one hand only. It is the hand that evokes love, and creates a twin soul for every person in the world. Without such love, one's dreams would have no meaning."
Excerpt from Captain Corelli's Mandolin
"Love is a temporary madness; it erupts like volcanoes and then subsides. And when it subsides you have to make a decision. You have to work out whether your roots have so entwined together that it is inconceivable that you should ever part. Because this is what love is. Love is not breathlessness, it is not excitement, it is not the promulgation of eternal passion. That is just being in love, which any fool can do.
Love itself is what is left over when being in love has burned away, and this is both an art and a fortunate accident. Those that truly love have roots that grow towards each other underground, and when all the pretty blossoms have fallen from their branches, they find that they are one tree and not two."
The Vows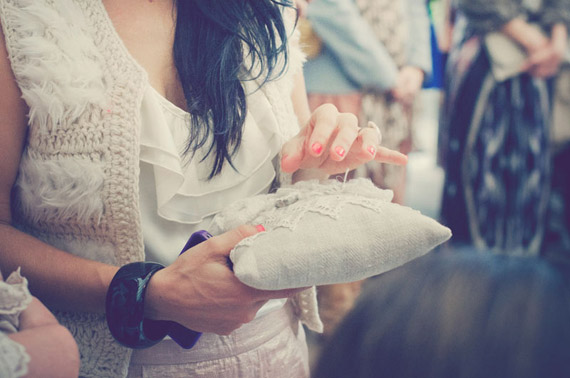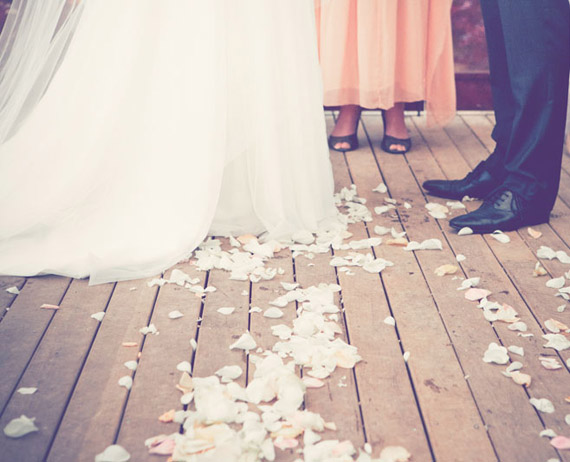 I'd always pictured us having our ceremony on the outside lawn area at Gurragawee because, of course, like most brides I didn't envisage it raining on our Big Day (especially at the beginning of June, which is typically super clear and completely rain-free).
I can honestly say though, hand on heart, that the rain made our wedding. I never thought I'd say that about rainy weather – seriously, I'm the biggest weather freak out – but I don't think I've ever heard the words "magical" and "mystical" uttered more than I did on that day.
Without a doubt, the biggest benefits were that it kept everyone together – which wouldn't have happened otherwise at a venue that had lots of nooks and crannies to explore – creating a bustling, vibrant, electric atmosphere, and most importantly, because it meant we had to have our ceremony in the large conservatorium-style area known as the "inside-out room." A gorgeously rustic, perfect space that I can't believe we didn't think to utilise for the ceremony beforehand. Honestly – waaaay better than the lawn. Times infinity. Ask everyone.
Ramai and I wrote our own vows, and it's funny, when I was saying mine I almost felt like I was "out of my body." I'm someone who sobs at other people's weddings – yep, even that time when I didn't even know the bride and I was losing it more than her mother – but I think I was just so overcome with joy, excitement and adrenalin that I was able to hold it together pretty well. Well… except for a few parts when Ramai was saying his vows and his voice started wavering which made me choke up too (and let's just say I'm glad I was looking at the groomsmen rather than the bridesmaids and my brother Andy, who apparently were all tearing up).
As we said our vows, I remember listening to the rain as it trickled down on the roof and I could literally feel the love emanating off everyone as we stood there grinning like mad. It was the best feeling in the world.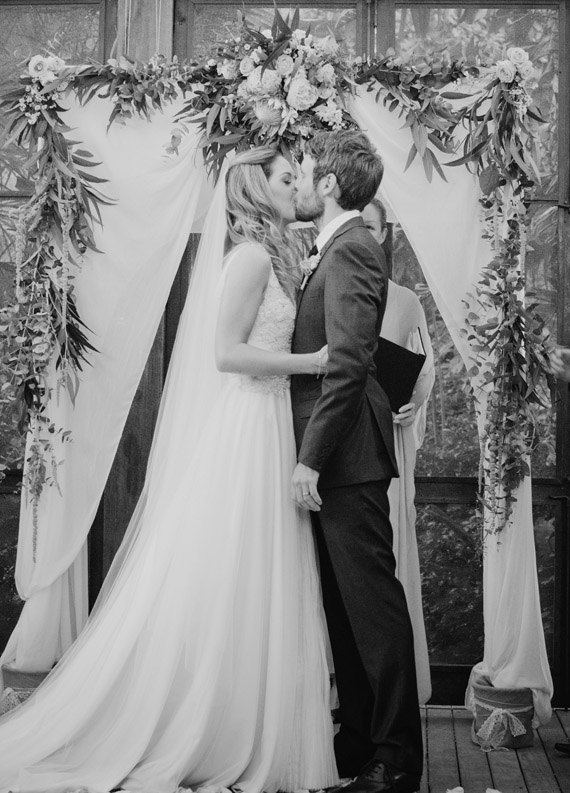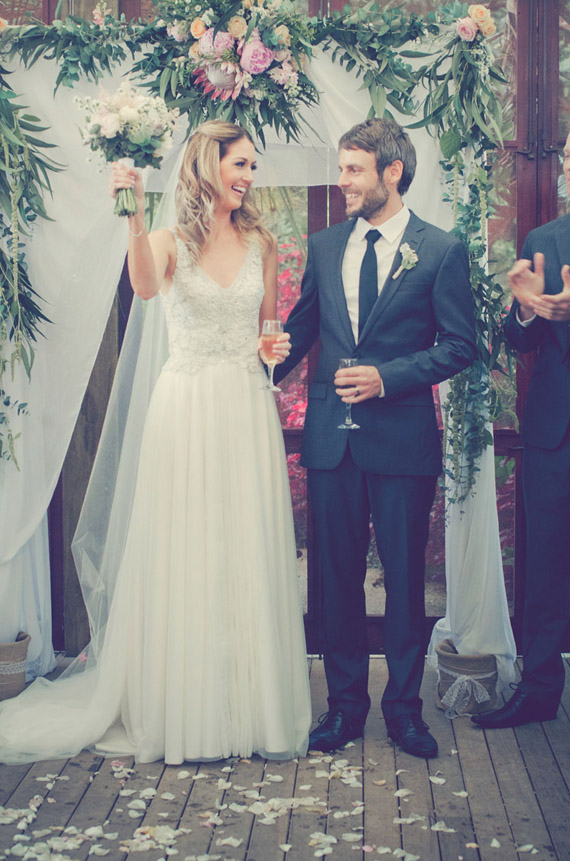 Once the vows were done, we signed our register (with my Mum and Ramai's best man Jason as our witnesses) to Adele's cover of The Cure's Lovesong and then it was all about The Kiss (!) as we were declared husband and wife. Or kisses perhaps – I think there were several from memory! Why not hey?!
Champagne was poured and glasses were raised as the new Mr and Mrs MacDonald walked out into the crowd to the tune of Beyonce's Halo – a light, energetic song we chose simply because we knew it would be perfect to kickstart the celebrations for the rest of the day and night.
Next up I'll be posting on our reception, so stay tuned!
+ If you missed Part 1, check it out here.
All photos by Ali Mitton and Emma McMillan, except black & whites shown.