Details, details, details. Without a doubt, it's the deep love and the people that make a wedding, but often it's the little details that can pull together a truckload of inspiration to create a memorable and aesthetically beautiful celebration.
After a few stops and starts, we were truly blessed to assemble what we affectionately refer to as 'The A-Team' for our wedding, and I'm crazy about everyone involved.
Today is all about all the juicy details, so read on and feel free to ask any questions in the comments. I'm sure I've missed some things!
The Florals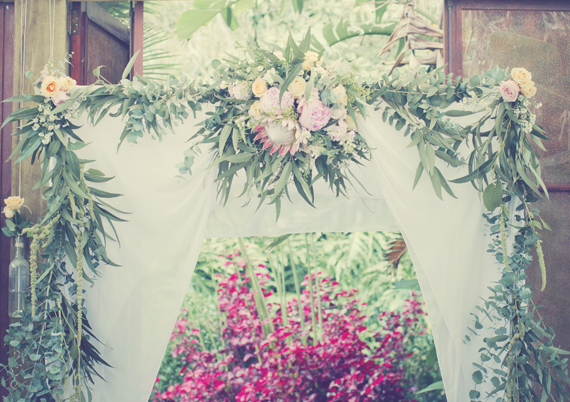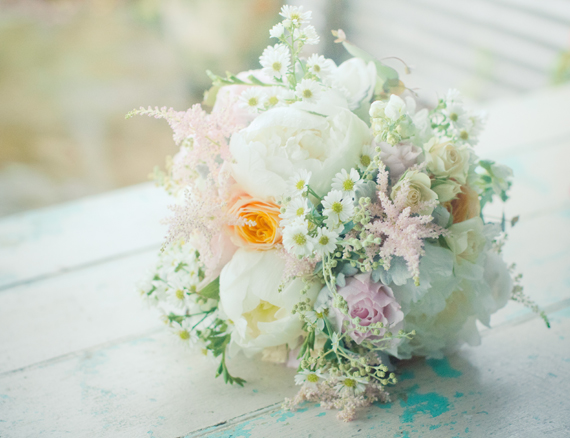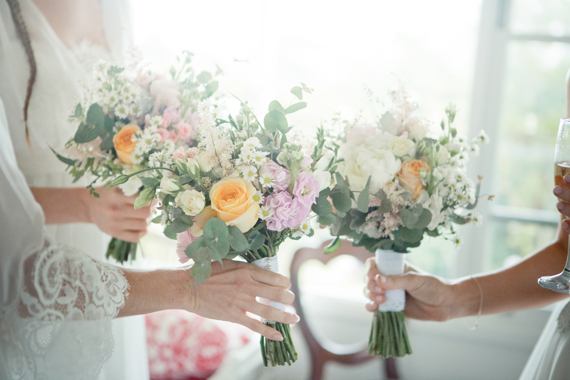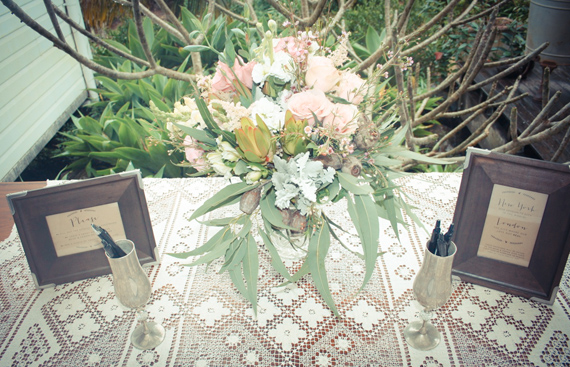 I'm not really sure where to start when it comes to Elise, the creative talent behind our stunning florals.
Ramai and I first met Elise when we worked together on our engagement photo shoot, and thankfully the stars aligned after the florist we had originally booked for our wedding didn't work out, which freed us up to be able to team up on the 'main event.' Everything happens for a reason, and in this case, it was the best damn reason in the world. There's simply no comparison!
The brief I gave Elise for the florals had two components – the first being a request for a combination of soft pastels, gum leaves, natives (including King Proteas, which I love) and wildflowers for displaying in the "inside out room" and the marquee, and the second, bright-as-anything blooms to match the neon vibe I had going on in the artist's studio (the dancing shed). She absolutely nailed it.
Elise's incredible creations included:
+ The arch for the ceremony (oh my, OH-FREAKING-MY!)
+ Draped florals and leaves across the doorway at the front entrance to the property
+ Single stems in bottles hung from the roof (no pics of these unfortunately)
+ Baby's Breath in bottles scattered around the venue
+ A mix of leaves and pretty flowers in vintage decanters and vases on the tables in the marquee
+ The cake decorations
+ Big vintage bowls (vases) with gorgeous arrangements for the guestbook table and other spots in the inside out room
+ Flower-filled jars everywhere!
+ The dessert table
+ Bright arrangements for the studio
+ The succulents for the favours/ escort cards
+ Baby's Breath flower crowns
Along with all that – an impressive effort in itself – Elise created the beautiful bouquets for my bridesmaids and I and the buttonholes for the boys. My head nearly fell off when I found out there would be peonies – my all-time favourite flower – flown in from Holland for the occasion!
If you haven't gathered by now, we love Elise and it's been so lovely seeing things blossom (mind the pun) for her business Elyssium Blooms over the past few months. You heard it here first – this girl is going to go far.

The Storytellers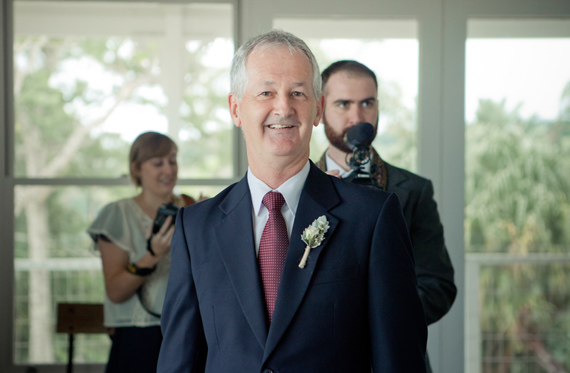 I've previously introduced you to our mega-talented  photographer Ali Mitton but it needs to be said again – she is simply amazing.
Not only is she a supremely talented photographer, but Ali is also one of the sweetest people I've ever had the pleasure of being around. She was joined on the day by one of her best friends Emma McMillan (behind my Dad in the shot above), who I am also friends with, and together they made a formidable team. They put in 12 solid hours and so many people commented on how wonderful they were. Total treasures.
When it came to finding a videographer, Ali recommended I get in touch with her friend Jesse McCormack (also above) who she had worked with on Element campaigns, and again, he was an absolute joy. The style of our video is very much like the photos – but with a soundtrack of our favourite songs thrown in the mix – and we know we'll treasure the many memories they all captured forever.
The Food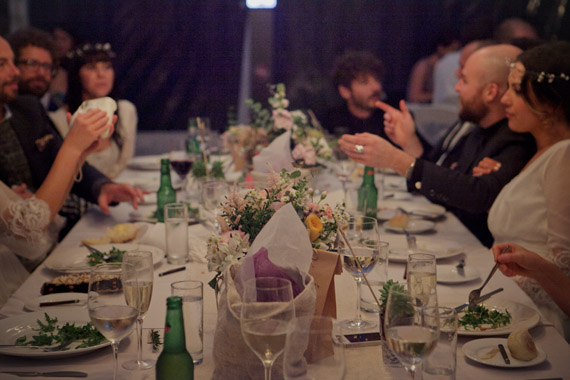 From the moment we met Simon from Eat Drink Catering, we knew he was our man.
Simon is a true professional and the union of his charismatic personality and his obvious passion for food is nothing short of glorious. He gets it. It's easy. Things flow, suggestions are put on the table, advice and support is offered along the way. It just works. 
Testament to Simon's good nature is the Eat Drink team he has assembled, who are all lovely and equally as professional. You get the feeling that "over and above" is their mantra, and we were truly made to feel like VIP's all day with lots of "extra" attention.
Simon was a pleasure to work with start to finish, and I know we'll continue to keep in touch as the years go by. If you're getting married in Byron Bay or around the area, you need to get in touch with him.

The Paper Goods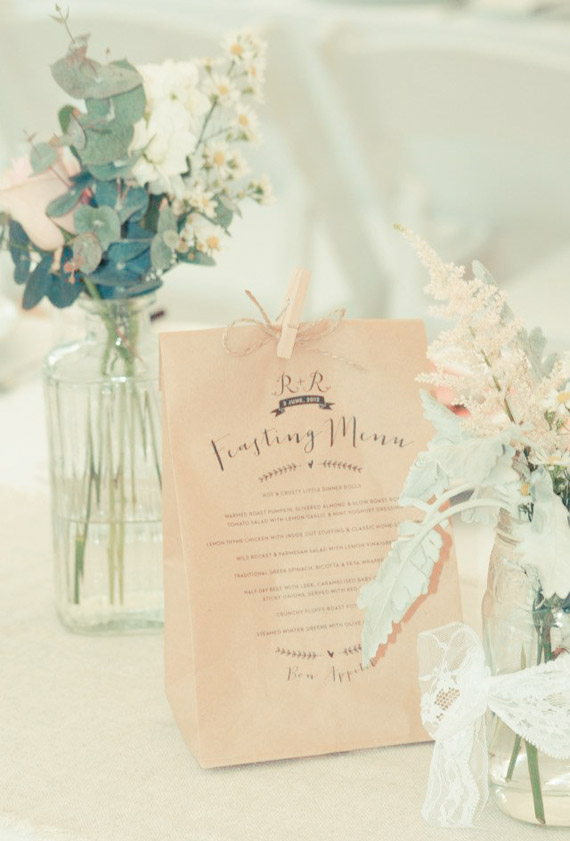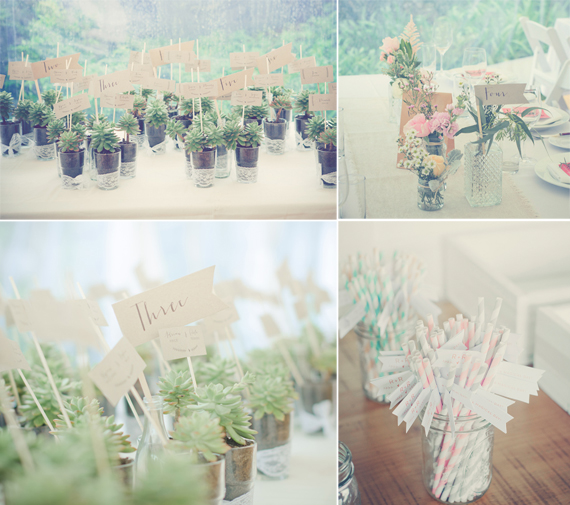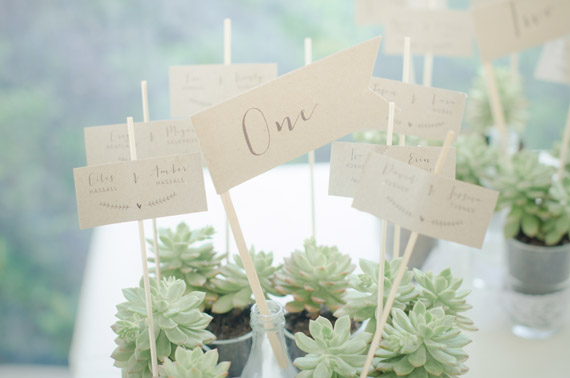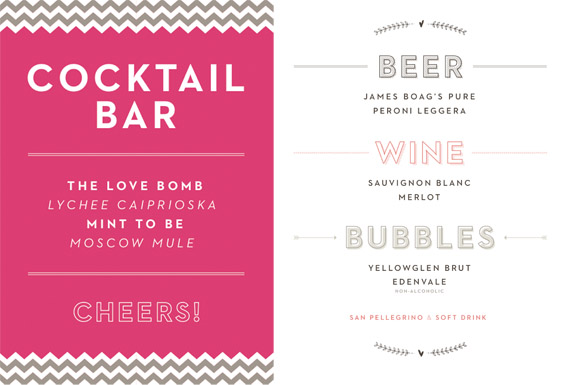 We enlisted the help of someone who I'm sure a lot of you are familiar with to design our paper goods, the lovely Jo from August Empress/ The Darling Tree.
Jo is amazing to work with because she just "gets" it off the bat and is totally patient and understanding (umm… especially when I emailed her in the last week asking for a few additional items!)
Jo wove her design magic over:
+ The feasting menu, which were printed on brown kraft bags
+ Lots of tags/ flags – escort cards, placecards, straws, table numbers
+ Signage for the guestbook table
+ Bar and cocktail menus
+ And my favourite – the 'Love Manifesto' we printed and placed on everyone's plate in the marquee
* All items were printed at sarbe invitations + papers on the Gold Coast. Ask for Andrea if you go there, she's the best!

The Lighting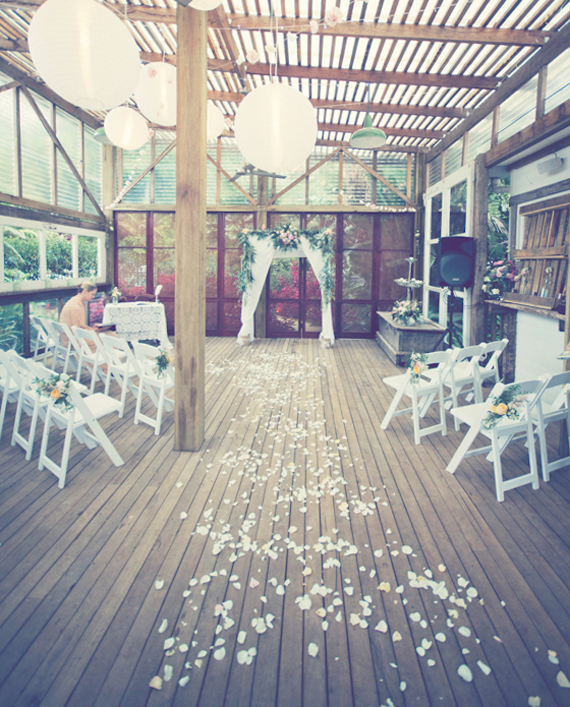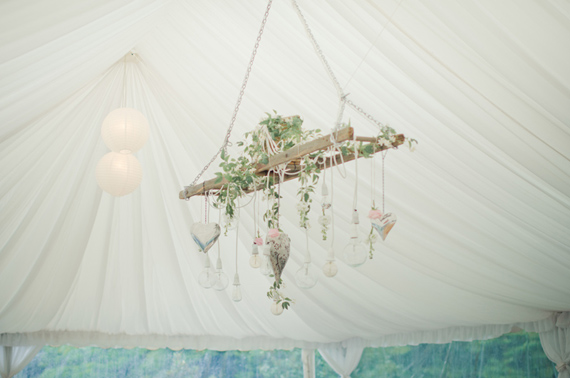 It's rare to find people as truly passionate about what they do as Dan and Sean from North Coast Events. Again, we hooked up with these guys when the previous supplier we'd spoken to was basically impossible to get a hold of, and once again, we're so blessed we did.
These guys both worked tirelessly (in the rain) in the lead up to the day, hanging lanterns from trees and throughout the roof in the inside out room and the marquee, as well as transforming the dancing room with festoon bulbs and an array of other lights that really created the party atmosphere.  It's a pleasure to watch people get as excited as they do about their work.
Dan and Sean were also responsible for the gorgeous rustic ladder that hung through the centre of the marquee, shown above, and all the audio for the ceremony and speeches. Absolute legends, I can't speak highly enough of them both (they also DJ if you're interested).
The Dress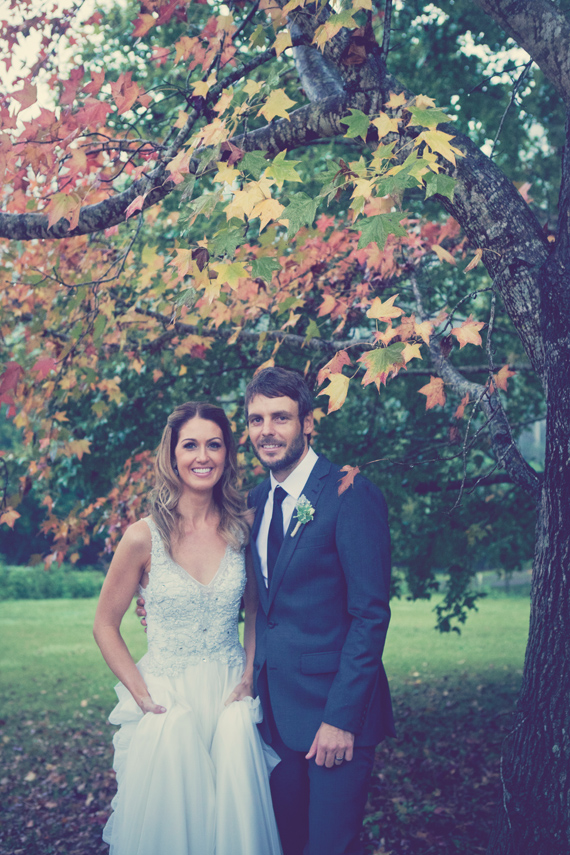 Ahh, the dress. I searched and searched online for The Perfect Dress, and after realising I just wasn't going to find what I wanted in Queensland, last October I took the opportunity while down in Melbourne to visit designer Amaline Vitale to try a style I'd seen online… and it was love at first sight. My bridesmaids cried, I couldn't stop thinking about it all day and I knew I had to have it.
My gown was made to measure, which meant I had to fly to Melbourne for 3 different fittings (actually, there were 5 fittings all up) earlier this year, and seeing the workmanship and it all come together slowly each time I went in was just amazing. It really was an 'experience' and I can't speak highly enough about Amaline and her the boutique manager Sam.
My favourite thing about this dress was that it was ridiculously comfortable, which is big for me as I knew I didn't want to be hiking up a strapless all day. I love that the look is both timeless and modern and I'm preeeeetty certain I won't be looking back in horror at my wedding pics when I'm 50, which is always a good thing!
* I've made the decision to sell my beloved gown, so if you are interested please drop me a line so we can chat. 
My beautiful bridesmaids wore Alannah Hill and I gave them Fuji Instax Mini's with film (to capture memories on the day and in the future) to thank them for being such an important part of our wedding.

The Support Crew
We hired my friend from work Shannon to be our day-of coordinator, but Shan being as awesome as she is, showed up the day before to help with the set-up, worked her butt off all day Saturday and into the night, and again, was there on the Sunday doing most of the pack-down with my parents (we were oblivious this was going on as we were told that was all meant to happen later that afternoon).
To say she went above and beyond would be a gross understatement. Shan may not being a wedding coordinator by trade – she works in business events and her work ethic is just part of the reason I trust her judgement implicitly – but seriously, there's a career there for her if she ever wants to grab it by the horns.
I also cannot fail to mention my parents who were so unbelievable with everything in the lead-in and over the wedding weekend it actually brings me to tears. They worked tirelessly to help us achieve my "vision" for the day and were up again first thing the morning after cleaning up, packing decorations in the trailer and doing whatever they could to assist. So, so blessed.

The Props
As I mentioned in this post, we borrowed some furniture/ vintage props from our friends Judi and Kris from Little Gray Station – things like a sofa, vintage wooden boxes, vases, a linen table cloth and so on.
LGS have a fantastic inventory that's growing weekly, so I highly recommend you check them out if you're having a wedding in South-East Queensland/ Northern NSW. They're also awesome people, which is VERY important when it comes to "anything wedding" – you need the best of the best around you when you're planning something so huge.
Other Bits + Pieces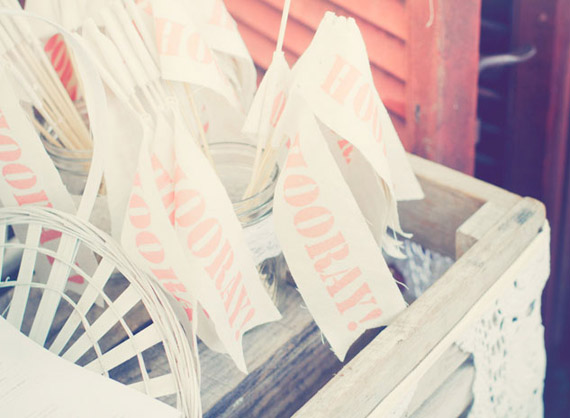 Screen printed HOORAY flags for waving when we walked down the aisle. You wouldn't believe how long it took to stick those things to skewers!
We made signs (Welcome/ I Do's/ Mrs & Mr/ Restroom/ Photobooth/ Dancing) out of old fence palings and wooden letters from Bunnings that we painted white and glued on. We also did a bit of a renovation rescue on an old rustic box to create our wishing well.
Printstagram prints were pegged to twine. We also had an Instax Mini on the guestbook table for guests to take mini polaroids of themselves to add to the twine throughout the day.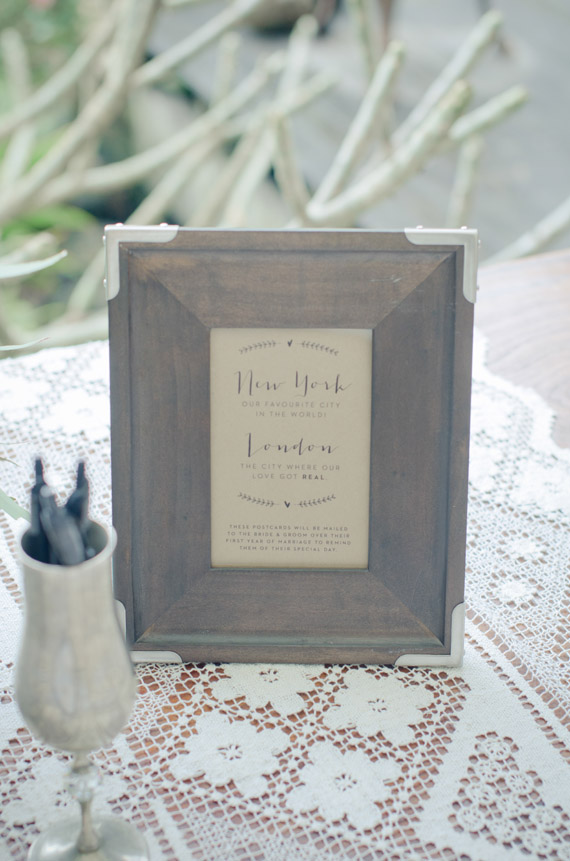 I bought one of those "finish this sentence" style guestbooks from kikki.K and had vintage postcards of New York and London that I'd sourced on Etsy on the table for people to write their well wishes or words of wisdom on.
Both these cities are significant for us, and the idea was that the cards would be mailed to us over the first year of our marriage to remind us of our special day  – however, most people just signed the guestbook so that whole concept kind of fell by the wayside!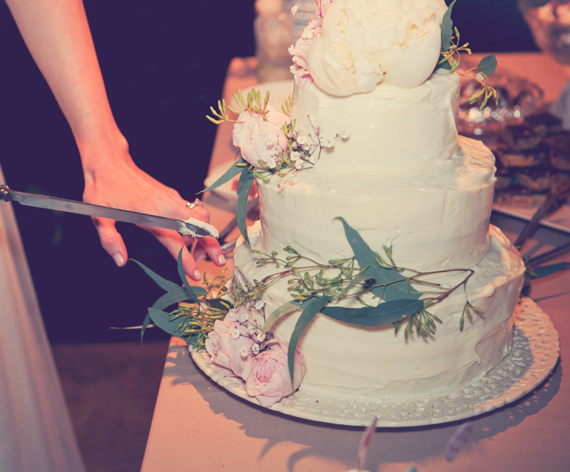 My dear friend Liz did an amazing job in creating the prettiest caramel mud wedding cake for us (bonus points that it tasted so damn good too!) Along with my step-dad's famous cheesecake – which is seriously beyond – the wedding cake and the rest of the dessert table was attacked with vigour. I'd like to blame it all on the oldies but I know better.
Ramai gave me a gorgeous, delicate diamond Tiffany bracelet to wear on the day (it's now a permanent fixture on my wrist) and in lieu of a watch/ other piece of jewellery (he already has one and he doesn't wear anything else), I had to get creative with his present.
After much brain-wracking and with the help of a friend who works for the AFL here on the Gold Coast, we arranged to send Ramai's Essendon guernsey down to Melbourne to have it signed by the coach and captain – his favourites. As a huge Bombers fan, I think it's fair to say he was pretty stoked when he opened it on the morning of our wedding day!
I also got him a new iPad – totally unromantic but the guy has everything, which makes present buying impossible – and a 'wedding survival kit' with cigars and Rescue Remedy and other bits and bobs.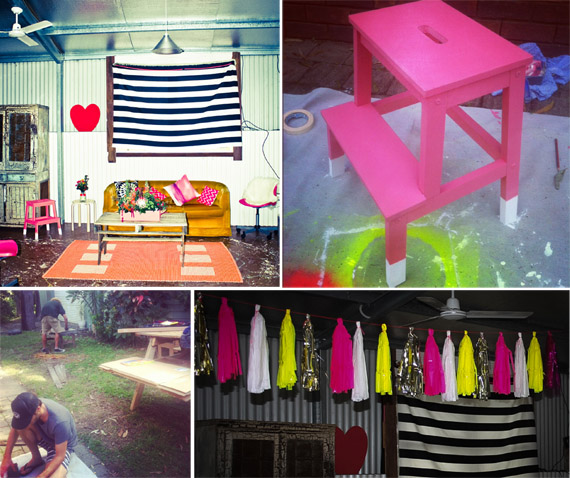 Pretty much everything in the dancing room was a DIY job. Neon tassel garlands made from cellophane, a coffee table and picnic table made from shipping pallets, step stools painted two-tone and jars wrapped in coloured builders string.
I sourced the awesome hot pink chevron cushions from Earth Cadets on Etsy and the rest was a mix from IKEA, Spotlight and thrift stores. We also made our own photo booth (using props bought at the local party store) and had a rotating slideshow of images of us and our loved ones projected an a huge drop down screen.
Venue: Gurragawee (truly beautiful, you'll want to own the place once you see it! )
Makeup: Ashlea Penfold
Hair: Alisha Anjaiya
Celebrant: Karen Tesar
Musician: Linc Hillard (absolute gem with a killer voice)
DJ: Aleksander Kornel (bro of my besty's boyfriend)
Hire: Byron Bay Wedding & Party Hire
Transportation: Blanch's Bus Company (guests were bussed in)
Invitations + website: Tabitha Emma
Rings: Adam Graham
For more wedding goodness, check out:
R + R Get Married! Part 1 | 2 | 3 | 4
I hope you've enjoyed our wedding recaps and please, if you have any questions on specifics, please let me know. I haven't included everything above as the post was getting rather massive, but I'm more than happy to help with any advice or recommendations. Ask away my lovely brides-to-be! x