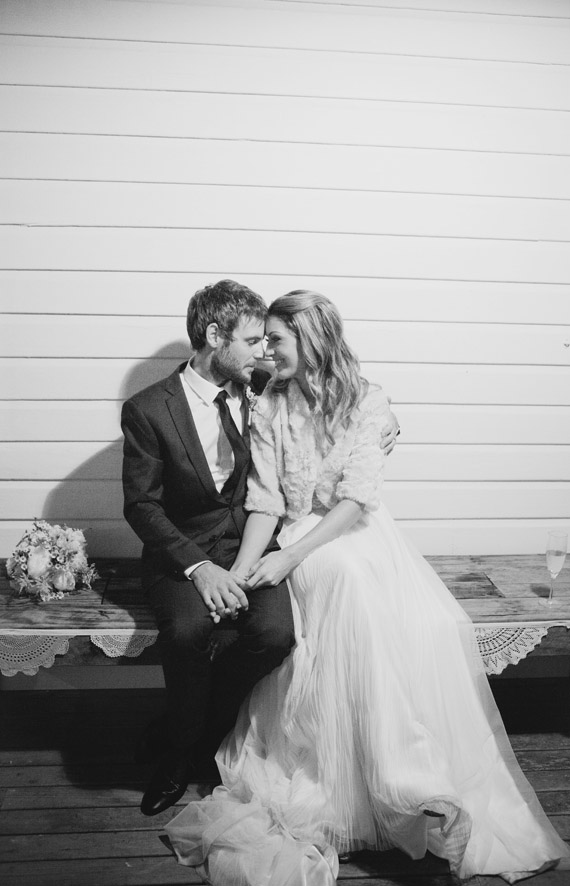 Following our ceremony, the eating, drinking and good times well and truly kicked off while Ramai and I went to get our photos, and the guests had fun mingling on the gorgeous front verandah, eating from a beautiful big mezze platter crafted by the wonderful Eat Drink Catering and listening to sweet acoustic tunes played by our musician.
Half an hour or so later, everyone (including our muso Linc) headed back into the "inside out" room – which had been transformed into a lounge area by that stage – and the canapes started circulating. Highlights were the tempura zucchini flowers and Panko fish and chips in cones with dill aioli, which one of the waitresses kindly delivered to us while we were getting our photos taken. OH. EM. GEE. Yum.
We came back and had about half an hour to hang and chat with everyone, and although this part is a bit of a blur of conversations, I just remember awesome music, loud chatter, lots of excitement, plenty of hugs and kisses and photos galore. 92 people in a room, vibin' off the love.
Our friend Scott took on the job of capturing everyone in the room on our Instax mini and hanging the little polaroids on the strings above the guestbook table (what a legend) so we have plenty of keepsakes to tuck away safely in an album which is wonderful. Yay for Scott!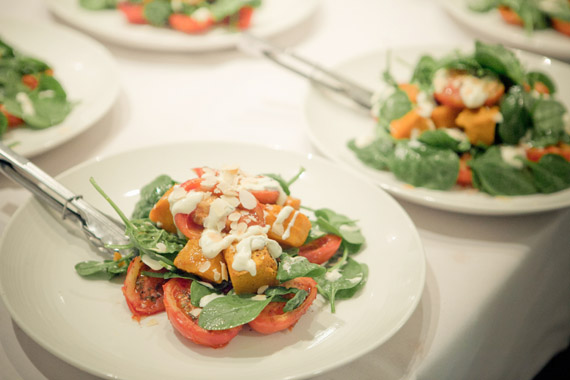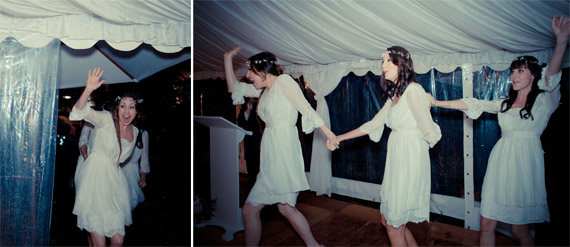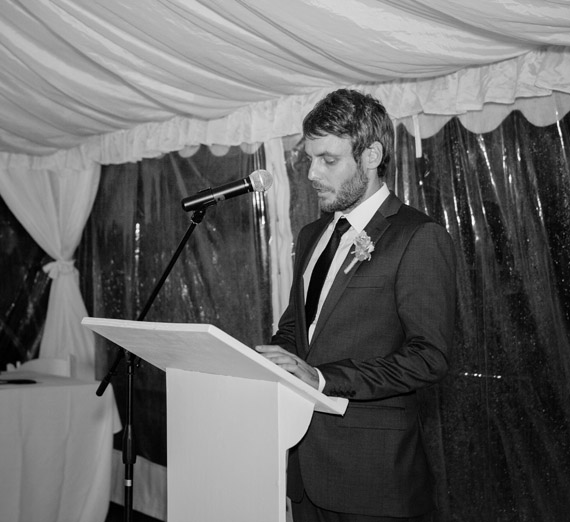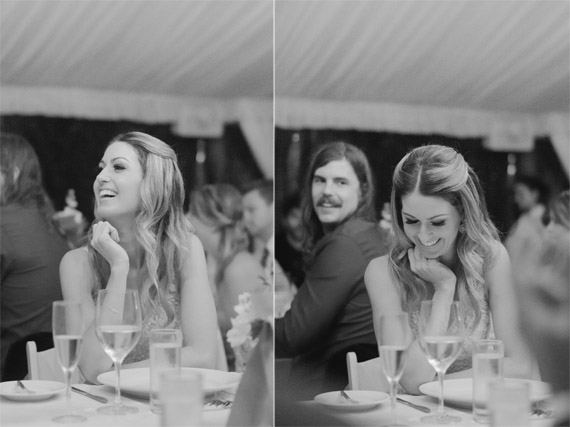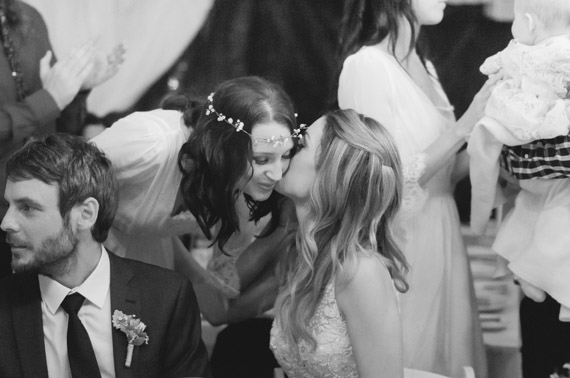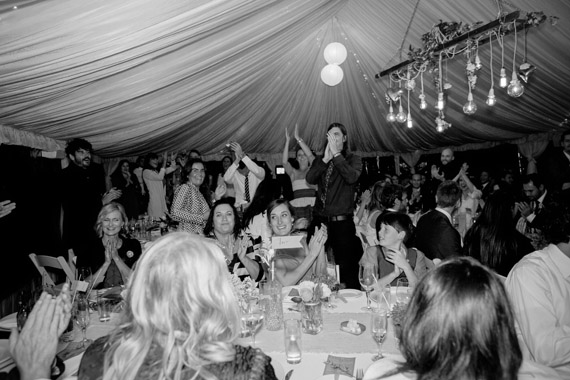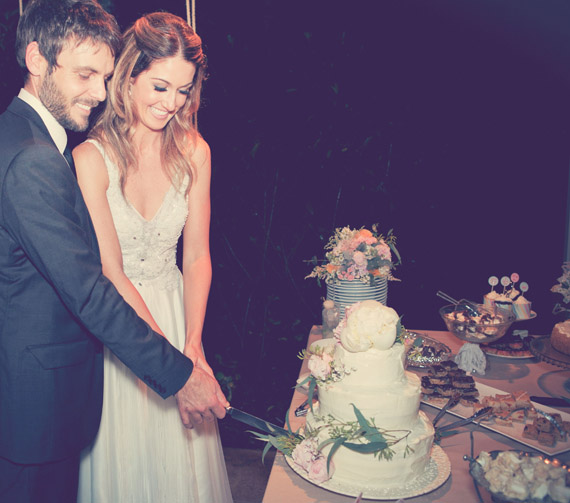 Once it was time to move into the marquee for the main meal, I had hilariously "dumb" moment and (with the intention of encouraging others to follow suit) walked in and sat down at the bridal table in the middle of the room, chatting away mindlessly to one of the other guests.
A few minutes later, Ramai's groomsmen Chris came up and tapped me on the shoulder and said "Um, aren't you and Ramai meant to be 'announced' and walk in last?" Oops. I seriously lost it laughing and scooted out of there as quickly as possible – hello brain!
When we entered The Right Way, to the sound of Florence + The Machine's 'You've Got the Love' and lots of cheering and clapping, it was straight into the formalities so that everyone could enjoy their meal without stopping and starting to listen to speeches.
Funny story: up until a few months ago, we weren't actually going to have speeches at our wedding. We've been to a few weddings where the speeches were awkward and uncomfortable and Ramai literally begged me after one particularly strange one saying "Can we please NOT do speeches, you have to agree that was baaaaad."
We had this idea (that never came off due to time restraints) that we wanted all of the guests to be involved in the speeches and that we were going to send around a video camera, get all our friends to do a piece to camera with their well wishes or funny anecdotes, and then we'd edit it all up to play on the day with some other cool footage mixed in.
That never happened, and although I still think it's a pretty cool idea, I'm SO glad because the speech gods clearly had better things in store for us.
The best man and bridesmaid speeches were awesome (seeing all three of my girls up there made me super teary, they said the most beautiful things!) and then my step-dad did this incredibily heartfelt speech, absolutely nailing Ramai – and when I say nailing, I mean dissecting his character to a T and talking about his authenticity and ability to make anyone he's speaking to feel important, which I agree is truly one of his biggest strengths.
And then my Dad – who had been nervous as hell all day – came out and freaking knocked it out of the ballpark, down the road, around the corner, and back again. Like, majorly. We're talking standing ovations, high fives from half the guests, girls asking him to be the stand-in father at their weddings and a whole lot of "Speech of the century, or what?!" chit chat. It was beyond hilarious and I don't think anyone was more surprised than Dad at the reception he received. I think the fact he has an Irish accent definitely helped – I just remember my bridesmaids yelling out "Davey" through the whole thing. Classic.
Once the speeches were done, it was all about the food and the wine, and the feasting menu – a progressive menu of 8 dishes – went down an absolute treat. One thing I can tell you is that no one went home from our wedding hungry, as I'm sure you're starting to gather.
Drinking + Dancing + Having a Raucous Time
I've got a real mix of photos from the last part of the night – including some photobooth shenanigans – so I'll save them for a separate post. The last and final post in the wedding series will contain all the juicy details, from my dress designer to the suppliers, so for all of you that have been curious and have emailed questions, stay tuned!