Timeline: 12+ months out
Budget 
I had grand plans to coerce my Excel Spreadsheet Extraordinaire fiance (who works in finance) to whip up a killer wedding budget document, but then we found that Style Me Pretty had created a super comprehensive budget available via Google Docs, so here you go. Get that budget happening from the outset beautiful brides and generous grooms (haha)!
Venue
One of the biggest decisions you'll make when planning your wedding is where your ceremony and reception celebrations will take place.
From personal experience, I recommend making the search for your perfect venue one of the first things you do when you start planning your big day. Everything will become clearer after you have an idea of the type of space you're working with. As a general rule, booking the venue should done "as soon as possible" after the planning process begins, but it really depends on the availabilities of  venue and I would say if you work to a 12 month time frame you should be fine.
All up, it will be 21 months for us from the time we got engaged to when we get hitched (seems like so long, but really, it's flown!) and we booked our venue in February this year, 15 months out from our big day. Granted, we did book quite early but the property we're holding our wedding at only hosts one wedding per month so we had to get in quick! (I'll keep you in suspense on where we're having our wedding… but let me tell you, the location is stunning!) We're holding our ceremony and reception in the same location, but remember that if you're scouting two locations, you may need a little extra time.
I should also mention here that the venue we have selected "comes with" (for want of a better term) a wedding planner – who we've totally fallen in love with – and who we have looking after some of the logistics like the marquee and furniture hire and transportation. If the thought of organising a wedding from start to finish makes you want to stab yourself in the iris with a pen (!!), I'd definitely recommend seeking out the services of a great planner who can put you in touch, or assist with sourcing, suppliers that will work within your budget.
A few venue-related tips I've picked up along the way:
1. Before you start hunting for your perfect venue, pull together a rough guest list so you know what you're looking for space-wise.
2. Have a loose idea of the overall theme or style you're going for while you're researching venues. If your dream is to have a chic, high fashion-inspired wedding with a glamourous dress, then a beach setting probably won't work with your vision. And so on.
3. In your initial consultations with the wedding planner/ person who will be looking after the booking and wedding from the venue, ask things like:
+ What is the total cost for the hire of the venue, including on-site accommodation if applicable?
+ What are we able to bring in from external suppliers ie: catering, decor, drinks, AV equipment?
+ How many weddings are hosted at the venue a year?
+ What is the contingency plan if it rains (for outdoor ceremonies/ receptions)?
+ Is there electricity in the area? (for music and microphones if needed)
+ Is the area accessible for elderly or disabled guests?
+ Can guests park their cars at the venue or will transportation (ie: coaches/ cars) need to be arranged?
+ How long can we have the venue for – are there restrictions around noise/ finishing times?
Ultimately, your wedding celebration is a reflection of your personal style and there really are "no rules" when it comes to choosing a venue that feels right for your nuptials. From a superbly decorated garden marquee, to a relaxed, natural location, an ultra-glam extravaganza or a family BBQ in the backyard, the options really are only limited by your imagination. To get the cogs turning, I've detailed a few of the more popular options for wedding festivities below.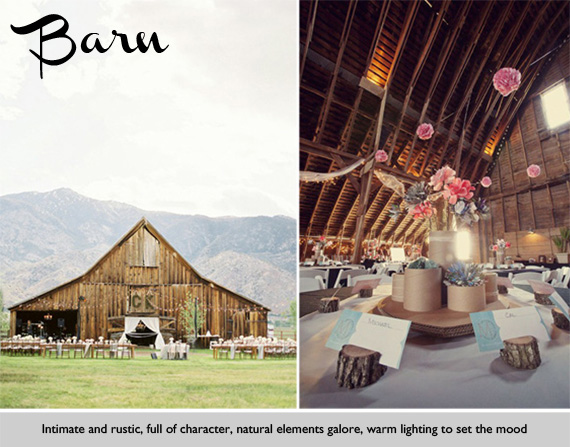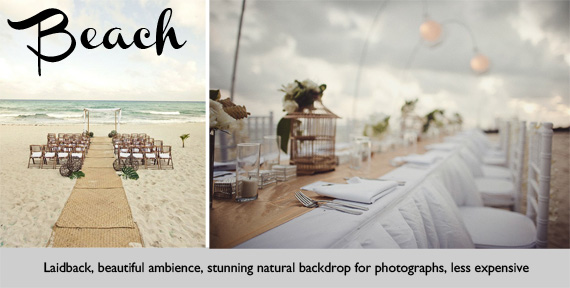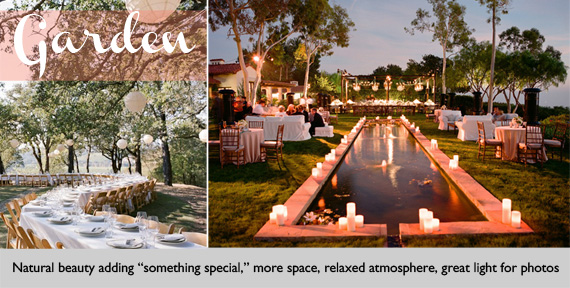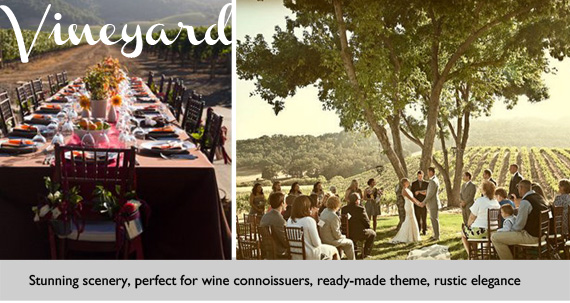 In closing, think outside the square when it comes to your venue styling and the theme or "mood" for your day. Google, Google, Google. Trawl Pinterest. Make moodboards on The Lane. Weigh up the pro's and cons, make a weekend out of driving around with your lover looking at prospective spaces.
After walking down the aisle and exchanging loving vows, the wedding reception is where you get to let your hair down and have fun so seek out a venue that is totally "you." Your day, your way, after all!
Top images: 1. Pinterest 2. Sarah Yates
Images: 1. Jonathan Ong via Eat Drink Chic 2. Jose Villa 3. Style Me Pretty 4. Jonas Peterson 5. Jonas Peterson  6. Pinterest 7. Kiss the Groom  8. Michelle Arlotta 9. Gruber Photographers 10. Max Wanger 11. Project Wedding 12. Once Wed