I'm off to a wedding this weekend and, of course, the burning question of "What am I going to wear?" has crossed my mind more than a few times.
Thankfully, I got my outfit sorted over the weekend (and I'll show you some pics after the wedding) but I wanted to pull together some styling inspiration for others looking for the perfect wedding guest attire that complies with the dress code AND stays true to your personal style. It can be done! Remember that weddings provide a fantastic opportunity to amplify your regular 'look,' so don't be afraid to add statement accessories or a pair of killer heels to really up the ante. The images shown below are just a guide to spark some ideas for casual, semi-formal (cocktail) and formal attire, and hopefully certain elements will work with items you already own.
Finally, I've also decoded a few of the most common dress codes at the bottom of the post to help you with deciding how glam (or relaxed) you're going to go. Refer to your invitation to see what style of dress the bride and groom have specified and always be respectful of this –  it is their big day after all.
The Inspiration:
1. The Glamourai 2. Elin Kling 3. Sincerely Jules
1. Oh Joy!  2. Karla's Closet 3. Rachel Bilson 4. In Style 5. Cupcakes and Cashmere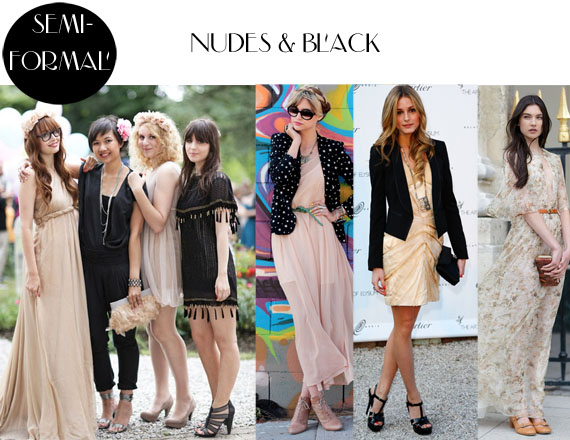 1. Cherry Blossom Girl 2. Late Afternoon 3. Olivia Palermo 4. Fashionising
1. Olivia Palermo 2. Style.com 3. Atlantic-Pacific 4. Freckels and Feathers 5. Tatum Rose
1. Harpers Bazaar 2. Harpers Bazaar 3. Pinterest  4. Fotolog 5.Elie Saab
1. Habitually Chic 2. Glamour 3. Domestikated Life 4. Harpers Bazaar

The Dress Codes:
With wedding "rules" and traditions continuing to change, working out what the dress code actually means can often be confusing, but as a general rule…
BLACK TIE MEANS… Glamour! Usually reserved for evening weddings, black-tie calls for luxurious full-length gowns and elegant accessories. Heels are a must, as is gorgeous makeup and a beautiful up-do or flowing waves/loose curls. If your dress comes up quite high at the front, or falls quite low at the back, pull your hair up to show off your neck and decolletage. Just on dresses, think sleek fabrics or embellishments such as such as beading or understated sequins. Channel celebrity red-carpet style and check out the galleries from awards ceremonies like the Golden Globes for inspiration.
COCKTAIL/ LOUNGE SUIT MEANS… Party time! Cocktail attire  is less formal than black-tie but still super chic and dressy. Think bold prints, short frocks (there are so many beautiful 'Man Men' inspired 50's and 60's party dresses on the market at the moment that are perfect for weddings) or long, floaty dresses with heels. For cooler days and nights, throw on a blazer, structured cropped jacket or fur gillet/ shawl. Bold coloured clutches and heels are on-trend at the moment and don't forget a great pair of statement sunnies for during the day. There are really no rules for hair or makeup, but a loose up do or sleek blowdry looks amazing paired with a bright lip in fuschia or coral, with thick black lashes and a swipe of bronzer. Hot.
CASUAL MEANS… Relaxed comfort! Think backyard or beach weddings or 'picnic in the park' type affairs. Floaty maxi dresses, a cute floral skirt with a bodysuit or shorts paired with a loose top and jacket are all perfect for a relaxed and informal celebration. Flats or wedges are best – this kind of wedding calls for an outfit that you'll be comfortable in for hours as you sit around on picnic blankets or dance the night away! Get inspired by the dreamy daywear favoured by fashion bloggers such as Liz from Late Afternoon and don't be afraid to experiment with colour and textures such as lace or crochet. Finally, make-up and hair should be natural – no tight, hairsprayed curls and OTT falsh lashes, please!
+ What type of weddings have you been to, and what was an outfit you wore that you loved and felt amazing in? Share your tips in the comments below!