As the year glides to a close, I thought I'd take a hop, skip and a jump down memory lane and reminisce on some of the beautiful moments that unfolded in 2011.
It was a transformative, expansive year and I learnt a lot. One of my motto's for the year was "Do more of what makes you happy" and looking back, I'm happy to say I did just that!
Here's what I got up to:

The first two months of 2011 were typically buzzing with activity (so full it appears we forgot to take many photos to document the frivolity!)
I kicked off January with a new chapter of my career, progressing my role at work from a straight Public Relations role into a more in-line-with-my-future role in Digital Communications. No more sneaky Facebook checks at work – I'm now the one staff member in the company that can have the screen up for as long as I want, guilt-free!
Apart from spending plenty of time down south in Byron Bay, Ramai and I had headed north for a romantic weekend away on the Sunshine Coast and devoured one of the best Asian feasts we've ever eaten at Spirit House.
February saw us at the Rihanna concert (with some freebie tickets, courtesy of my lovely PR contacts) and down in Byron again checking out two wedding venues – both of which we fell in love with from the get-go. Pretty much on the spot, we locked in the one that was available on 12 May 2012, and that was that… or so we thought.
If only we'd known then that the first property we checked out on that visit to Byron would actually become our wedding venue (with a little date change thrown in the mix!) A crystal ball would have come in very handy, but alas, it would take almost a full year for the ends of the circle to meet.

Magical March rolled around and we were off on a U.S adventure – first stop, NYC baby!
It was our second visit to the gorgeous city that will forever be my "happy place" and we shopped like demons, watched Aussie band Art vs. Science rock the roof off the Mercury Lounge in The Bowery, hung out in Central Park, explored Brooklyn, went to the Bronx Zoo and stayed at the Mondrian in Soho, which was divine (the front restaurant Imperial No. Nine has the most incredible decor).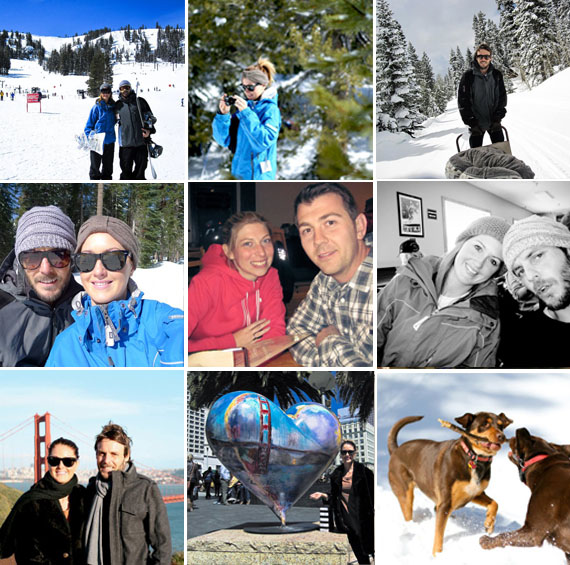 We then jetted back West, where we stayed with our friends Ben and Ali in San Francisco, met up with a friend from home who was in the U.S for Coachella, ate delicious food in The Mission, took the obligatory tourist shots of the Golden Gate Bridge and then drove out to Bear Valley for some snowboarding action and a cosy stay in Ali's family cabin. Epic times.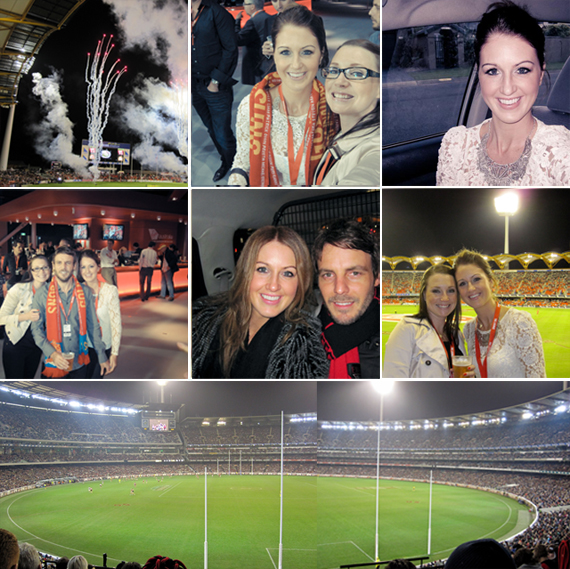 Shortly after our return to Oz, I got Invisalign braces, something I'd been planning on doing for about a year.  Number One Invisalign Fan Girl here, so impressed with how they've straightened my teeth so far!
The AFL season also kicked off, and with the introduction of a new Gold Coast team, my footy-mad fiancé was in sporting heaven for the next 6 months.
I learnt about 3 years ago that I could either cultivate a love of this game or hate my life for 6 months a year so I decided on the former and got up to speed with the rules quick smart. Watching the game live is always a bit of fun and between (Ramai's beloved) Essendon and his "second team", the Gold Coast Suns we watched about 6 live games in 6 months this year. A handy hook-up for the Chairman's Club corporate box through my job made that significantly more raucous bearable!
In May, we also stayed in Byron for 3 days for the nuptials of our friends Amber and Giles. Beautiful wedding, and Ramai made a dashing groomsman!

June, glorious June!
This was a stand-out month for me because we celebrated our 5 year anniversary on June 3 at our favourite restaurant in the Byron Hinterland, Harvest, and as you can see by photos, it was a cracker of a day! Absolutely perfect weather, which thrills me to bits because we'll be getting married on June 2 in 2012. Mother Nature, if you're listening, a repeat of this year's sunshine would be fabulous.
We were also in a wedding competition for a bit of fun but the biggest news in June is that I launched In Spaces Between on the 11th (which happens to be my lucky number). I haven't looked back since, it's seriously been one of the best decisions I've ever made and I can't wait to see where it takes me in 2012.
In a month full of highs, the only downer was saying goodbye to my best friend Jess, who is also one of my bridesmaids, as she headed down south to start a new chapter in her life in Melbourne.
I didn't have to wait very long to see Jess though as we headed down to Melbourne in July and had an awesome weekend doing what we always do when we visit Melbourne – shopping, eating, drinking and going to the MCG to watch Essendon play. Predictability plus!

In August, we attended our second wedding of the year, celebrating the love of our friends Judi and Kris at Sirromet Winery, which was simply gorgeous.
In exciting news, I also did my first interview for In Spaces Between and spent the day getting my hair and makeup done and posing up a storm for a feature in the Gold Coast magazine. So much fun!
I've also been interviewed here and here in the past few months.
All of a sudden it was Spring and we jumped on a plane again to Sydney for Jimmy and Nikki's wedding, which was full of vintage quirk and totally "them." Loved it!
Feeling  the effects of one too many social commitments, I launched the In Spaces Between Life Reset in mid-September, and did both an Urban Remedy juice cleanse and the Clean Program detox. As expected, my energy skyrocketed, my skin got crazy glowy and I felt a trillion bucks (which reminds me, it's definitely time to revisit the Clean program – immediately, if not sooner).
On the wedding front, we made a hard decision to change our wedding venue and headed back to the Byron Hinterland to inspect (and subsequently book) our second property. We thought we were onto a winner here for sure.
In October, I packed my bags again for Melbourne to attend the Problogger Event, where I was thrilled to meet Christina, Bree, Steph and Nikki (fabulous ladies).
My bestie (another one of my bridesmaids) Ez also flew down from Brisbane for the weekend and Jess, her and I hit the town, having a jolly old time at a Tiki bar in Fitzroy called LuWow, which is like nothing I've ever seen.
The next day: I FOUND MY WEDDING DRESS!
It was just like everyone says – when you try on The One, you just know. It goes with out saying I'm majorly in love, the workmanship is exquisite!
The girls cried (sobbed hysterically in Jess' case) and I couldn't wipe the smile off my face all day. We checked into The Blackman, drank champagne and squealed a lot to celebrate.
And the best bit? I have 3 more trips to Melbourne for fittings in 2012 (the gown is made to measure), which is a massive win because – if it's not obvious – I've kinda got a ginormous crush on that bustling city.
* The sad news of October was that my dear Granny passed on at 94. Her quick wit and cheekiness will always be missed.

November is always special to me because it's my birthday month (I turned 29 this year) but this November was even more superb because my other bridesmaid and gorgeous best friend Megan gave birth to her little girl Mabel!
Cute as a button and oh-so-snuggleable, she is beyond angelic with her pretty little face and long, delicate fingers. It's love.
As usual, my birthday was celebrated with a party with my nearest and dearest – I love an excuse to bring my favourite people together – and my man blew me away with a (completely unexpected) gift voucher to buy a new bag from Net-a-Porter. I felt totally spoilt.
The highlight of the month of November was meeting Kings of Leon and rocking out at their concert. A lowlight was finding out our wedding venue had been sold. Insert sad face.

The first few weeks of December were a bit of a rollercoaster ride for me to be honest, dishing up everything from extreme highs to anxiety-laden lows, and it was all related to the fact we no longer had a wedding venue.
Within two weeks we went back and forth to Byron about 4 times and every time we'd leave a venue inspection, I got this sick feeling in the pit of my stomach. One time, I almost had to get Ramai to pull the car over, I felt so sick – that was the extent of the burning feeling in the pit of my stomach that we weren't on the right track. I think my body may have taken the whole "gut reaction" thing a little far.
And then… Christmas week was upon us and we had a winner! The first venue we'd ever looked at became our dream (third and final) venue – and we couldn't be happier! Everything had come full circle.
In hindsight, it's so funny how things work out isn't it? Our wedding weekend will now coincide with our 6 year anniversary. Synchronicity.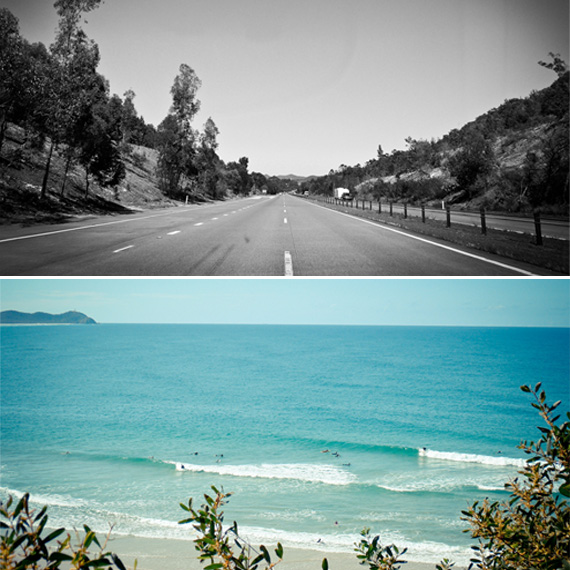 The rest of the Xmas break has been all about food, wine, family and friend catch ups, 2012 dream setting in Byron, reading and Rach's Very Own Version of Relaxation – which is not really "relaxing" at all, just lessening the load (I think I'd have to take myself to an Ashram to master the art of "doing nothing.")
1 // Discovering that old pallets from the side of the road can be turned into fabulously rustic decor with ease.
2 // Raw bliss balls, of which I ate at least 5236 in 2011.
3 // Sunglasses obsession ahoy! COULD. NOT. STOP. BUYING. THEM.
4 // Op shopping my little heart out. I scored some seriously good loot every time I thrifted this year!
5 // 11:11 – it haunts me, in the best possible way.
6 // Protea love. I'm obsessed with these unusual flowers, the colours and shape are totally captivating.

1 // When you put yourself out there, amazing things happen. Starting is all that matters.
2 // There's nothing more freeing than letting go of perfectionism. Previously, I was that girl that obsessed and fussed over everything before launching it out into the world, and man, did I have an eagle-eye for typos. Now I'm the girl that makes them. Life's too short. Get messy. Screw up. Move on. If you need more convincing, read this.
3 // When you're prepared to flow with life's vibration, trust and adapt to change – even if it doesn't make sense at the time – the universe opens the door to even greater rewards. The miracles multiply. Tenfold.
4 // Shifts happen when you let go.
5 // Doubt means don't. If your heart isn't screaming "YES!," hold off. It's ok to say no.
6 // Practicing gratitude is one of the best gifts you can give yourself.
7 // There is no right or wrong way. Your interpretations = your experience = your development.
8 // All you need to do to live your passion is discover what lights you up – the work you'd be willing to do even if you weren't getting paid – and take steps towards that dream every day until it's yours.
9 // On the same note, when you're doing what you love, it won't feel like work. You'll sacrifice nights and weekends and spare moments to wrap yourself up in that creative energy. You'll work harder than you ever have before but you'll come alive.
10 // The Internet is a beautiful place (when you make it so) and can connect you with the most magnificent people. Commit to a personal standard to always spread positivity online, and reach out to people. A new friend is just a tweet/ comment/ email away.
11 // Everything is better when you eat well, exercise and switch off when you need to. Honour your body – first and foremost.
12 // Life isn't a dress rehearsal. This is it. Right here, right now. Go out there and SHINE.

As the clock ticks over and you usher in the glorious New Year tonight (or tomorrow for our Northern Hemisphere friends), decide on the way you want this year to play out for you. What do you want to bring into being? What magic are you going to weave into your life? Draw in a deep breath and send your intentions for 2012 out into the ether… knowing that once you make a decision, the Universe conspires to make it happen.
Thank you for sharing my journey in 2011, I'm enormously grateful for your support, and together, we're going to blow 2012 out of the water!