In recent months, whenever I've had the pleasure of catching up with my beautiful friend Alex, she'll inevitably end up crouched down in front of me, both hands — and possibly a cheek — placed lovingly on my pregnant belly, a smile on her face and her eyes aglow as she coos at my little lion cub.
You can't help but be buoyed by this woman's love for life and the people in it. These acts of expression and connection and demonstrative tenderness seem to come as naturally to her as breathing.
She's heart and soul and magic, in human form.
And it's that same spirit that has woven its way into the fabric of her intentional jewellery brand, Violet Gray. 
Co-piloted with her gorgeous sis Frances, Violet Gray is a brand thoughtfully constructed on the ideals of generosity, authenticity, instinct, sisterhood, community and meaningful creation — which happen to be the very ideals I endeavour to fuse into my own work in the world.
With that in mind, then, you can betcha it's an exciting day 'round these parts as I'm THRILLED to announce I'm now a proud Violet Gray brand ambassador!
---
Before I tell you why this is great news for YOU too, let me share just a little about why I adore VG, shall I? 
Firstly, these pieces are MADE WITH MEANING. Which is hugely important to me, and I'm going to go out on a limb and say since you're hanging around here, is an important factor for you too.
As I've gotten older, and hopefully a touch wiser, I've found that owning lots of 'stuff' no longer holds any appeal.
I search for quality over quantity. I value the intention behind an object, and I want the things I adorn my body with to be a reminder.. which is why I go so mad for the VG chakra range.
When I'm sitting down for a big writing sesh, or getting ready to speak on stage — I pop on my throat chakra charm to invite in clear communication and creative self-expression.
When I'm meditating, you'll find me wearing my third eye charm for spiritual (in)sight, or my crown chakra charm to remind me of my connection to the divine.
When I'm in launch mode — a notoriously 'heady' time — you'll most likely see me with a base chakra charm hanging around my neck for grounding and stability.
I also wear 'Guided Grace,' a charoite ring, on my finger to usher in flow and ease, and you guessed it, GRACE.
---
Now, the bit you're going to love. 
As a celebration of our 'coming together,' for the next seven days until Tuesday 30 June, In Spaces Between readers will receive 10% off the entire Violet Gray range * excluding sale pieces.
If you've had your eye on one of these beauties for yourself, or if you've got a friend/ sister/ loved one with a special birthday or event coming up, now is the time!
:: All you've gotta do is ::
+ Click this link to comb through the site.
+ Then enter the code rachlove at the checkout to receive your discount.
Easy as that.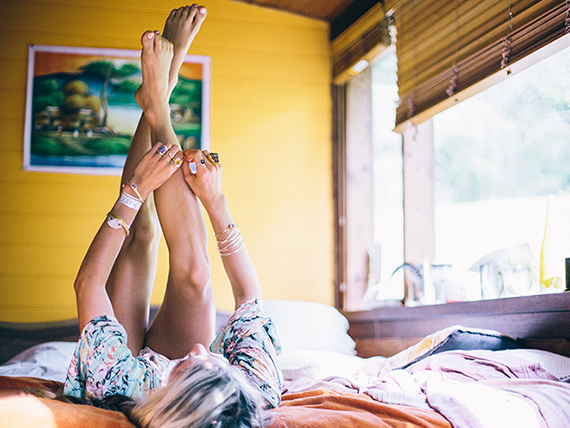 Tell me, are you the proud owner of a Violet Gray piece already?
If so, which one? Do you wear it to remind you of an intention or energy you want to embody? (your reasons might just help someone else pick their treasure!)
Photos by Tegan McVey