Yesterday I felt it creep back. That old familiar feeling.
Too much.
Too much to do. Too much squeezed into too little time. Too much, too much, too much.
After the fullness of last year, my intention coming into this one was to feel expansive and aligned, and with that intent came the knowledge, that to feel that way, I'd have to buck up, breath in and let go of some old ways of being. It was time, and I was excited about dismantling things a little – going back to the blueprint and considering whether the architecture I was building around me could support me and my vision moving forward.
Letting it go. What a powerful, beautiful – and sometimes scary – concept.
The complete opposite of letting go, to me, is clinging. Clutching, grabbing, over-doing it. Burrowing myself so deeply 'in' that I become convinced that if I just do these five more big things (just them! That's it!) then I'll be free. Except, there will always be more. 
I've spent plenty of time hanging out in the (dis)comfort zone of crazy in this lifetime, so as 2014 dawned – with all its promise and magic and high vibin,' let's do things differently energy – I declared to myself (and anyone who would listen) that I was ready for a more supportive way.
My measure of success this year will be this: how well did I truly LIVE?
At once so pure in its simplicity, and in other ways, an enormous feat, this passionate declaration – to me – means:
Trading friction for freedom.
Replacing desperation with devotion – to my dreams, and what it takes to make them happen. To produce work that makes me proud as punch without having to hurry it along or 'push' it out. To stay the course… as long as the course feels right.
It also means that in stressed out moments when I fall out of flow, say yes before pausing, or forget my heart's desires, I remember that I can always steer myself back home with gratitude. Thank you for the opportunity to deepen my commitment to this goal of mine. 
I want to feel spacious over spreading myself too thin.
I want to feel focused over frazzled.
I want to have the courage to not fill up my white space with more. To sit with not-much-at-all sometimes and know that that is absolutely enough.
Yesterday, when I found myself in a pool of Too Much, it was several deep breaths, a decluttering of my schedule – reshuffling commitments with love (guilt-free!) – and a few timely universal reminders that helped bring me back to centre.
I flipped open my day planner and here's what I was greeted with:
---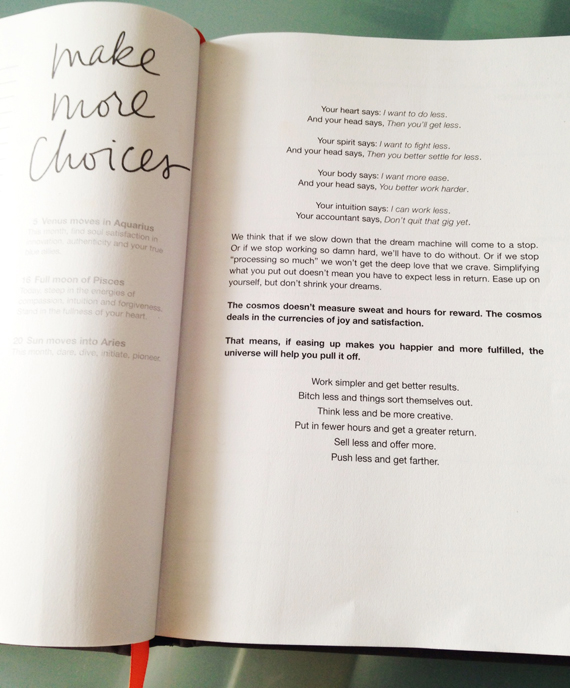 ---
Your heart says: I want to do less.
And your head says: Then, you'll get less. 
Your body says: I want more ease. 
And your head says: You better work harder.
And:
The cosmos doesn't measure sweat and hours for reward. The cosmos deals in the currencies of joy and satisfaction.
Whoa. I was meant to read that. Thank you Danielle.
I then leant over and pulled all four decks of oracle cards sitting by my altar towards me and took one card from each, craving more of that sweet cosmic comfort that could be delivered in a flash.
Focused intention. 
Be happy now. 
Remember who you are. 
Trust.
Okay Life. I get it. I really do.
+++
Life will continue to hurl lessons our way until we transcend, or make peace with them. Acceptance. Without doubt – there's always another skin that can be a shed, a limiting belief that can be tucked away in a box marked 'Old Stuff' or a deeply-embedded story from long ago that we can dissolve with a spot of active awareness.
Yesterday was a poignant, not-so-gentle reminder for me to do just that. To lift up the lid and peer beneath to see what else I could let go of. And what I found was a misguided belief that if I didn't keep forging forward – riding the wave of momentum and endlessly working my way towards 'something' – then somehow my life wouldn't be as 'rewarding' or 'exciting' or 'meaningful.'
Let me say this right here: I'm SO ready to burn that belief to a crisp and to instead, allow myself to soar (which is actually my word for the year). Because to SOAR means to rise or fly high with ease. Yep. That's more like it.
Buddha famously said:
"In the end, these things matter most:
How well did you love?
How fully did you live?
How deeply did you let go?"
And while we may not get this letting go thing right every time, when we do, we're always better for it.
---
Right here, right now, I propose we LET GO, together. Let's pull some antiquated stories out of those heavy backpacks we've been carrying around, like, forever, and set 'em free for good.
Riddle me this, my gorgeous partner-in-releasing-that-which-no-longer-serves:
What are you ready to let go of?
---
This post is part of the Let it Go Project: a collection of stories leading up to a beautiful releasing ritual, hosted by Sas Petherick on the 30th of January. Join us and be inspired by the other posts in this project over here.
Flower image: Petra Bindel