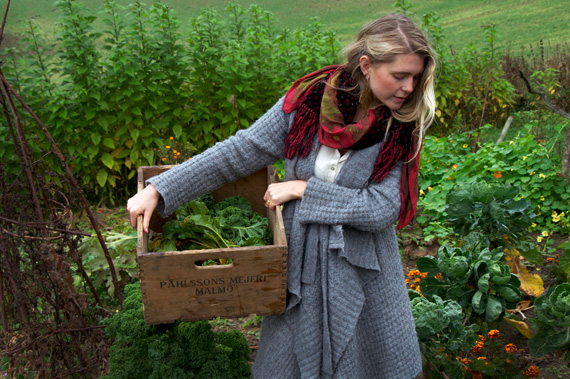 I have a total, raving lady crush on Elenore Bendel Zahn, and I have a feeling you will too after taking this journey into her green-hued world o' wonder.
I can honestly say I have never met anyone quite like this woman. Her unmistakable warmth not only radiates through the screen – it reaches out, pulls you in and holds you tight in an embrace like no other.
Over emails, we've *put the vision in the stars* (as Elenore says) to cuddle in real life one day, and somehow, I just I know this will happen. It has to. And I can't wait.
I've adored getting to know this Swedish goddess/ organic gardener/ natural nutrition coach/ green gourmet chef and founder of Earthsprout over the past year or so (perhaps longer) online – following her successes, salivating over her recipes, beaming at her effervescent, joyous approach to life – but what has truly inspired me is her evolution into motherhood after giving birth to her boy Caspian last year.
In one particularly gorgeous email exchange, I asked her about how becoming a mama felt to her, and she replied:
"Mamahood feels deeply rooted, fierce and delicate as a tiny bud at the same time. Love, love love and strong sense of really being both very gifted and also very womanly. I am in so in love with the little prince that is Caspian and so in awe of his bravery to come into this world. I am insanely grateful for the the contract that we somewhere long ago drew up together. That we'd meet here and learn from each other and go on all kinds of adventures together…."
This angel is all love, and then some.
Let her words sweep you up today.
---
Let's kick off with a biggie. Why do you do what you do?
Well, ka-pow that is a biggie. I believe that creating and delivering from true inspiration can move mountains and that's why I do what I do.
When I finally understood that I was allowed to combine all of my passions (that weirdly pointed in all kinds of directions) I realised that I had been wrong all along. They weren't so random at all, in fact they had the same insanely strong root. Supporting this amazing planet, mama earth all while encouraging and supporting it's inhabitants (ehrm us) to live full on crazy in-love-with-life realities in totally ecstatic bodies.
In other words, seeing the whole picture but breaking it down to over the top gorgeous and health boosting food and a Greenylicious super soul-full lifestyle.
---
---
What are three of the biggest lessons you've learnt since starting Earthsprout?
1 // Sometimes the bliss of living your passion can override taking good care of your self. Since I am my own personal boss, project manager, creative director, assistant, trainer, chef and website builder/designer I sometimes have to force feed myself these things:
Hanging out on the meditation pillow, reading a few chapters of an inspiring (or totally "unnecessary") book, making raw truffles just because I want to and not for a photoshoot, long gimmie-a-break showers, the essential lying on the grass moments, awesome dates etc. You get the point.
2 // The universe wants you to succeed; you just put your boat in the river and follow the stream. Hold on tight though – things will start to happen and they will happen fast.
3 // If you force creativity it will die. Creativity comes from pure sparks of freedom and true inspiration. Head out for a trip without the computer, have a flirting session with yourself (full on with facials, mani-pedis, affirmations and kombucha champagne). Last but not least, romance and some steamy bedroom time with either yourself or a hot partner will definitely bring frequent fire bolts and freedom = creativity flow. Just sayin.  
What's been key for you in building your tribe?
Tuning in with my inner GPS and trusting myself to know what to do. And Love – cheesy but true. I just love the Earthsprouty tribe so much and I'm so immensly humbled that the Earthsprouty tribe even exists!
---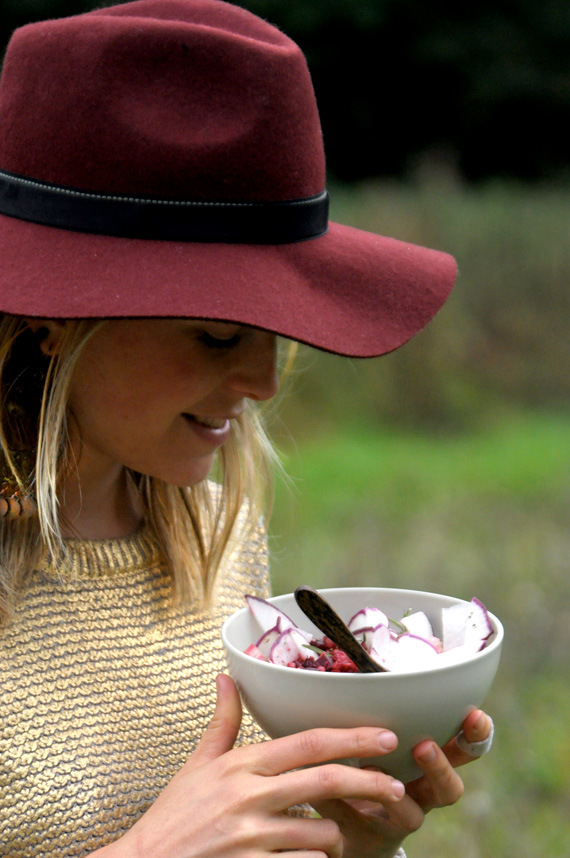 ---
I know that there's rarely a 'typical' day in the life of a blogger/ entrepreneur/ lady of the interwebs, but can you talk a bit about how you approach your work? What does a week in your life usually entail?
Oh, "lady of the interwebs" – that's funny! Well of course there is not room for any set structures in the life of this particular Earthsprout lady but some things are still always a part of my workweek:
// Journaling. Clears my mind and makes room for ideas and thoughts that want to come.
// Food styling, photoshooting, editing and writing. For either the once a week articles with recipes on Earthsprout, newsletters or freelance work stuff.
// Nordic Superfood related things are always there weather it's sending out samples, harvesting, packing or answering to questions around this exclusive and love/nutrition packed product.
// Preparing, planning or holding workshops. I love meeting, creating together with and learning from new awesome peeps at my cooking events/workshops.
//  Developing the 30 Raw Breakfast App (yum!) and answering questions around it.
// Mini breaks often involving crazy dancing (hello Shakira and Beyoncé), singing at the top of my lungs or a 10 minute visit to the beach.
// Then there is always that important and daily inbox rendezvous.
Spending time with little Caspian is however mostly what my days consists of at the moment. I'm re-learning about life and myself in this new reality being me, a mom, an entrepreneur and – well, all other things . There is so much that I love and wish to do/see/make. Needless to say, there are some trying lessons around. So. Bring it!
---
Describe your creative process. How do you write/ create?
Often times certain thoughts and themes enter my life. They are not very silent, rather explosion-like and knock me in my head saying "hello, I need to be addressed very, very soon… or else!". Some of them build up over time but either way I trust this process.
I trust that the things coming my way are the hard-core honest and guided stuff that needs to be put out there a.s.a.p, whether it's a seems-like-nonsense post, a personal drawing, a play with words poem or a full on book draft. I think they are equally important and that you and me are the ones to birth them when they fall at my feet or burst in through the freaking front door.
When it comes to food, I dream it up, sketch it and play with ideas of colors and textures in my head before actually making it and later on styling it. Although sometimes a great recipe just happens when I need a quick lunch/snack.
---
---
Routines and rituals for the soul: can you tell us about the little – or big – things that keep you feeling grounded, joyful, connected, inspired?
Living life here and now for me is about recognising and remembering that we are not the stuff we do. 
It is so very easy to fall into labels and I have to pull myself from that trap often. It can make us feel safe and connected to "be a certain something" but the truth in my heart at least is that when I let myself be all the weird parts of myself – that's when I can step up in my work, relationships and personal development. Being all that I am for me means things like hugging trees, sharing honey love days with a soul sister, playing, laughing, resting/harvesting/working in the garden or treating myself to a meal at a fancy restaurant looking all fabulous as well as some daily rituals.
Having my golden detox drink (from the 30 Raw Breakfast app) every morning along with a little meditation/contemplation time in our sacred space (the pyramid Himalayan salt lamp is one of my greatest bff's) somehow puts everything into place. Yoga and stretching also has that impact on me even if I sometimes do procrastinate a bit before actually rolling out that mat (shh!). I always have a little breathing space and bless time before a meal and that can definitely make a day go from foggy to fierce.
There are so many tricks and rituals that we can turn to but I think the most generous thing we can do is being as caring and understanding towards ourselves as we are to the ones in our life that we absolutely love, love, LOVE. It takes a hell of a lot of practice and it's hard but it pays off.
---
The not-so-hot days. We all have them. How do you combat overwhelm and self-doubt?
I most likely do some of the things in the answer above. Allowing some tears to fall helps too as well as the above mentioned crazy dancing or walking barefoot on the grass. Or stove popped popcorn and a fave movie, I mean – why not?
RAPID FIRE Q's
I feel empowered, electric, alive, the most ME when… I go home after a particularly awesome cooking event/workshop or when making out with my hot man on some street corner. In short, when I let myself bathe in the ever so present love.
I feel restricted when… I have not been giving myself enough breathing space and the computer screen eats me up piece by piece.
I'm inspired by… Oh my gosh, too many things! When I am really present everything from a branch on the ground, bubbles in a glass of champagne, a beautifully put plate or moon gazing, rocks my world.
My current mantra/ affirmation is… dream it and love it to live it.
---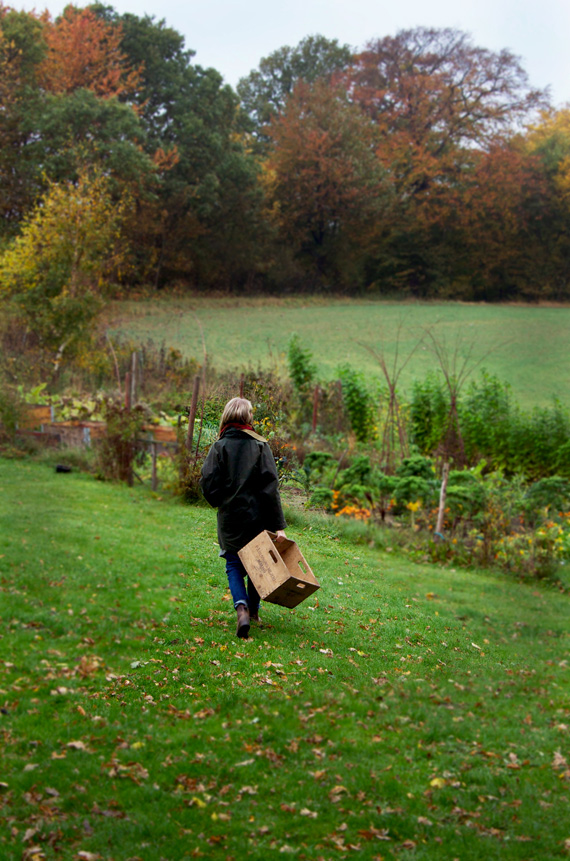 ---
To wrap up, imagine you're sitting in conversation with yourself in 10 years time. What are you doing? What does your life look – and feel – like?
I'm sharing a cup of perfectly made spicy oat milk hot chocolate with the 10 year older me while late summer sunshine flows through the big window of Fabians and my sustainably built house that we share with or kiddos.
Earthsprout has continued to grow as a loving and badass Greenylicious lifestyle revolution over the past ten years and when I look at myself I see playfulness and calm, perfectly combined. The Earthsprouty tribe grows far and wide; spreading keys that make people feel and look ecstatic – world changing in itself and also creating a ripple effect that heals the earth tremendously.
We have a big veggie garden and greenhouse and our neighbors are oak trees, streams, stags and tons of free space. The people I love hang out are here and we have a gorgeous time, sharing meals, laughter and creativity. There are books on that shelf over there that I have written and the worldwide projects, products and collaborations are never ending, just as the sparks of inspiration. We travel when we wish to and we feel free to shape our lives the way we want. Also, quite miraculously some tropical plants suddenly started to grow in our backyard (not due to climate change but pure magic) and we can have mangoes and macadamia nuts whenever we feel like.
I am me with 10 more years of things that were meant to happen in my backpack. I am in love with what I see, I say thanks for the chocolate and head back to my now with a baby kicking inside, the ocean birds singing, an e-mail to send to Rachel MacDonald and a longing for that raw berry crumble hanging out on the kitchen counter. Come over and share it with me!
---
And, a recipe!
And as an extra treat from this gorgeous soul, she's sharing one of her fave breakfast recipes with us.
Luxurious spelt porridge with sesame milk
This warming and wholesome porridge will – with it's many luxurious additions – completely change the way you think about a plain old bowl of porridge. This one brings ecstasy to my taste buds and leaves me full and nourished for a long time. Tip 1: make a big batch of spelt – it will come in handy in salads, as snack, when baking or making a soup. Tip 2: Upon rising, start cooking the spelt, then you have time for some journalling/yoga/meditation/sunbathing while it cooks.
Ingredients
1/2 cup whole spelt (farro)
1 cup water + soaking water
1/2 vanilla bean, cut open
1/2 tsp himalayan salt or other good quality salt
1/2 tsp maca
1 tsp cardamom
1/2 tsp cinnamon
Instructions
1. Soak the whole spelt overnight (or 6-8 hours)
2. Rinse them well and them add to a saucepan along with the water and vanilla bean, bring to a boil and then let simmer for 45 min, add salt towards the end.
3. Add Maca and spices when ready.
---
Raw Sesame milk
1 cup sesame seeds – always use unhulled!
1 tsp lemon juice / apple cider vinegar
3 cups pure water + soaking water
3 Medjool dates
1 tsp cardamom
Instructions
1. Soak the sesame seeds in water and the lemon juice or apple cider vinegar overnight (or 8 hours), rinse thoroughly and drain
2. Add sesame seeds, water, dates and cardamom to a high speed blender and blend away. Done!
Tip 1: If you want to you can pour the sesame milk through a nut milk bag and remove the pulp. If so, add dates and cardamom afterwards. Tip 2: Check out Sarahs gorgeous video on how to make nut/seed milk
---
Toppings
1 handful lightly toasted coconut chips
1 handful unsulphured raisins
1 blood orange
Time for a luxurious and insanely tasty breakfast party!
---
Isn't she just divine? Let's keep the love flowing – leave Elenore a comment below, and also, let us know if you're going to give her luxurious (yes!) porridge a go.