Hello, hello and to all my Aussie/ Kiwi readers, I hope your ANZAC Day is filled with goodness, whatever it is you're doing. Lest we forget.
Today's Making Me Happy is a bit shorter than normal as I'll be rushing out the door to a birthday party quite soon, and before I start, I must apologise for the photos – I somehow bent the pins in our SD card reader (and by somehow, I mean "by jamming the card in") so I had to use my iPhone for the pics, and well, if you could see how scratched my camera is, you'd know why these pics are less than desirable.
(ps: I promise I'm not a destructive person normally!)
Anyway, here's what's put a smile on my face over the past week:
A Love Story
I think it's fairly obvious that the thing that's brought me untold happiness over the past few days is receiving our engagement shots. Somehow I forgot to put this one up, so I thought I'd share it here as it's actually one of my faves.
Thank you SO much for all your beautiful comments about the pics, I've had my head in the clouds since Monday and have butterflies just thinking about our wedding and the photos that will capture all the special moments. Arghh!
Instax Mini 25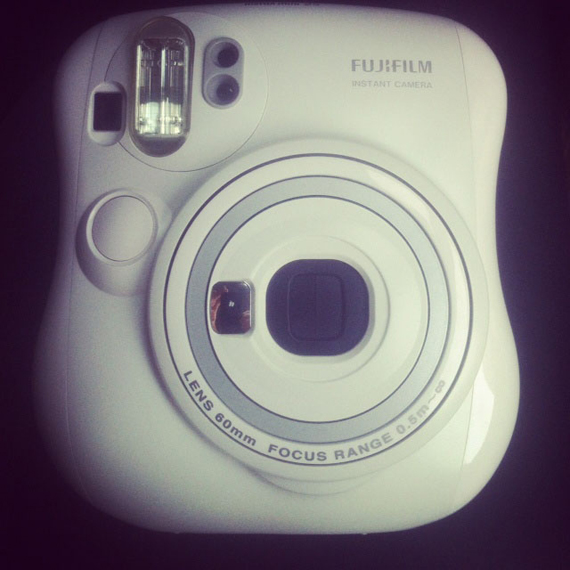 Isn't this thing the cutest? It looks like a kid's toy, but is actually very cool. Can't wait to see what photos our lovely wedding guests take with this (hopefully no "down the pants" shots, although now that I've said that I bet there will be someone who will think that's a pic we'd like to cherish 'til the end of time). Eek.
Bringing Nature Home
I'm one floral-arrangement coffee table book away from enrolling in a floristry course at the moment, I swear to god. I just love them and was thrilled when Bringing Nature Home arrived in the mail the other day.
Of course, the peonies had me at hello.
Interview
I was interviewed about all things health and wellness by a lovely soul called Claire and you can read my answers here. Thank you pretty lady! x
Random radness:
Running, running, running – obsessed at the moment + The Voice – yep, card-carrying member of The Voice Fan Club, right here! + getting our wedding rings sorted + The Killing Season 2 (sooo good!) + a mid-week public holiday + lots of socialising (although I do have to rein this in a little soon) + having two running buddies – my lovely friend Sarah and our other "friend", my Garmin watch (love that guy!) + the fact I use did this whole post minus a mouse, which is something I normally hate doing (and it wasn't too bad, to be honest) + life in general – this is my favourite time of year (except for my birthday month of November of course) and I'm feelin' the love in a ginormous way. Sending it out in pretty pink parcels to you all! x
Share your love list in the comments, I dare ya!